Executive Board 2022-2023
Board Members
Amre Proman – Co-Editor in Chief
Amre is a sophomore in Davenport in the Global Health Studies program majoring in Economics & Political Science. On campus she has spent time organizing Model UN conferences, playing rugby, tutoring, writing for on-campus publications and working at the Yale University Art Gallery. She is also Chief Online Editor of the Yale Human Rights Journal and loves reading, trying new restaurants in New Haven, and hiking to East Rock.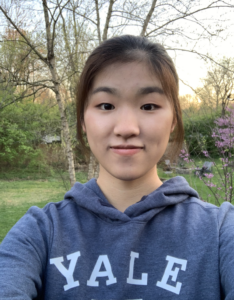 Victory Lee – Co-Editor in Chief
Victory is a junior in Ezra Stiles College. She was born and raised in South Korea but now lives in Cincinnati, Ohio. She is planning to major in Economics and is especially interested in issues relating to education, economic inequality, and Central American migration to the U.S. Outside of Glo, she works as a legal intern at IRIS (Integrated Refugee and Immigrant Services) and hopes to pursue a career in law. She loves cooking, reading, and enjoys snowboarding and playing the drum set:)
Margaret Hedeman – Chief Online Editor
Margaret is a senior in Branford College from Concord, Massachusetts. She is majoring in history (the world economy) and is a member of the women's crew team. Outside of the Globalist, she served as a Sports Editor for the Yale Daily News and has been a staff reporter there since her first year at Yale. She is also an editor for the Yale Historical Review. Margaret is interested in journalism, medicine, Ken Follett novels, and all Marvel movies.
Dylan Gunn – Chair
Dylan was born in Northern Ireland and raised on Long Island. That move still informs how he looks at the world—the complex personal consequences of foreign policy. He is a first-year in Pauli Murray College, soon to be sophomore in Branford. He is looking to major in either History or Political Science, and double major in Spanish. Outside of Glo, he is also a teacher for Yale Hemispheres, a writer for the Yale Herald, and a researcher for the Yale Policy Institute. Dylan loves urban and nature photography and reading poetry—William Carlos Williams and Seamus Heaney being his favorites.
Ezana Tedla – Business Director
Ezana is a sophomore in Jonathan Edwards College majoring in History and is a prospective Global Affairs major. He was born and raised in the Twin Cities in Minnesota, and his parents both immigrated from Ethiopia. He is interested in the impacts of politics and policies in global outcomes. Outside of Glo, he is a Senator in the Yale College Council and is involved in academic and financial aid policy at Yale. Aside from that, Ezana loves to spend time listening to podcasts and drawing Arabic calligraphy.
Lekha Sunder — Creative Director
Lekha is a senior in Silliman majoring in Global Affairs. Outside of The Globalist, she sings with Yale Out of the Blue, an a cappella group on campus. In her free time, she likes to write comedy sketches, cook, and go on runs.