Contesting Injustice: Insight from Beyond the Classroom—A Conversation with Teaching Assistant, Alex Kolotronis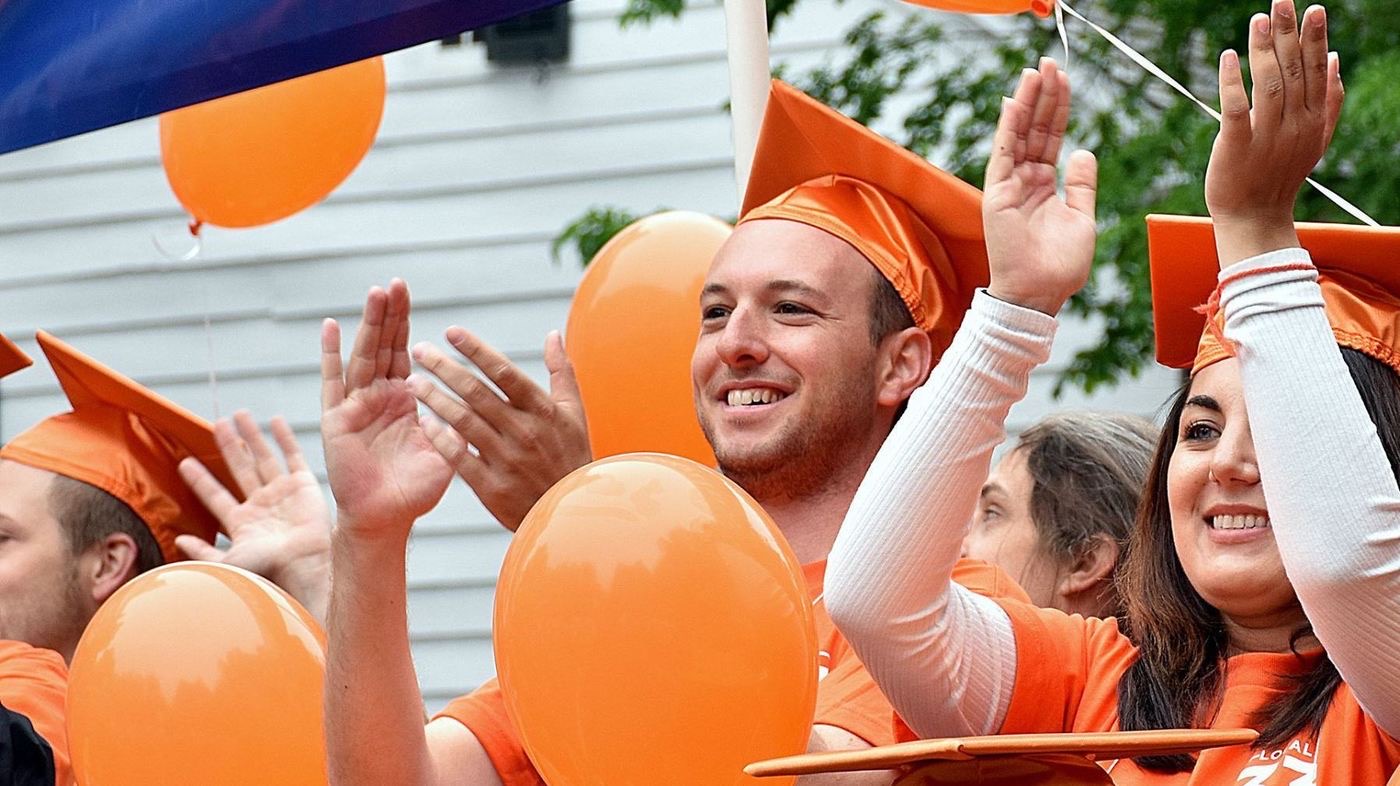 Featured image: the Final March on Commencement Day in 2017.
By Martina Amate Perez
Yale students have been organizing, leading, and participating in brilliant forms of activism and collective action for much of the university's recent history. Such activism has shaped the culture and campus life at Yale for decades. When you hear "protest and activism at Yale," a slideshow of images undoubtedly forms in your mind. I picture students protesting during the Civil Rights era and activism in support of the admittance of female students in the 60s. I picture Latinx organizing and Indigenous organizing in the 90s, demanding more resources and representation at Yale. I picture graduate students' union activism in 2016. I most vividly picture the storming of the football field at the annual Yale-Harvard game just five months ago by climate change student activists of Fossil Free Yale and the Yale Endowment Justice Coalition.
As a first-year, entering Yale in August of 2019, one of the first things I encountered was organizing around climate change. I was surrounded by the buzz around climate strikes and walkouts that seemed to enthrall all of campus, including myself. Even before the official beginning of my time here, traces of activism were among the first things I took notice of once stepping foot into Yale's campus––like those posters and flyers on memo boards promoting gun control protests back in 2017. This all made me curious and intrigued; I wanted to delve into the activist culture at Yale. 
In high school, I was a self-proclaimed "activist" that went to a couple of protests, attended a few rallies, and helped organize voter registration drives; I did all the things that I considered to be activist work. And certainly, they were. I don't want to undermine my efforts or moral investment in my past, but experiencing Yale thus far and participating in college activism for the first time made me double down on my self-proclaimed title of "activist." I found myself rethinking activism as not just showing your face in some protests or reposting something on your Instagram. I also found entering the activist space at Yale overwhelming, especially because I felt surrounded by people with more experience and knowledge on the issues of social justice than myself. So I decided to take a step back, to understand more about this world of activism and how I could more genuinely participate in it.  I wanted to understand what a true activist is whatever that's supposed to mean.
This semester I decided to take the class Contesting Injustice with Professor Elisabeth Wood of the Political Science Department. I thought it'd be a good step to surround myself with people involved in and knowledgeable about campus activism, including less experienced first-years in the same boat as me. From McAdam's Political Process Model to Gupta's take on grievances and target framing to the examination of charismatic leadership within the Civil Rights Movement, we have explored broad and technical political frameworks and theories that sync surprisingly well with the kind of modern protest and activism work that we see all around us.
I became inclined to take the lessons beyond the classroom. So, I sat down with Alex Kolotronis, a current doctoral candidate in the Political Science department and one of the TAs of Contesting Injustice. We met at Bruegger's Bagels on Whitney Avenue to discuss his experience with activism and how it intertwined with his experience teaching this class. 
His activism bloomed in his college years during the time that Occupy Wall Street took off in 2011. Alex found himself disappointed with the recent failure of many policy initiatives such as that of the "public option" initiative for healthcare. He became invested in the issue of wealth inequality that plagued the U.S. then and now. 
While attending protests and reading radical literature on the matter, he began to also get involved with activism work on campus at Queen's College at the City University of New York (CUNY) where he was studying political science and philosophy as an undergraduate student. There was an attempt of an "Occupy CUNY" movement that didn't pan out as hoped, but many activist groups branched out from this attempted mobilization nonetheless, including one that Alex founded: Student Organizations for Democratic Alternatives (S.O.D.A). His organization worked for advocacy cooperatives and examined what was happening in other countries in terms of injustices within institutional spheres. Unfortunately, across these different CUNY activist groups, many initiatives, mobilizations, and calls to action failed. 
Other students in places across the country and world at that time were successfully mobilizing and organizing against issues of inequality at their institutions. In Quebec, in contrast to CUNY and other U.S. campuses, colleges didn't have student councils. Yet, in 2012, student groups managed to coordinate a series of massive strikes against the public education system, in which nearly half of the entire student population in Quebec participated. They set out to challenge a recent proposal by the Quebec Cabinet to raise tuition rates. It was unimaginable to amass that level of turnout for an issue like tuition spikes at CUNY campuses and many other U.S. college campuses at the time. What lingered in Alex's mind, then, were these questions: what were CUNY activists doing wrong with a student body of nearly 250,000 at their disposal? Why were their initiatives and calls to action failing? What did these other movements have that they didn't? He arrived at this answer: These other institutions had intensive, direct, participatory democracy structures. With such structures, these student groups could make use of processes like Participatory Budgets that allowed for decisions about matters like tuition hikes to be handled more democratically. This ultimately made for a more effective type of student organizing. Thus, Alex realized that student groups, like the one he had formed at CUNY, must focus on democratizing the structures of their institutions. In doing so, student advocacy groups could have more leveraging power and a better ability to mobilize their student bodies in order to achieve small victories at a time and create meaningful change.
Alex's experience with activism at CUNY jump-started his career as an activist, but it wouldn't end there. He arrived at Yale as a doctoral graduate student in the political science department in 2016. Now, if the words "graduate students" and "2016" at Yale mean anything to you (maybe to a couple of the current seniors), then you might know where this is going. 2016 was a pinnacle year of Yale activism, as graduate students and other community members mobilized and organized massive, powerful, forms of collective action in demand for the right to unionize and for recognition by Yale administration. He arrived in the middle of the National Labor Relations Board's ruling in 2016 dictating that graduate students were workers and were allowed to form unions. Local 34, a local labor union of clerical and technical workers at Yale, had begun petitioning for elections to vote on unionization. He immediately noticed a major difference between the union politics at Yale and New Haven and the urban metropolis he came from. He was pleasantly surprised to see the level of union organizing and the graduate student labor union that he encountered upon his arrival. 
On December 1, 2016, a massive rally was held outside the Methodist Church by the New Haven Green under the support of UNITE HERE Local 33, the Yale graduate student union, as well as the aforementioned Local 34 union, made up of New Haven clerical and technical workers and Local 35 union of physical plant workers. Hundreds of local workers––dining hall workers, custodial workers, Yale-New Haven hospital employees––and graduate students alike stood in solidarity with one another. The rally began with a rippling uproar of a chant familiar to many of us: "WE BELIEVE THAT WE WILL WIN." The crowd, which included a very emotional Alex, was overcome with emotion and muted everything else in its proximity. Alex attests that nothing could have ruptured this moment of pure validation. He felt seen. 
This was followed by a "Month of Action" in which organizers coordinated and carried out a different action every single day (on some days, there was an action every 6 hours). From posting videos on Facebook of movement members dancing (you'd spot Alex in one of these videos) to going door to door and having 12,000 petitions signed and then taping all of those petitions together and rolling it into President Salovey's office *insert picture* to then creating a mock negotiating table with the names of each member of the Board of Trustees *insert picture* to organizing a Hunger Strike that lasted two weeks (Alex himself fasted for 8 days and lost nearly 15 pounds as a result). They were disruptive, resilient, committed, strong in numbers, and united. 
The final day of their movement came with the Final March on Commencement Day in 2017. A crowd of more than a thousand graduate students (from universities across the country!) and their supporters, dressed in orange-colored graduation caps, reminded all of Yale that they would not be silenced or ignored. Despite the administration's previous refusal to meet their demands, they proudly marched together and made their message clear: the fight would continue. Because work is work, and graduate students deserve recognition for their labor. "This is just the beginning, Yale," one of the many signs at the March read. This moment of collective action is one that Yale students and activists alike should always look back on as a reminder of what can be–of what unified student, coalition-based organizing could be.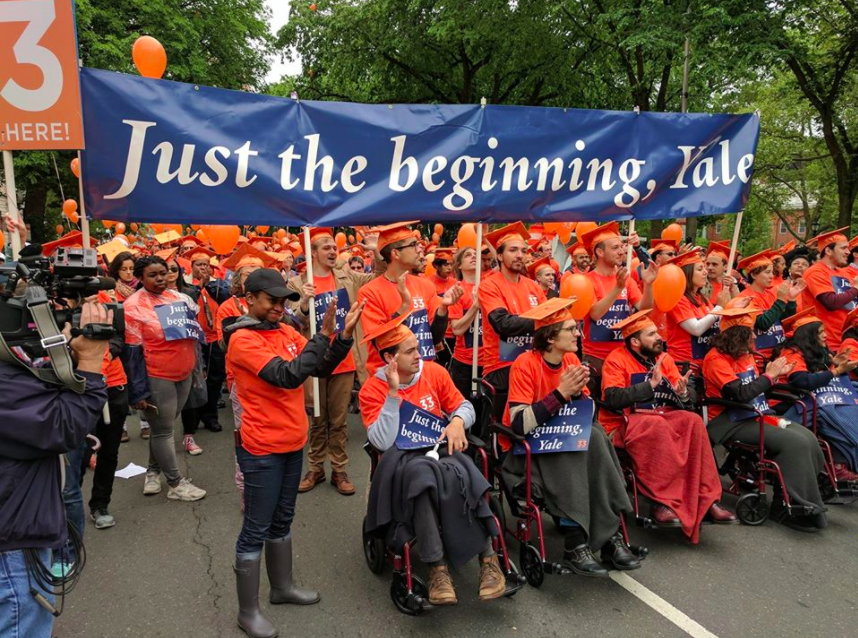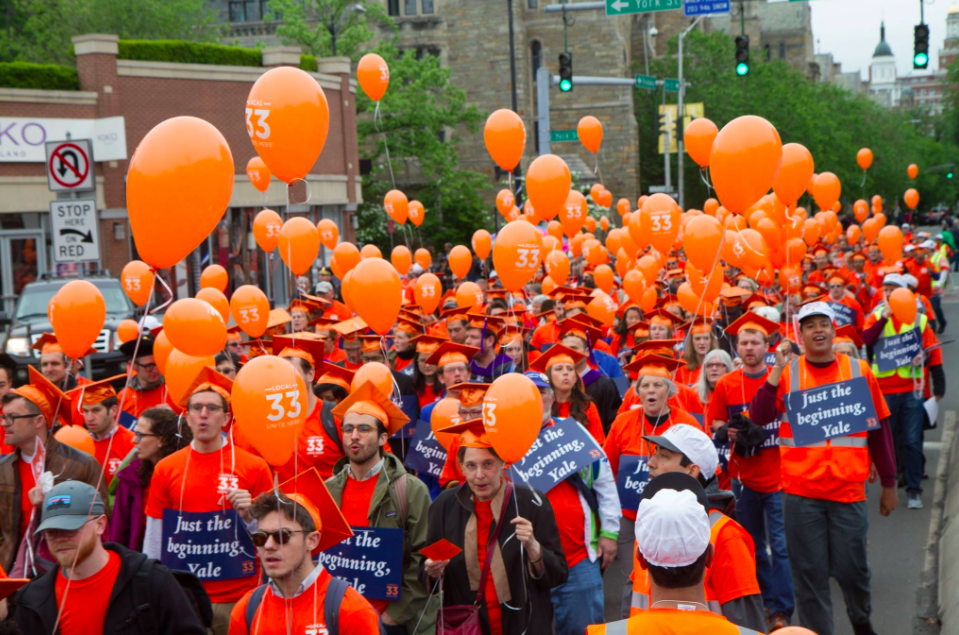 With all this in his path and his newfound experience teaching the course Contesting Injustice, Alex has learned a lot about himself as an activist, that he applies in his continued activist work here at Yale. He hopes to impart useful advice for other activists as they work to impact Yale's campus and the world at large. He highlights three major pieces of advice for student activists, as follows:
1) Know Your Role and Know How To Power Down
Alex's biggest piece of advice for current and future activists on Yale campus and beyond is to be clear with yourself and others about your role and to make it a priority to have moments of collective "powering down." It's not often discussed how exhausting activist work can be, especially for college students balancing writing papers, studying for midterms, attending various club meetings, and committing time to the behind-the-scenes work activist initiatives. This is the experience of many college students, yet the tremendous weight this can place on a person seems to be glossed over. When you try to juggle it all, burn out is inevitable. And with burnout comes leadership problems that Alex warns aren't sustainable. From experience, he knows that this can be the case––he was that student leader who took on too much. This is why he stresses that groups must make time and space for themselves to step back––to reflect and power down together. 
Meghanlata Gupta '21, an indigenous student activist and President of the Association of Native Americans at Yale (ANAAY), has found that "One of the most important parts of being a student organizer is to remember that our work is so important and urgent AND that it is okay to take time to process and digest all that we are doing and dealing with." She notes how the Association of Native Americans at Yale comes together as a community for a night of food and discussion after their annual vigil for Missing and Murdered Indigenous Women in order to decompress and have space and time to simply care for themselves and one another. 
Activist work, especially when facing a powerful institution and handling jarring issues that carry a lot of weight, is emotionally and physically exhausting. Moments of reflection and rest are necessary to sustain yourself as an activist. Understanding your limits and giving yourself deserved time to rejuvenate is just as necessary to be a committed activist as giving up your Saturday mornings for canvassing is. He believes that this is a crucial aspect of a group's success; many groups could better sustain themselves if they'd invest in this essential step to successful organizing.
2) Relationship Building: People Aren't Just Numbers
In connection to prioritizing collective moments of powering down, Alex advises that activists really focus on building relationships with one another within their respective groups so that they don't fall into the mistake of instrumentalizing people as simply means to an end. Organizers must not extract energy and labor from people and make them just a number for publicity. This doesn't foster commitment among members in a group and thus does not sustain a movement's capacity for change. 
This resonates with Sophie Lieberman '21, affiliated with Fossil Free Yale and the Endowment Justice Coalition, who highlights the outreach strategy of Fossil Free Yale and their practice of conducting one-on-one meetings with students who are interested in getting involved with their organization. Through these meetings, they are able to gauge their stake in the issues at hand and how meaningful their participation in the organization's actions would be. "That is how we formed that group of 50 people [at the sit-in outside the Yale Investments Office in Fall 2018] and the 400-person rally that accompanied the sit-in, and that is how our numbers grew to 1000 people at the Climate Strike in September 2019 and 200 people willing to risk arrest at the Game in November."
Meghanlata Gupta '21 emphasizes that activist groups should also build meaningful relationships with one another that are grounded in "mutual care, respect, and appreciation." This is particularly applicable to inter-group relationships among POC student activist groups which can be very empowering since many of their lived experiences and issues can often intertwine, but can also feel tokenizing or exploitative at times if not grounded in those three aspects that Meghanlata outlines.
3) Organizing vs. Mobilizing: There's a Difference
Alex advises activists to always keep in mind the distinction between organizing and mass mobilization. Organizing (per my studying for my Contesting Injustice midterm that now seems like ages ago) refers to planning and strategizing different mass direct actions that are grassroots in nature such going door to door to get petitions signed or setting up a voter registration drive on Cross Campus. Mass mobilization refers to recruiting members to your group and facilitating mass collective gatherings like a protest or an occupation outside the Yale President's office. Undoubtedly, these work best in tandem to produce successful collective action. Nonetheless, it's easy to become too focused on mobilization, and thus on numbers that can become an impressive headline. Therefore, Alex stresses the importance of looking at different organizational models and capitalizing on the effectiveness that organizing can have. At Yale, Alex found himself relearning and reexamining some of the activist actions he had done at CUNY that he didn't quite grasp the full depth of back then. He realized that a lot of the small things he was doing at CUNY could have been much more powerful and impactful if they would have just been organized properly. 
Sophie Lieberman '21 reiterates this important distinction between mobilization and organizing, noting that the successes of the Climate Strike in September 2019 and the protest at the Game in November 2019 and other notable mobilizations would not have been possible without the Endowment Justice Coalition. By effectively organizing a multitude of groups relating to endowment justice under more permanent roles within an organizing strategy, the EJC "amplified necessary voices in the movement and spread organizing power more equitably throughout campus, in addition to building more direct commitment rather than just transient support."
Meghanlata Gupta '21, importantly adds that a pivotal part of organizing is also building on your successes. She remarks that this is particularly empowering for students of color on campus since relentlessly advocating for a reversal of entrenched, unjust institutional systems is quite tiring-–so reminders of successes can be very motivating. She writes, "For myself and other Indigenous organizers on campus, we find power in raising awareness of our continued struggles, but we also find power in raising awareness of our continued SUCCESSES." By building on their successes like the Indigenous Peoples' Day Rally and Dinner and the Wet'suwet'en Solidarity Teach-In, the ANAAY can motivate and empower members but also, in turn, educate and generate a greater understanding of contemporary issues.
3) The Future of Activism: A Climate Labor Coalition 
When looking towards the future, it seems the biggest issue on most everyone's minds is climate change––our climate emergency. This is mainly because of the severity and urgency that this issue poses but also because climate organizing is the freshest image of activism on Yale campus that we have. When looking towards the future of climate change organizing, Alex has strong opinions of what he thinks the future of such organizing ought to look like. He believes strongly in the power of a potential collaboration and alliance between Yale groups and labor groups outside of the Yale community. He believes that a community-student labor-climate coalition, a bit of a mouthful, is the future of climate organizing––framing the issue as a local issue as much as a global one, making it about the failures of housing and urban development, and pushing for a Green New Deal that addresses local urban and housing politics that will hold universities accountable. Collective action around the climate crisis ought to center on how climate change is affecting people on the local level and frame climate action as necessary for the common good. 
Now What?
Alex reassures me that he has hope for the future of activism. He sees great potential in this generation's ability to inject a new mindset for fighting injustices that previous generations may have been closed off to. From 15-year-olds leading the climate crisis movement to college students organizing mass demonstrations all across the country, he praises that this generation actively prioritizes fixing (saving) this world and ensuring a better future for us all.
---
Martina Amate Perez is a rising sophomore in Davenport College. She can be contacted at martina.amateperez@yale.edu.