Suns Set and Rising: An Exploration of Modern Moroccan Architecture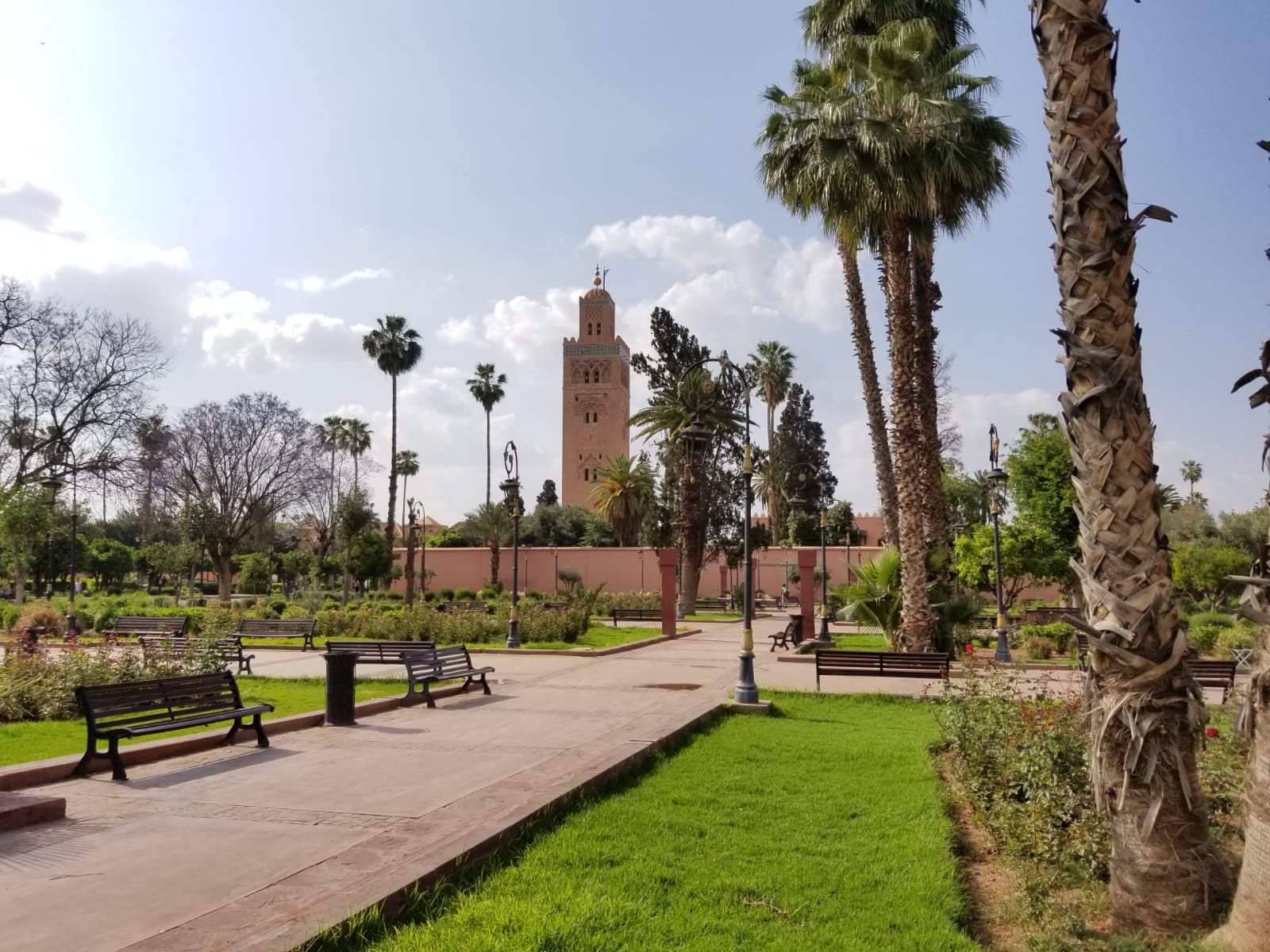 By Daud Shad
[hr][divider] [/hr]
I. Clashes
[dropcap]F[/dropcap]or centuries, the civilizations of the Old World chased the sun west, where it sailed past the Pillars of Hercules into the Atlantic. Along the northwest African coast, and into the Atlas Mountains and Sahara, is the land known to the Arabs as al-Maghrib, meaning west, just like the Islamic prayer after sunset. This land has historically been the center of mighty empires and rich cultures, some of which still reign. Remnants of forgotten eras linger in the architecture of the landscape, allowing one to imagine the stories of the people who populated Morocco's past.
Traditions and arts of the Amazigh (Berbers), Phoenicians, Romans, Arabs, Spanish, and French have made Morocco what it is today—a vibrant mosaic of cultures. This mix is similar to the fusion of Arab and European civilizations in the country's neighbor across the Gibraltar, Andalusia. It's a confluence harkening back to when Tariq ibn Ziyad, the Umayyad conqueror of Iberia, legendarily ordered his army's ships to be burned down, anticipating Moorish triumph beyond Morocco.
Traveling across cities like Rabat, Salé, Casablanca, Fez, and Marrakesh, there is one ethos. Each of them revolves around an old medina, the walled city center that has bustling markets, horseshoe-arched gates, and streets barely wide enough for a single car. Mosques line the skies, from the iconic Koutoubia Mosque in the legendary Jemaa el-Fnaa (Marrakesh's main square), built in 1199, to the monumental Hassan II Mosque on Casablanca's coast, built in 1993.
Architectural features that permeate the medinas include terraces, some as high as the slender palm trees that sway with the wind, and riads, indoor courtyards sometimes boasting fountains and zellige tilework — an artform of multi-colored geometric patterns mimicking floral beauty. Terraces and riads allow medina-dwellers to escape the confinement that arises from living in an economic and social hub. They are consistent in cities from coastal Rabat, to hilly Fez, to flat Marrakesh.
In the twentieth century, the dominant styles of Moroccan urban architecture were inspired by French and European movements like Art Deco and new Modernism. In contrast, the end of the century saw a return to Moresque (Moorish style), although some critics have seen this as more caricatural than as an effective blending of traditional codes and modern principles. A hundred years earlier, Bahia Palace, a grand tribute to Moorish style with zellige-lined courtyards and exquisite woodwork, was completed in Marrakesh; the first Resident General of the French protectorate would soon occupy it.
Driss Kettani, a renowned architect based in Casablanca, believes that "[Moroccan architects] are still finding [their] way." Important considerations, according to Kettani, include: "modernity, addressing the issues of our time like climate change, housing and public space, and learning from the traditions of the past." 
From Morocco's heterogeneous seeds has sprouted a complex artistic culture. Current  trends in designs and practices will impact the way people in the country live for years to come. There are two key areas that Moroccan architects are focusing on. One is the cohesive planning of cityscapes with a mishmash of styles. The second is the promotion of developments that respect local traditions and ensure sustainability.
II. Bridges
Colors play a large role in unifying Moroccan cityscapes. Green rooftops on the University of Al-Karaouine adorn Fez, blue walls in Chefchaouen and in the Kasbah of the Udayas in Rabat refresh their cities. The "Red City" is Marrakesh; the "white house" is Casablanca. These characteristic elementary colors foster community and evoke spirituality by immersing passerbys in their mesmerizing hues.
In Rabat, the large, white St. Peter's Cathedral, of early twentieth century Art Deco style, is reminiscent of more classic Moroccan architecture. The church's front facade features two thin, squarish towers, while above its crossing is a square base with pentagonal sides that feature hollow arabesque carvings to draw light in. The simple geometry of the building is similar to neighboring mosques, which have singular tall minarets from which the azan radiates in all directions. The elegant patterns on the church are modern takes on traditional designs, as found on the nearby Hassan Tower, the minaret of an uncompleted grand mosque.
Kettani has worked on projects across Morocco. He explains that due to the ingrained multicultural artistic influences in the country, "you have to play on different fields, you have to be integrated." Buildings will vary based on the feel of the place, its history and the lifestyle of locals.
The tram that connects Rabat and Salé goes over the Bouregreg river valley. It's a beautiful view as one travels from one ancient city to the other, each dominated by a massive medina. This coastal region, once known by the Romans as Sala Colonia, as evidenced by the Chellah ruins, has been the capital since 1956.
Along the Bouregreg, an ongoing marina development project aims to create public and tourist spaces, as well as upscale apartments on the waterfront. The most imposing structure being built is the Grand Theater. It looks otherworldly; a huge, sleek, and silver building rising from a bare stretch of the river. The theater, set to be completed in 2019, is the blueprint of the late Zaha Hadid, a famous British-Iraqi architect. The project was commissioned by King Mohammed VI as a step towards the modernization of Rabat, and its further integration with Salé, as part of a great cultural center for Morocco.
The Hadid design is impossible to miss: nothing in its vicinity is comparable in size or style.  It's firmly anchored on the Rabat side of the Bouregreg, looming over the busy Hassan II Bridge. Zaha Hadid Architects states that the structure will feature a 1,800-seat theater along with an open-air amphitheatre that can accomodate 7,000 people. The theater is described as a "fluid sculptural form" that "takes its energy from the River," with traditional muqarnas (stalactite-resembling vaults in Islamic architecture), as memorably found in the Saadian Tombs in Marrakesh, in the main auditorium.
Oussama, a student at l'École Nationale d'Architecture, the premier architecture school in Rabat, expressed doubt that the Grand Theater would be a positive addition to the Bouregreg valley. He mentioned that the huge development is disturbing the Hassan Tower view and is not the best solution to connecting the twin cities. "In my opinion, it's good to think modern," he says, "however, the current trends don't respect local architectures."
Likewise, David Goeury, a geography researcher at Laboratoire Espaces, Nature et Culture de l'Université Paris-Sorbonne, and the scientific manager for the collective granaries project led by Moroccan architect Salima Naji, has concerns about the Hadid design. According to him, the building is a classic "product of star architects" that is "fit only for global cities." It's a piece of contemporary art made to attract tourism in an old city, similar to Frank Gehry's Guggenheim Museum in Bilbao, Spain. "This kind of building is not generalizable for all Morocco," Goeury says, citing its high carbon footprint and selection without local input.
This is a central conflict for architects — how to bridge together local traditions with new visions for the landscape. Perhaps the best architecture is that which effortlessly seams its surroundings, while fostering new ideas. The Grand Theater and other Bouregreg developments may set the tone for future projects in Rabat and Salé that bring the country yet another distinct style. But, as Goeury explains, "Morocco needs another architectural spirit for small cities and rural areas."
III. Soils
Local people know their land best, and thus understand how to build on it better than foreigners. In Morocco, the climate is primarily Mediterranean along the coast and semi-arid in much of the rest. This type of weather, along with the mix of mountainous and desert geographies, is conducive to certain construction materials and environmental considerations. By using techniques honed by villagers over centuries—even millennia—rather than those artificially imposed, buildings and communities can be made sustainable.
That is the premise of vernacular architecture. Practitioners of this style, such as Kettani and Naji, are primarily based in southern Morocco, where they have worked to understand local needs and resources to build beautiful and useful structures.
A prominent example of vernacular architecture in southern Morocco is l'Ecole Supérieure de Technologie de Guelmim, a technical university, that Kettani designed with his partners Saad El Kabbaj and Mohamed Amine Siana and completed in 2011. The complex, which was shortlisted for the prestigious Aga Khan Award (2016 Cycle), is made in an open area in Guelmim, a city known as the Gateway to the Sahara.
Kettani and the planning organization wanted the cubic and simple design to match the barren landscape, trying to bring an "urban feeling" into a fairly empty neighborhood. Solar panels were added just after completion. The team decided to let the elements play with the massive, kasbah-like structure: air can flow easily through its ocher-colored walls into its luminous interior. Its openness proves it's not there to dominate the natural environment.
Primary considerations in such a project include using few materials and maintaining a continuous, yet imaginative, landscape in the complex. As Kettani says, this type of architecture is "very modern, very radical, and tries to be contextual" as it "echoes the character of the locals."
A renowned vernacular architect in Morocco, Salima Naji, is perhaps the country's premier advocate for sustainability. Naji, who holds a Ph.D. in anthropology from École des Hautes Études en Sciences Sociales in Paris and was shortlisted for the Aga Khan Award (2013 Cycle), primarily works in southern Moroccan villages and cities such as Tiznit. However, she has done projects in Fez and Marrakesh about a decade ago, and is currently working on restoring one of the oldest villas in Casablanca.
Naji and Goeury emphasize the importance of  vernacular architecture in achieving environmental, cultural, and economic sustainability. Their approach is rooted in antique tools and technique, or "paleo-innovations," from whichever specific region they are working in. The theory goes that since early societies had little support, they tested many local materials like stone, earth, and plants, and learned what works best for their environment and lifestyle.
"Each village, each valley, each oasis will have its own knowledge of architecture," as Kettani says. The idea of sustainable architecture is two-fold: to preserve the skills of a region, such as rammed earth, and to construct buildings using both long-established and modern knowledge. An effective way to discover traditional expertise is through restoration of heritage sites scattered around villages, especially granaries. Modern craftsmen see what techniques were used by their predecessors as they carefully examine and preserve a structure.
The skill set that architects like Naji acquire from this practice allows them to work on new projects that are community-based and sustainable in every sense of the word. This is in large part due to the shift away from concrete as a building material. As Goeury explains, concrete is expensive, better suited for bridges than homes, and not meant for eco-construction, citing heavy greenhouse gas emissions during its production (and difficulty in recycling it). By using locally-sourced materials and local labor, communities can boost their economies and reduce their carbon footprints.
Building in stone and earth—also dry palm, for ceilings—creates jobs for craftsmen and workers in villages, where there are often few such opportunities and most people are farmers. Naji's theory is "a more holistic way to produce buildings." The workers are involved in every aspect of the process, from finding their own materials to building in accordance with their Amazigh or ancestral principles. They also do not have to bargain for their salaries with outside companies and more money is poured into the workforce, as most contractors are from the same tribe or village and less is spent on capital.
Agriculture paved the way for this environmentally and socially beneficial system. These villages' farmers have historically also been its builders. Mud and stones from fields are used to make terraces, irrigation systems, and habitats. For Moroccan vernacular architects, a building is more than a facility, decoration, or profit — it's a shared regional resource: a common heritage.
IV. Calls
Moving forward, Kettani "would like to see better housing, especially social housing," as well as new ways of thinking about public spaces. According to him, Morocco needs to change its "software" that is focused around a commercial, rather than public, approach for urban design, citing the very low amount of greenery per home in Casablanca. In crowded medinas and cities, where greenery is found in house courtyards and in parks around mosques, more rooftop gardens could be welcome solutions.
Until recently, concerns about earthquake resistance led the government to ban structures made solely of stones, causing a greater dependence on concrete. For decades, Naji has called for sustainability-conscious law to protect the country's architectural heritage. She began with exhibitions "exposing the materiality and significance of oasis architecture" in 2002, in Rabat, Casablanca, Agadir, Marrakesh, and beyond.
Aside from publishing six books on culture and architecture, Naji has presented her research at conferences and ministries, including at the 2016 United Nations Climate Change Conference in Marrakesh. As a result of her advocacy, the country's law has evolved to include a decree on earth buildings in the Public Procurement Code of 2013 and an obligation to responsibly use local resources by the Code of the Ministry of Public Works, passed in February, 2018.
"The legacy of Moroccan architecture is not just design; it's sustainability and resilience," Goeury says. Decades of advocacy have recently landed Naji a position in charge of a new government agency responsible for ensuring sustainability in all administrative buildings. A council on economics, environment, and social issues will set guidelines for future developments to respect local architecture, practice eco-construction, and be more equitable. Essentially, a "new way to build in Morocco."
Modern, globalized architecture intersects with heterogeneous roots. Morocco, with such weathered soils and artistic elements, has much heritage to preserve and potential to design more culturally- and eco-conscious buildings. As Salima Naji and Driss Kettani understand, building a more sustainable country is not just up to architects like them and the government, it's up to all Moroccans.
[hr]
Daud is a sophomore in Berkeley College. You can contact him at daud.shad@yale.edu.