A Vicarious Globetrotter Interview with Ipsitaa Khullar SM '19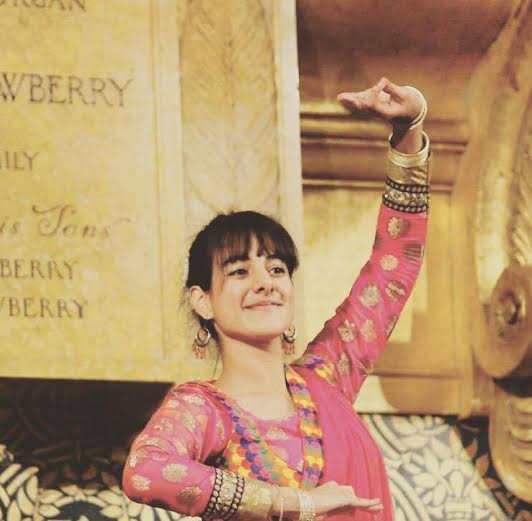 "I've never known what it feels like to be homesick because there is no one place I call home. My home is not a city or a town: my home is where my family is."

By Nicola Haubold
[divider]
[dropcap]I[/dropcap]psitaa Khullar, a freshman in Silliman College, has gone to nine different schools, lived in nine different houses, and lived in nine different cities. She has grown up amidst travel and relocation, which has taken her as far as Japan, only to leave her with no single geographic point to call home. Though she was born in Chandigarh, the hub of northern India (and her favorite city), her father's service has taken her around the country and beyond its borders, instilling in her a learned worldview. While some would abhor this constant movement, she embraces her quasi-nomadic lifestyle. Sitting in the Silliman dining hall in front of a plate of white rice and curried beans just days after winter vacation, Ipsitaa smiles as I begin to question her about what her life was like leading up to her coming to Yale. "Before coming here", she says, "I was exposed to many different cultures within India and outside. In moving, I have learned a lot about life in general, like who is going to stay around and who is worth my time and effort."
With her resolute and determined disposition, Ipsitaa has developed a strong sense of cultural identity through the mayhem of adolescence and adversity. Thinking back upon her years in school, she acknowledges the extent to which her personal growth can be attributed to her ever-changing environment: "Each time I moved, my sense of my own self changed, because it varied with respect to who I was with. When I thought I was good at something, I would go to a different school to then realize everyone was good at it. This automatically changed what I thought about myself and what I could do." When faced with this competitive atmosphere, Ipsitaa adopted a determined and proactive personality, which led her to challenge the limitations imposed upon her. "In sophomore year," she recalls, "I was told by a teacher that I could never be the best in anything, which was intended to be very de-motivating. It ended up being the most motivating thing, because I wanted to prove her wrong."
As you can suspect, she succeeded.
Despite the doubts of those around her, Ipsitaa became involved in student government as the "head girl" of her high school, a role of prominent responsibility within the British education system in India. In addition, she secured a spot as her school's soloist, specializing primarily in opera singing. Nevertheless, amidst these accomplishments, Ipsitaa lists her acceptance into Yale as one of the most important, as it had been her dream school for years. Seeking a combination of competitive academics and enthusiastic extracurricular activities, Ipsitaa made the personal choice of coming to Yale with the hopes of pursuing a double major in psychology and economics. If she had chosen to stay in India, this same plan would not have been a viable possibility. Instead, she would have been forced to choose a single occupation upon entering college, a decision she would not have been able to easily retract in the future. Additionally, her pursuit of the social sciences would have bestowed upon her an undesired reputation within society and limited her later job opportunities. "In India," she explains, "I would be labeled by society. Every intelligent student is either an engineer or a doctor: they are expected to like chemistry and biology.  This is what I criticize most about the society, though it is slowly changing."
As Ipsitaa watches these changes unfold in India, she has chosen to immerse herself within the depths of American culture. She appreciates having the opportunity to stay on a campus 24/7 and be surrounded with people of different races, cultures, and religions.  Nonetheless, despite this diverse reality, she is determined to hold onto her native traditions.  "My mom says I can try a beef burger," she tells me, indirectly referencing the Hindu tenet which prohibits the consumption of cow meat. , "But, I do want to respect my culture's norms while I am a student at Yale… I feel I have a responsibility as a member of the international community. I want to do well by them."
With this thought in mind, Ipsitaa has begun to share her culture with the members of the Yale community, serving as the freshman liaison to the South Asian Society.  Through this position, she helped to plan Roshni 2015, a cultural showcase that happens once a year to exhibit the heritage of selected international students. As she choreographed the freshman act, teaching native Indians and others specific dance sequences, she recalls feeling like "a proud mom" who successfully imparted necessary wisdom onto her children. "I was really nervous at the beginning," she says, laughing as she thinks upon her role as a teacher. "I had to post on [the Facebook group] of the Class of 2019 and I had to think about how I was going to teach people Indian dance. But, in the end, everyone learned really quickly and remembered everything. It was really exciting to see people dance."
When I ask Ipsitaa about what other exciting things she has seen on campus, she smiles, as too many things come to mind. "The Saybrook Strip and big parties in general have been shocking," she says, "At home people that are labeled smart are just supposed to study. Everyone here is smart, but they work from Monday to Friday but don't work all weekend. Even the hours of the library encourage us to have a social life. Brunch is served with the expectation that we stayed up late the night before." Though she claims this has not been a particularly difficult transition, as she was exposed to the novelties of American college life through her older brother, she has definitely experienced moment of cultural clash. In casual conversation, people have asked her why she does not have the same accent as Raj from The Big Bang Theory or how she feels about riding elephants. She has even heard others ask her friends if they know what hand sanitizer is. Though she says these particular comments have not offended her greatly, she does recognize American misperception of Indian accents. "They don't realize how much [our accents] vary from place to place," she says, "We aren't all the same."
As Ipsitaa returned to India over winter break, she was excited to recognize how big of a "Yalie" she has become. Working as an international ambassador to the university and travelling to different high schools to encourage individual applications, she felt honored and privileged to belong to the 10% of international students accepted into Yale's Class of 2019.  "The fact that I could love Yale so much after four months and then try to convince people to apply here was incredible," she admits, "I was happy when people thought I was already a graduate."
With that being said, however, though Ipsitaa has greatly enjoyed her time in Yale and the US thus far, it is likely she will return to India after graduation.  "I don't want to contribute to the brain drain of our generation," she says. "We need people who come to America to start reforms back home." In studying the social sciences, she hopes to become an economic policy advisor or a community service worker, so that she may bridge the divide between the  "haves" and the "have-nots".  Through her education and her work, she is determined to reach her potential. She is determined to enact change.
As I hear her talk about her plans for the future, her trademark ambition and perseverance shines through. I cannot help but feel confident that Ipsitaa will achieve all she sets out to do.