An Interview with Nikita Lalwani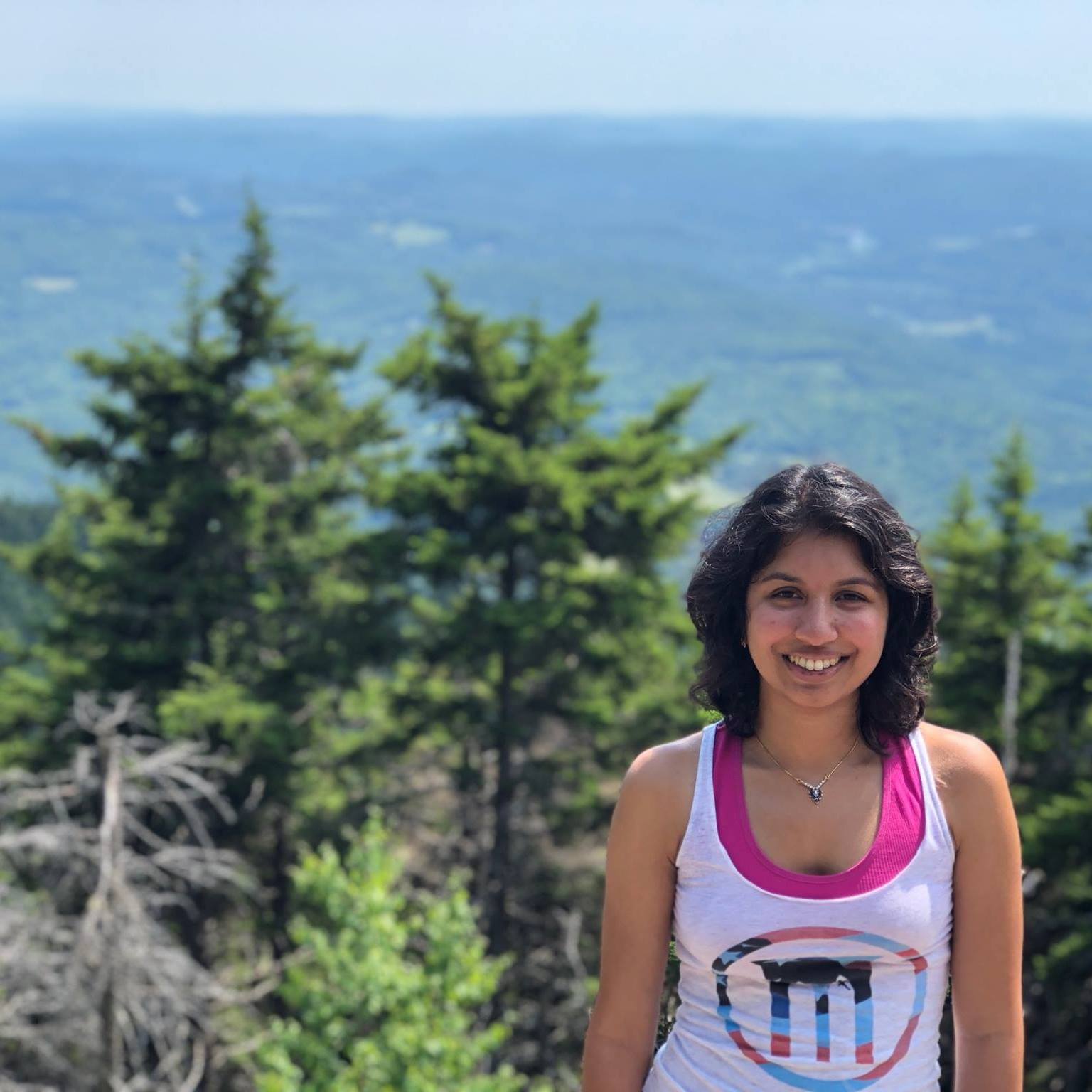 Featured image: Nikita Lalwani (courtesy of Lalwani).
By Claire Donnellan
Nikita Lalwani is a 2020 graduate of Yale Law School and a former journalist. Before law school, she wrote for the Wall Street Journal in New Delhi, India, and worked as an editor at Foreign Affairs in New York. At the law school, she served as the Yale Law Journal's Executive Editor for Articles & Essays, co-led student organizations focusing on national security and refugee rights, and advocated for a fairer census as part of the Peter Gruber Rule of Law Clinic. When she has time, she keeps up her writing, freelancing for publications like Foreign Affairs, Foreign Policy, and the Washington Post.
In Spring 2020, Nikita co-taught a residential college seminar on writing and foreign policy in Berkeley College, which she finished teaching online in the midst of the Covid-19 pandemic. She has an undergraduate degree in English from Yale, where she worked on the Yale Daily News and the Globalist. She also has an M.Phil. from the University of Cambridge, where she wrote a thesis on U.S. refugee policy during the Cold War. In the following conversation, Nikita discussed her years as a journalist, why she decided to go to law school, and how much she enjoyed teaching.
How did you become interested in journalism?
As far back as I can remember, my parents had a subscription to The New York Times, and I loved everything about it: the front page, the magazine, the crossword. I was especially taken with the idea of journalism as the first rough draft of history—that journalists and historians were engaged in a fundamentally similar enterprise. I edited my high school paper, but it wasn't until college that I really thought journalism might be something I wanted to pursue professionally. The Yale Daily News and Yale's wonderful writing professors taught me much of what I know about how to find stories, talk to sources, and write articles. And of course I learned a ton from my friends and classmates, many of whose bylines I still follow religiously. (If you don't follow them already, you should definitely be reading Molly Hensley-Clancy at BuzzFeed and Vivian Yee and Ben Mueller at The New York Times, among others.)
Can you talk about your experience as a journalist in New Delhi?
I moved to New Delhi after college to report on women's rights issues in the wake of the horrific 2012 gang rape of Jyoti Singh. But, as often happens in daily news reporting, I ended up reporting on a much wider range of subjects. My first week on the job, the Indian Supreme Court re-criminalized homosexuality, so my first feature was about how editors at India's first registered LGBT magazine, Bombay Dost, were dealing with the fallout from the ruling. A few months later, the World Health Organization declared India polio-free, which was an incredible milestone—and a huge surprise, given that many global health experts had expected India to be the last country to eradicate the disease. I covered this announcement and wrote about an important turning point in the effort: the decision by health workers to partner with local Muslim leaders to end religious resistance to the polio vaccine. My time in India also coincided with the rise of Narendra Modi, and I worked with colleagues to cover the 2014 general election. One of my favorite stories involved traveling to Mysore, in South India, where one factory has been manufacturing the indelible ink for India's elections for more than half a century.
It was an incredible experience. And it's been fascinating to see how the stories I covered then have developed over the years. I was of course thrilled to see India's Supreme Court finally decriminalize homosexuality in 2018. On the other hand, it's been depressing to watch Modi embrace his more authoritarian tendencies, especially when it comes to stoking anti-Muslim sentiment and spreading Hindu nationalism. I was actually back in India over winter break, before the lockdown, researching and reporting on how the Indian police have been responding to riots and lynchings spurred by misinformation spread over WhatsApp.
How do you approach covering difficult topics when writing articles?
I'm hardly an expert, but in general I think the most important thing is to be a good listener. I want people to trust that if they want to open up, I'll listen to them, and I want them to know that they are in control of if, how, and when they tell their story. I think it's also important to understand what's at stake for the people you're interviewing, for example by respecting requests for anonymity, especially if they risk serious repercussions for speaking out. And, of course, building trust is paramount. If someone doesn't trust you to tell their story fairly and accurately, then they're not going to want to speak candidly in the first place.
What led you to pursue a degree in law?
Partly, my interest in law school stemmed from my reporting in India. Covering the Supreme Court's recriminalization of homosexuality made me want to be one of the lawyers fighting the ruling in court. I was also fascinated by the Indian legal system: a few months after the Supreme Court's deeply regressive ruling on homosexuality, a different panel of the same court issued a very progressive ruling on transgender rights. I knew this in theory, of course, but it was eye-opening to see just how massive an impact the law—and interpretations of the law—can have on people's lives.
Another factor was my time at Cambridge, where I wrote a thesis on U.S. refugee policy during the Cold War, focusing particularly on Haitian asylum seekers in the 1970s and early 1980s. I ended up writing quite a bit about a federal court case in Florida that resulted in a landmark ruling vindicating the rights of Haitian asylum seekers, and I spent a lot of time interviewing some of the lawyers involved in the case and even the judge, who is one of the longest serving federal judges in the United States. That confirmed my interest in law school, and in using the law to protect the rights of vulnerable groups.
How did you become interested in refugee and immigration issues?
I was an editor at Foreign Affairs during the height of the global refugee crisis, so I ended up editing lots of pieces on how Europe was dealing with the influx of refugees from Syria and elsewhere in North Africa and the Middle East. At the same time, I was lucky enough to serve as a teaching associate to Sarah Stillman, one of my favorite New Yorker writers, for a class on gender and migration at Columbia Journalism School, where our students were reporting on the perilous journeys women and girls take to reach Europe and the United States.
The process of researching and writing my M.Phil. thesis was also formative for me. It was fascinating, and troubling, to see how Cold War refugee policy was shaped by foreign-policy considerations more than humanitarian ones. For the most part, refugees fleeing communism were welcomed, while those fleeing right-wing dictatorships—especially when those dictators were key U.S. allies—were treated far less kindly. Race played an incredibly important role, especially in the Haitian context. At the law school, I've continued to work on immigration-related issues, which have of course become increasingly salient in recent years.
What was your experience as an Associate World Fellow in fall 2019? What did you learn from the program?
It's hard to know where to begin. The program was one of the best things I did at Yale. The World Fellows themselves were unbelievably talented—our cohort had an incredibly popular Iraqi comedian, a Nigerian Olympian, a former member of the Ukrainian Parliament, the former Liberian deputy minister of foreign affairs, and I could keep going because they were all so impressive. But even more important than that, they were all exceedingly kind and humble, and I'm so looking forward to seeing all the ways they continue to improve the world through their work. I'm also really looking forward to visiting them all in their home countries, once that becomes feasible again, now that I've got new friends in so many exciting places around the world.
What were some of the most formative experiences you had as an undergraduate at Yale that led you to where you are now?
 My most formative experience was writing my senior essay, which was about the process of memorialization in Newtown, CT, after the massacre of 20 schoolchildren in December 2012. During the spring semester of my senior year, I spent much of my time in Newtown—it was an experience I'll never forget. I learned so much about how to talk to people about one of the most difficult subjects imaginable, how to stick with a project over several months, how to try to do justice to an important story.
I also learned a lot from all the writing classes I took. This past semester, I was thrilled to be co-teaching a residential college seminar on writing and foreign policy, and I can only hope that my students found me as engaged and accessible as I found the writing and journalism professors I had as an undergrad (especially Fred Strebeigh, Anne Fadiman, and Mark Schoofs). I would not be where I am today without them. Of course, I learned a tremendous amount from my students as well. They remained committed and engaged the entire semester, even amid all the stress and uncertainty surrounding Covid-19. Seeing them on Zoom each week was always a highlight.
What was your experience like with the Globalist? How did working on the Globalist shape your career path or college experience?
I loved working for the Globalist. I feel lucky to have had the chance to work with such talented writers and editors, several of whom I'm still close friends with today. And I credit the magazine for helping me develop an interest in writing and foreign affairs, something I tried to pass on to my students this past semester.
What are your next steps after law school?
Right now, I'm in lockdown at home, where I've been taking online yoga classes, attempting to become a better cook, and mainly watching in awe as my parents, who are both doctors, have been helping to tackle Covid-19 on the frontlines. Eventually, I'll be clerking for two federal judges in New York. After that, we'll see — I'm still very much figuring things out.
---
Claire Donnellan is a sophomore in Saybrook College. She can be contacted at claire.donnellan@yale.edu.