Bangon Kabataang Meranaw: How Marawi City Youth are Leading the Charge to Prevent Youth Extremism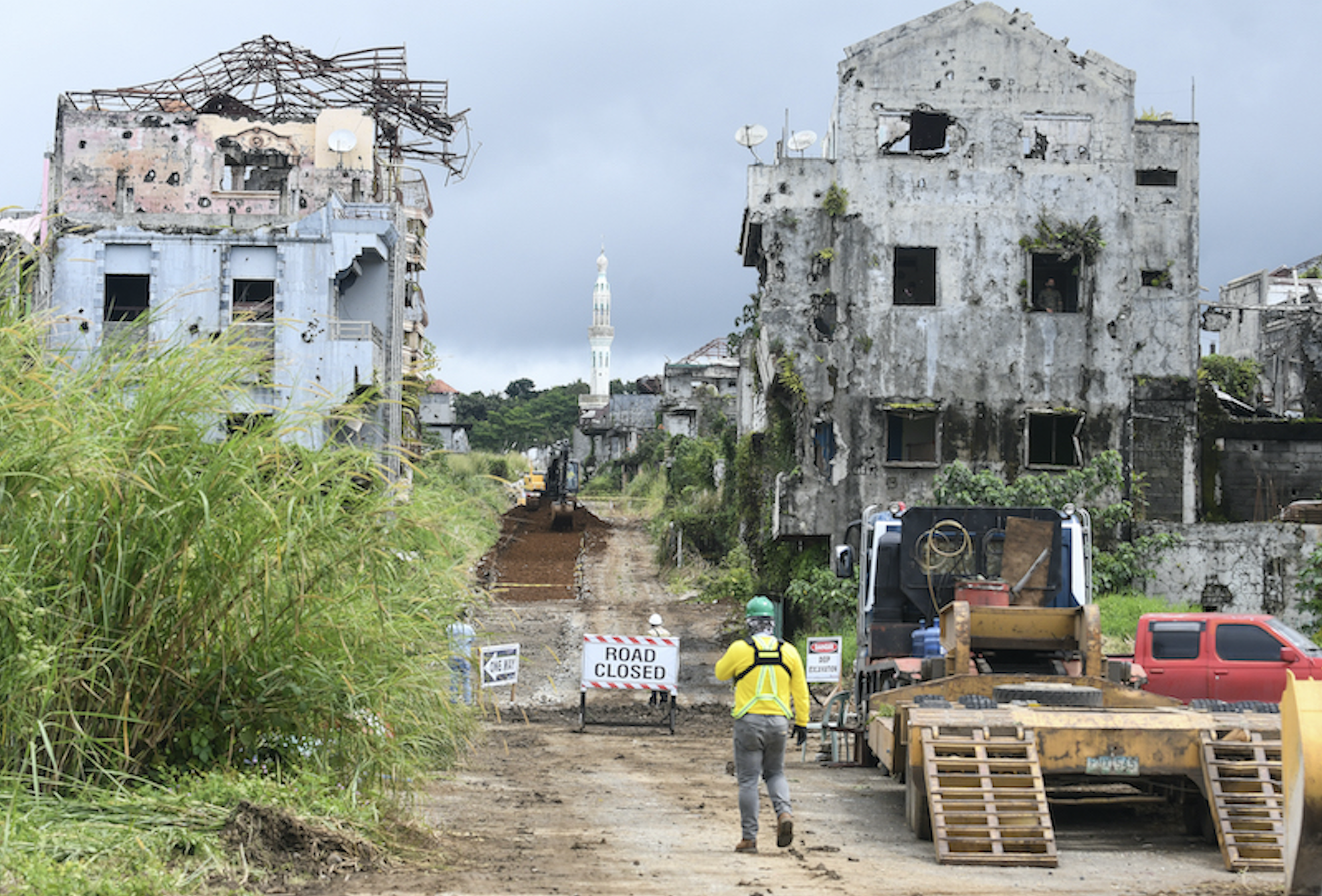 Featured image: Three years later, the Marawi government is still working to rebuild the city damaged by the 2017 siege. Courtesy of Mindanews's Froilan Gallardo.
By Razel Suansing
Niniay Mohammad still finds it difficult to talk about May 23, 2017— the day the Marawi Siege erupted. Mohammad belongs to those who lived at "ground zero," the battleground of the ISIS-affiliated Maute Group and the Armed Forces of the Philippines. Its residents are still displaced by the religious conflict. Known as the "Islamic City," Marawi used to be a paragon of Islamic architecture in the Philippines, populated with golden mosques patterned on the palaces of Maranao royalty, an indigenous people in the Lanao region. Now, the battle has only left hallowed structures emptied by bombs and pierced by bullets.
"The pain is still here," Mohammad said. 
At 23, Mohammad watched as young fighters her age joined the ranks of the Maute group. The group successfully recruited the fighters after honing in on the messenger app Telegram and targeting university campuses in Mindanao. The young members continued to fight for the group until October 23, 2017 when government forces officially declared a victory.
Mohammad has since channeled the pain and grief into progress. She is now the co-chair of the Ranao Youth Development Council, an effort to increase youth representation in the government to prevent future instances of extremism.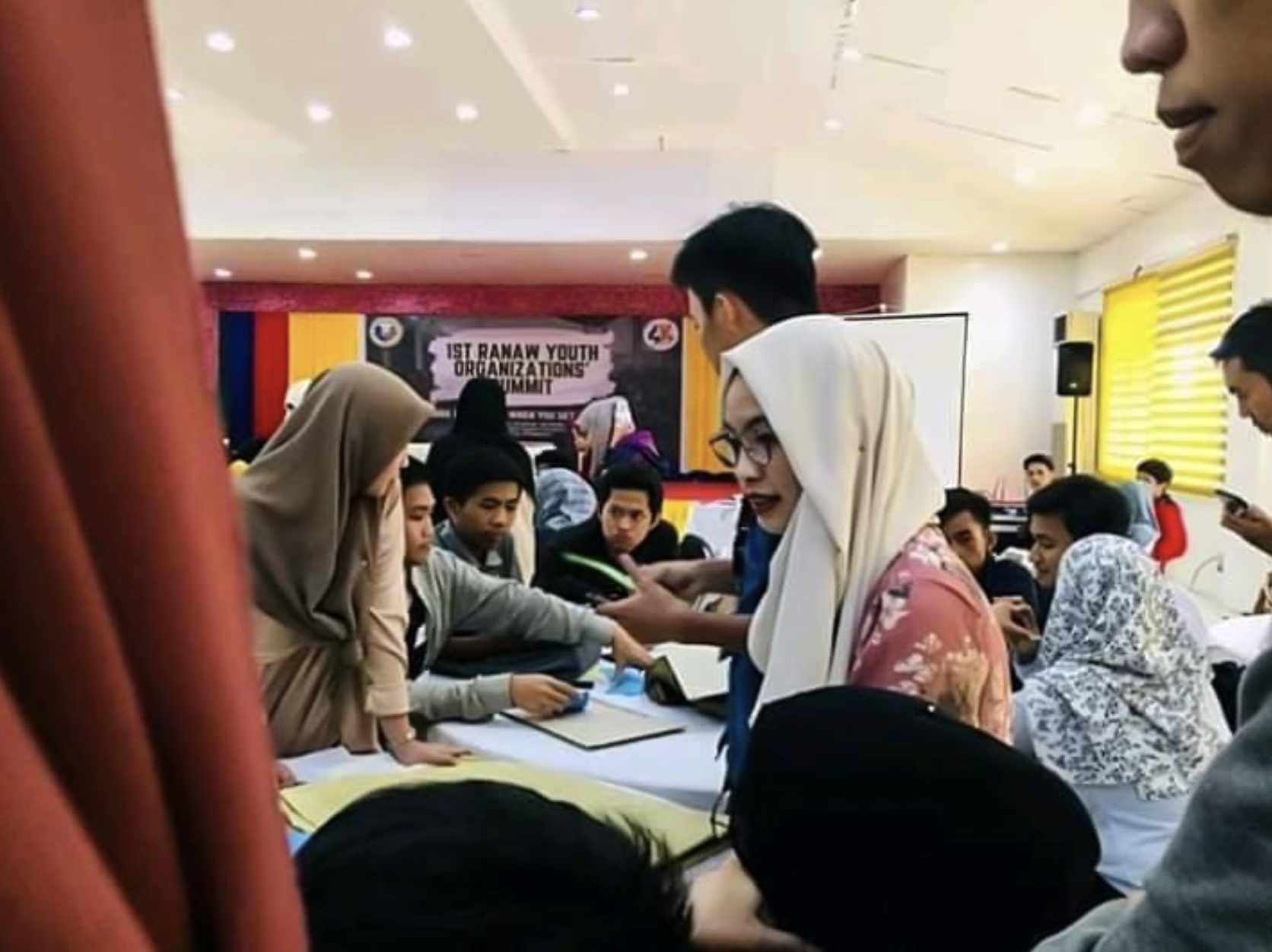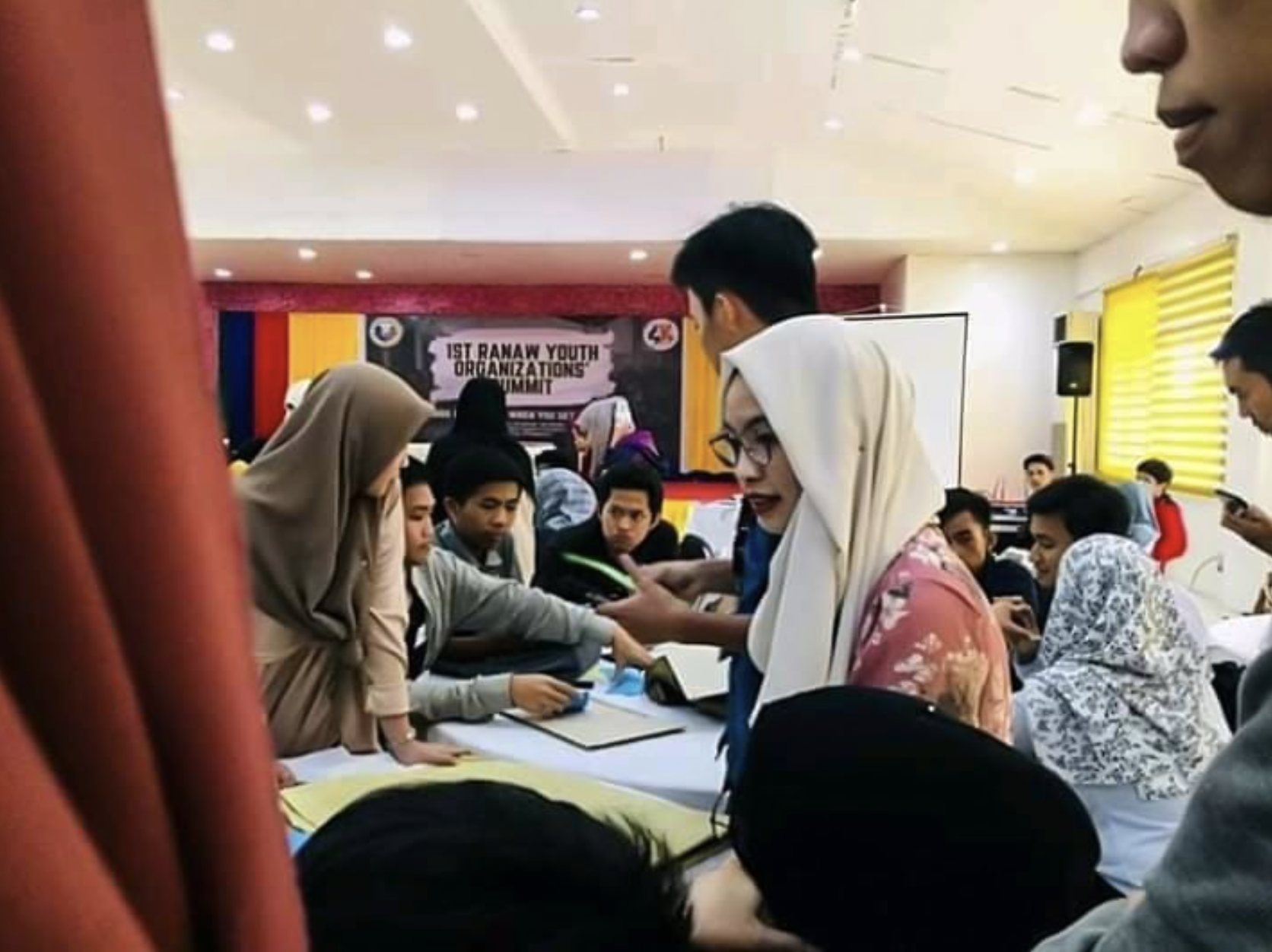 The Ranao Youth Development Council's conception
The Ranao Youth Development Council was born of a legislation simulation conference called the Ranao Youth Parliament. The conference brought together 50 youth leaders, who devised bills that served as possible solutions to pressing youth issues not only in Marawi City but also in the broader province it belongs to, Lanao Del Sur. After the conference, the youth leaders decided that they wanted to transform these hypothetical solutions into action by creating a youth council that works within the Lanao Del Sur government. 
The youth leaders spent the next year working with the 39 municipalities within the city to survey their local youth and create a proposal to be presented to the provincial legislature. The leaders then brought 20 youth organizations that represented each sector of youth society in Lanao Del Sur to serve in the technical working group. Jeff Adiong, the youth representative in the provincial legislature, proposed the idea, which is still pending approval from the legislature in its second or third reading, the last two steps before passing a bill.
"Gusto namin ma-institutionalize kasi ang dami nating youth organizations pero what we observed is, parang kompetisyon na siya. Kung sino ang may mas maraming projects, yun na yun. Yung Ranao Youth Development Council, iisa lang yung mission at kinuha natin dito ay ang common denominator ng bawat organization na tayo ay may iisang layunin, as a working group, working force." (We want to institutionalize the organizations because there are so many that doing projects becomes a competition for who can produce the most projects. The Ranao Youth Development Council has only one mission, and we found our common denominator to be a working group for the youth of Lanao Del Sur.) Mohammad said.
Johare Bohari, a member of the Ranao Youth Parliament, thinks that the youth is in a unique position to create change in Marawi. 
"I believe that we as a youth, alam natin ang nangyayari sa grassroots level, yung mga pangngailangan nila at nacommunicate rin natin yung nangyayari sa taas." (I believe that we as a youth know what is happening at the grassroots level while communicating what is happening in the higher levels of government to those most affected,) Bohari said.
Mohammad also added that she hopes the council will fundamentally change the landscape of youth advocacy in Marawi, turning these events of learning into platforms for action.
"Kailangan magkaroon ng outcome kasi more on pa seminar seminar tayo pero hindi natin nakikita, na eembrace, na iinstill, na mamaterialize ang result niya" (We need to create more outcomes because we often attend seminars but we do not see, embrace, instill, and materialize a tangible result) Mohammad said.
Mohammad and Jamal Pandapatan, a member of the council, said that one of the main projects was to help internally displaced people (IDPs), who are now out of school because of the conflict. Mohammad said that the council organizes for preventing and countering violent extremism education. One of the most challenging roles for the council is communicating with those youth fighters from the siege that have since surrendered.
The increasing number of youths in the council and other youth organizations are effective in preventing violent extremism, according to Pandapatan, because they are able to educate these youths on ways to uphold human rights and the benefits of peace education. Pandapatan said that there is an emphasis on the economic sector to tackle a cause of extremism amongst the youth.
"May push factor na sumali kasi 'pagsumali ka dito, bibigyan ka namin ng isang kilong bagas o ten thousand pesos for just one training na babaril ka lang.' This affects the thinking of the youth na bakit hindi nalang kayo sumali diyan kasi magkakapera naman ako" (There is a push factor in joining extremist groups because the groups say "if you join us, we will give you a kilogram of rice or 10,000 pesos— [200 US dollars]— for just one training where all you have to do is shoot a gun. This affects the thinking of the youth because they say "why don't I join extremist groups because I'll be earning money), Pandapatan said.
Mohammad believes that though knowing these push factors are essential, seminars and youth advocacies should be more focused on how these factors can be addressed or how youth can lead peace settlements.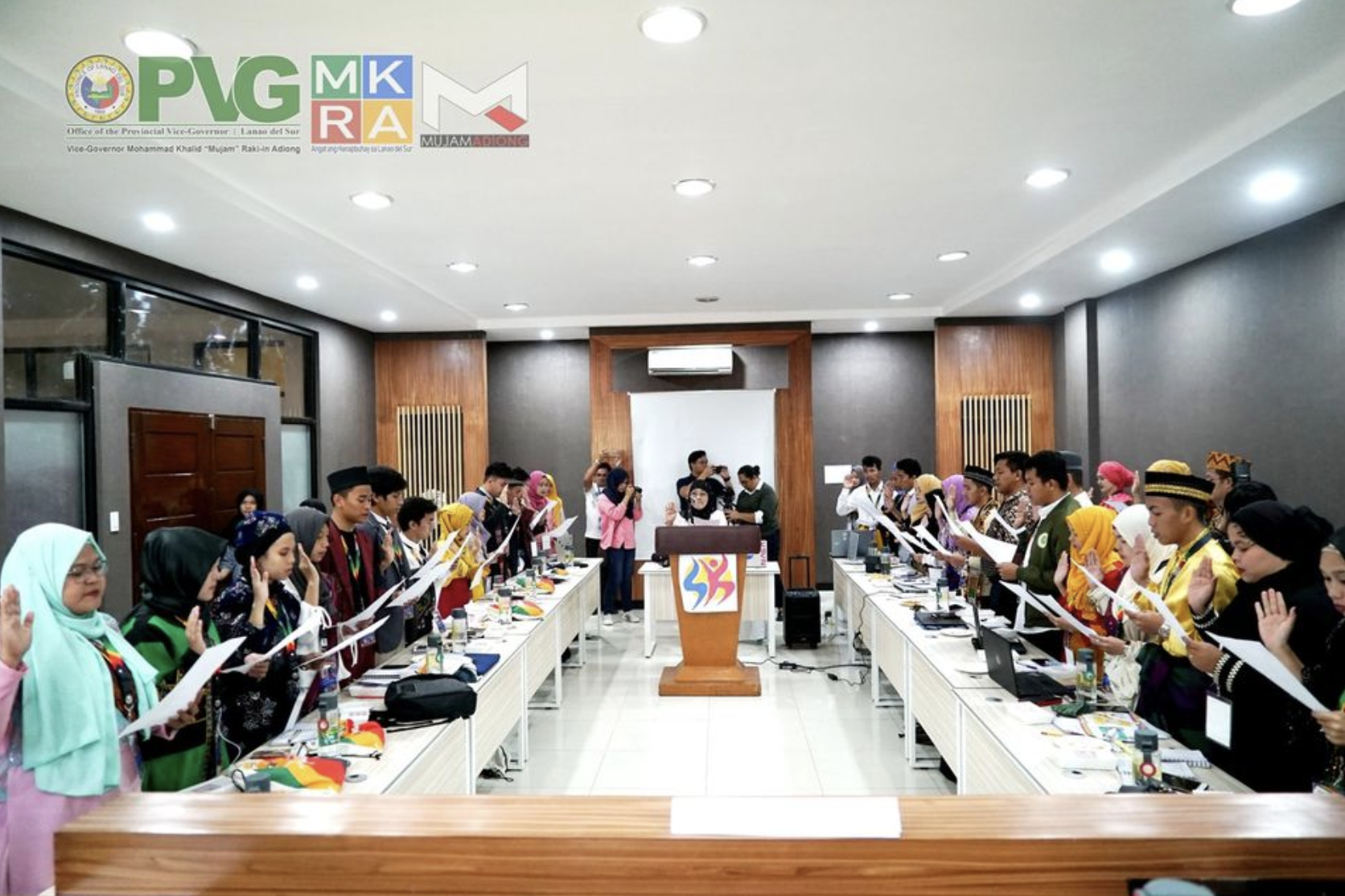 The council's efforts to prevent extremism
Social enterprises lead the economic development efforts. Arete Style provides the out-of-school youth IDPs an opportunity to create woven materials. Ten percent of the enterprise's proceeds go to providing scholarships to out-of-school youth IDPs.
Not only do these social enterprises create economic opportunities, they also promote the Maranao culture in a way that could lead to an attitude change according to Bohari.
"Yung pumutok yung Marawi Siege, most of the people —with all due respect— kung nalaman nila yung ikaw ang Maranao pinapangalan ka nang terrorista." (After the Marawi Siege erupted, most of the people —with all due respect— if they know that you are Maranao, they call you a terrorist.) said Bohari.
Pandapatan's efforts tackle forced marriages and gender-based violence within the IDP camps. The council's efforts have led to Senator Risa Hontiveros to file a bill criminalizing child marriages in the Philippines, which is in its second reading in the Philippine senate.
Pandapatan hopes that their economic development efforts will inform the IDPs that "they are heard and that there are other means of supporting their families."
Still, the council must be wary of perpetuating the problem of only giving a voice to already empowered youths in the province, according to Mohammad. 
"Why don't we try to go deeper? Let us involve the vulnerable one more like the out of school youth, teen parents, single parents, students who have low self-esteem, and working youth.  Inclusivity to really address different sectors of youth," said Mohammad.
As a victim of the siege herself, she is worried about the efforts to commemorate the siege and celebrate its victories given the current status of those most affected.
"What is the purpose of the commemoration? Ang dami paring IDPs. Ang dami paring affected. Nakakapagod na rin magpost, mag speak up lalo nang tru social media lang kasi na lalabel ka na basher or tinatanong ka pa kung ano ambag mo sa lipunan. Yung ibang mga kabataan, nasisilence na sila" (What is the purpose of the commemoration? There are still so many affected by the siege. It's tiring to keep speaking up, especially through social media because you are labeled as a basher or you are asked what your contribution to society is), Mohammad said.
Mohammad said that this silence scares her because, in this silence, terrorist groups might be forming. 
"Natatakot ako sa silence na ito kasi we don't know, till now may mga threats parin. I am afraid to think na baka because of this silence, dahil pagod na mga ibang kabataan mag salita, ang silence na ito ang siyang maging dahilan na bumuo pa ulit ng extremist group," (I'm scared of the silence because we do not know that there are still threats of extremism. Because the youth are tired of advocating for rehabilitation, this silence might be the reason why terrorist groups are formed), Mohammad said. This is the reason why Preventing and Countering Violent Extremism programs amongst the youth must be strengthened according to Mohammad.
The Maranao youth are still met with destroyed buildings and rubble when they reach "ground zero," but the youth council is working to rebuild the soul of Marawi. Youth leaders are changing the image of Marawi youth plastered on national screens three years ago—child fighters lured to a life of violence for the promise of monetary gain. Like Mohammad, Marawi's youth is now working to ensure that pain similar to the pain inflicted in May 23, 2017, has no place in Marawi's future.
---
Razel Suansing is a first year in Davenport College. You can contact her at razel.suansing@yale.edu.