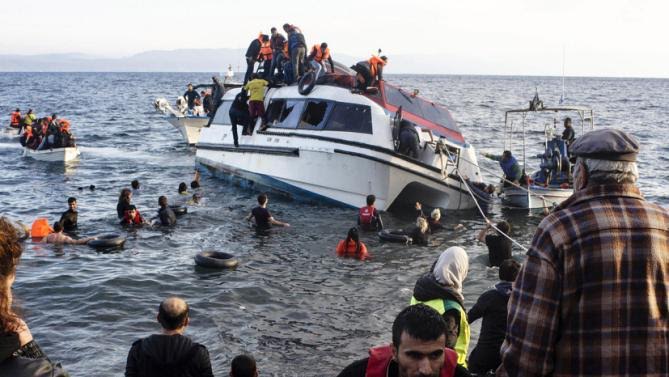 Greece and the European Refugee Crisis
"Right now the unity of the union and lives, human lives, are at stake…This is a moment of great responsibility."
– Dimitris Avramopoulos, European Union Commissioner for Migration, Home Affairs, and Citizenship
[divider]
[dropcap]O[/dropcap]ne million refugees and migrants arrived in Europe in 2015, over 850,000 of them through Greece, according to the United Nations High Commission on Refugees (UNHCR). In 2016, the influx of refugees shows no sign of slowing: there are 2.5 million refugees in Turkey waiting for a way to reach Greece, as per Turkish Prime Minister Ahmet Davutoglu. In February and March, European leaders met in Vienna and Brussels in an attempt to formulate a coherent response to the largest mass migration movement in recent history. The summits demonstrated the polarization and stalemate of European politics, and represent the latest in a long string of failures in European cooperation efforts. Once again, the consequences of these failures will be borne in large part by one of Europe's weakest states: Greece.
At summits in Brussels on March 7 and 18, European Union (EU) member states and Turkey attempted to coordinate their response to the crisis. So far, only Germany and Sweden have opened their borders to refugees, while other European states have enacted border controls and quotas to limit the entrance of refugees. Previous attempts to distribute the burden equitably have flopped. The March 7 summit only resulted in the EU governments and Turkey reaffirming their commitment to assisting Greece without offering any concrete measures for doing so.
On March 18, Turkey and the 28 EU heads of state signed a deal to return "all new irregular migrants" to Greece back to Turkey. In exchange, EU member states will increase resettlement of Syrian refugees currently in Turkey. However, EU and international laws on detention and collective expulsion will prevent large numbers of refugees from being deported, unless EU leaders opt to flout restrictions. Humanitarian actors, including Doctors Without Borders, have already criticized the potential violation of internal and international law. Greece will likely remain a primary point of entry until the legal controversies of the deal are resolved.
Meanwhile, many of the European Balkan countries are working to create "Fortress Europe" at the expense of Greece. On February 24, Austria and nine Balkan states, Albania, Bosnia, Bulgaria, Croatia, Kosovo, Macedonia, Montenegro, Serbia, and Slovenia, met in Vienna to solidify plans to stop the flow of refugees along the Western Balkan Route that runs through these countries. They planned to "ring-fence" Greece by cutting off border crossings, a plan now being implemented. "Fortress Europe" has begun with the closure of Greece's Macedonian border, forcing thousands of refugees back to Athens. This move has been harshly censured by Greece: Athens withdrew its ambassador from Vienna in protest, an unprecedented move between two EU states.
Athens' reaction is fueled by the pressure the crisis has placed on Greece's connection to the EU and already weak economy. In early February, the EU gave Greece a three-month deadline to reduce migrant sea crossings from Turkey and improve refugee processing facilities or risk expulsion from the Schengen Area, the EU's 26-state free travel and commerce zone. Greece has the longest coastline in Europe (8,497 miles), and may be unable to meet these stringent demands. The government in Athens has already called up the Greek military to construct new registration centers for refugees, but is lagging behind on necessary steps to meet the deadline. If Greece is excluded from the Schengen Area, the country's exports will be negatively affected by the restriction of trade north. Further damaging the economy, the government will have to spend more than 600 million euros to absorb new refugees in 2016 alone, a sum that is not offset by the European Commission assistance of 500 million euros between 2014 and 2020.
If the rest of Europe continues to shut its doors on refugees, Greece will truly become "a warehouse of souls," as Prime Minister Alexis Tsipras warned last month. The Greek government's contingency plan only accounts for 70,000 refugees, and without continued movement to the rest of the EU, humanitarian crisis seems imminent. First and foremost, the other European states have an obligation to obey the legal regulations of free movement within the EU until Greece is definitively suspended from the Schengen Area. What is more, unlike Greece, the other European states actually stand to benefit from the arrival of new refugees: most have labor shortages in high-skilled labor sectors that refugees could fill. Beyond that, European nations have a moral obligation to alleviate the suffering of refugees fleeing conflict.
The extraordinary efforts of the Greek people to help incoming refugees have been met with a nomination for a Nobel Peace Prize. But this is not enough: they should be met with the respect and assistance of their fellow Europeans as well.
[hr]
Christina Bartzokis is a sophomore in Jonathan Edwards college. You can contact her at christina.bartzokis@yale.edu