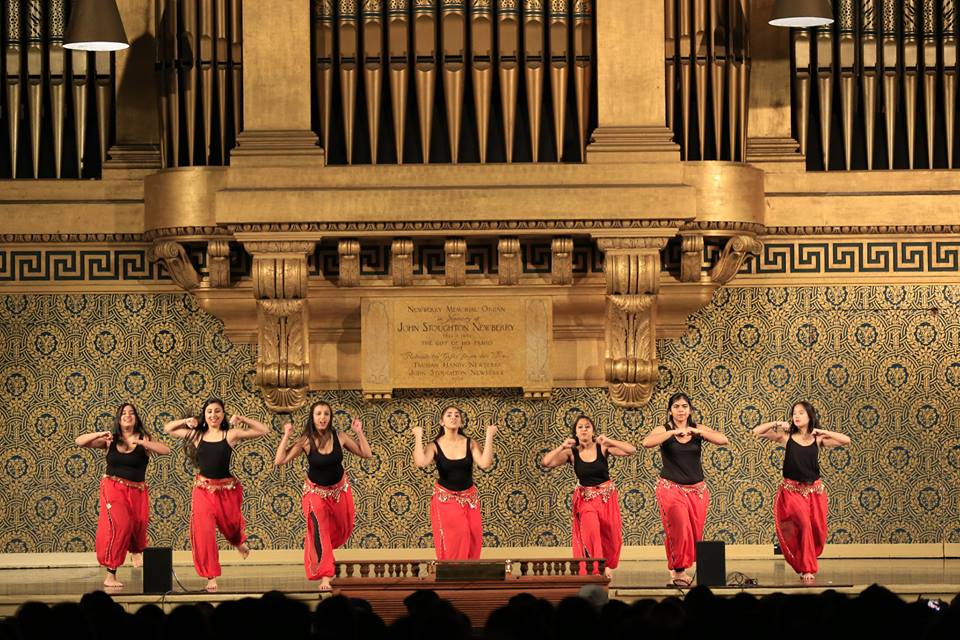 By Claire Kalikman
[divider]
[dropcap]D[/dropcap]ance troops and singing groups lit up the stage on a Saturday night in January in Woolsey Hall, as six groups celebrating South Asian culture performed at the annual Roshni (meaning 'light' in Hindi) Showcase. The South Asian Society hosted the event, and also sold Indian and American food to raise money.
Diksha Brahmbhatt '18 and Ahmed Syed '18 emceed the event. Their self-deprecating humor and incredible dancing amused and wowed the crowd during the breaks.
The night started with the fusion a capella group Sur et Veritaal. 'Sur' means 'note' and 'veritaal' means beat or rhythm, and they live up to their name by combining Bollywood songs and Western hits, singing in both Hindi and English. Member Nikhil Nagpal '21 said, "I think it's a great way to stay connected to my culture and have fun!"
Next was Yale Rangeela, a fusion dance group combining Bollywood, classical Indian, and hip-hop. Their claim to fame, as they love to emphasize even 6 years later, is their 2012 performance for Shah Rukh Khan, arguably Bollywood's biggest superstar.
Then came Yale Kalaa, Yale's newest Indian dance group. They performed three types of dance from different regions: Bharatanatyam, Kathak, and Kuchipudi. Yashasvini Jindal '21 performed the final type, a traditional folk dance form from the Punjab region of South Asia. She commented, "I love being a part of Kalaa because even though we all come from different backgrounds, dance brings us together, and lays the foundation of our shared values. Beyond our differences, we are a unique community united by our commitment to our versatile dance forms." This was easy to see in the graceful and beautifully fused performance. Their clothes were also astoundingly beautiful, ensuring that the viewer would not be able to take their eyes off the performance.
MonstRAAsity performed dance from the state of Gujarat, and were followed by two graduate students singing Desi music. It was a welcome surprise to have performers not just from the College; the inclusion of graduate students emphasized the strong sense of community across all parts of Yale. The final group to perform was Jashan Bhangra , who rejuvenated the audience with their high energy Punjab dance style.
Delhi native and audience-member Saumya Malhotra '21 commended the performances, saying "I'm so happy that these sorts of events happen here because it makes me feel at home and connected to my culture even when I'm so far from home." She was also happy to explain the significance of each type of dance to her friends less versed in Indian dance.
Many of the acts, though, included performers not from South Asia or South Asian descent, a tribute to the true inclusive nature of these and other groups at Yale. There was also an act put together by each grade, composed of the actual performers, and the performers' friends, just there to have a good time. These acts often featured contemporary American songs, or songs with lyrics in Hindi and English, an indication of the combination of cultures. Afterwards, some freshmen members of the audience could be heard plotting next year's Sophomore Act, inspired by what they had just seen.