St. Petersburg Street Style: A Photo Essay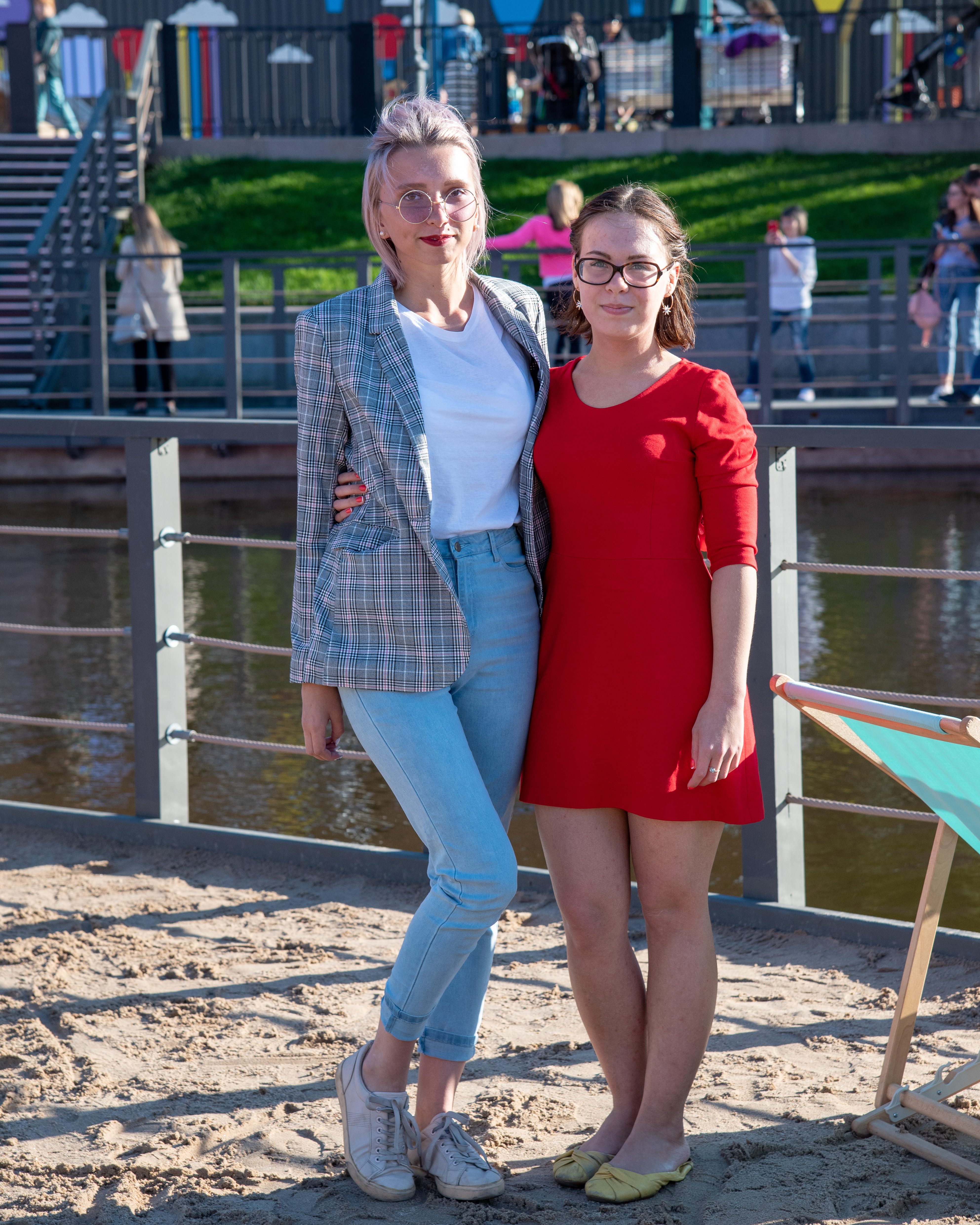 By Lucas Ferrer and Claire Kalikman
[divider]
[dropcap]F[/dropcap]or most of the year, St. Petersburg is cold and dark, creating a style centered around gray tones and heavy clothing. During the summer, however, the city transforms. White nights and warm weather lead to an explosion of fashion and color throughout the city, with people vividly and loudly expressing themselves through fashion. For our project, we decided to do a photo essay of Russian street-style. Clothes are the first way people present themselves to the world and the various ways people dress can say a lot about a society. Through this project we got a peek into the identities of some of the many different people who inhabit St. Petersburg, from ultra-feminine women to punk motorcyclists to coordinated couples. Their outfits transform them from everyday people one would simply pass by to people who invited us to stop, take pictures, and in doing so, make human connections.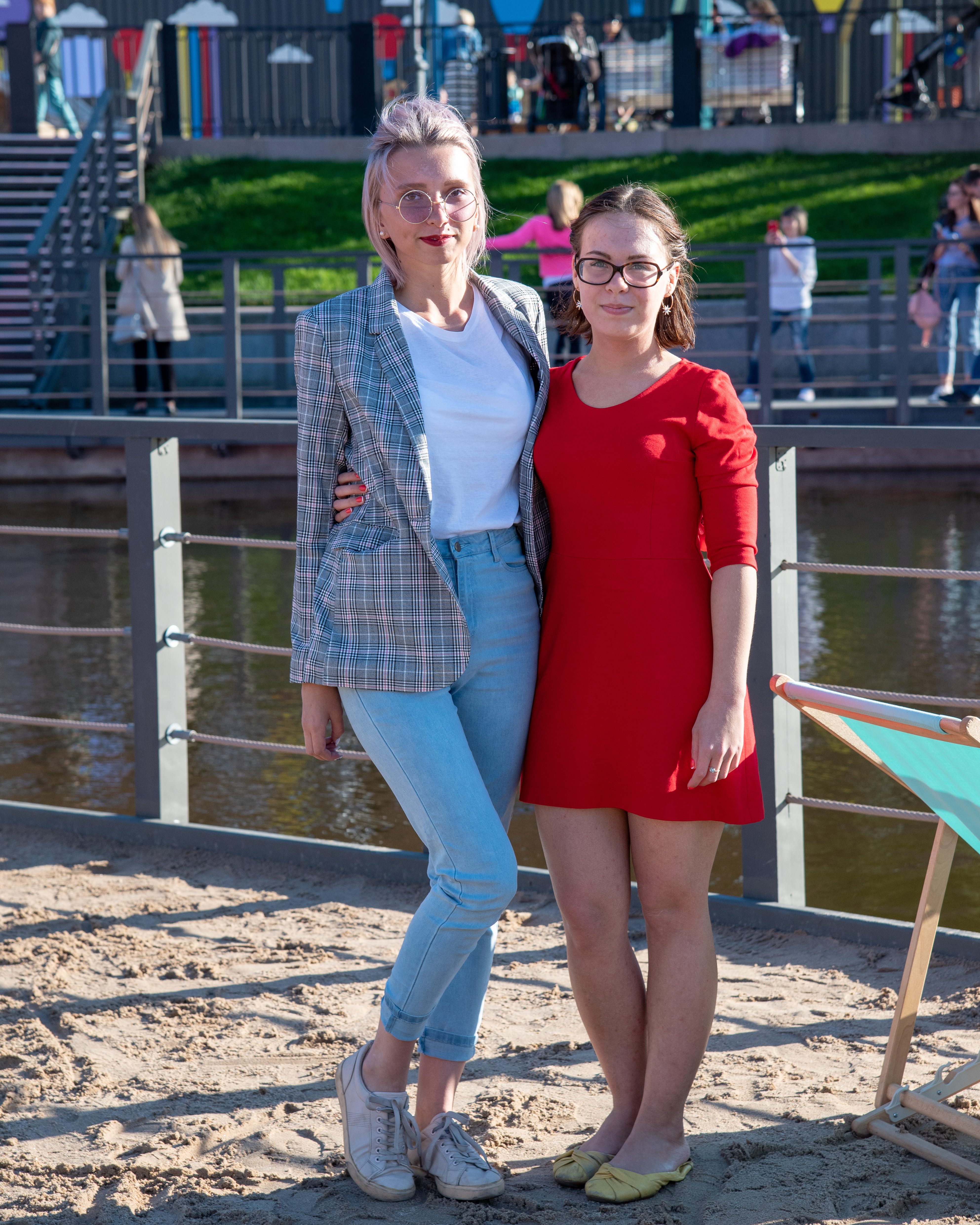 In Saint Petersburg, you rarely see just a woman in athleisure. Women here make a big effort to dress up a bit. Many Russian women love to pose and show off their legs. You'll notice in many of these pictures that they pop the leg. The woman on the left sports a simple white t-shirt tucked into a pair of cuffed skinny jeans. The look is made eccentric and unique with her dyed light pink hair, coordinated rose lens glasses, and polished red lipstick. Her gray checkered blazer adds a business-casual element to the look. Her friend sports bright summer shades of red and yellow. Her pinned back hair and glasses tones down the colorful ensemble. Both women have a feminine and girly style.
We have seen many Russians rock the denim on denim look. For years, denim was not widely available in the Soviet Union because it was viewed as a sign of western capitalism. She also cuffs her raw edge hem jeans with a sporty stripe up the side. She holds an oversize Rebecca Minkoff chestnut studded clutch. Her shoes are a cross between espadrilles and loafers. She wears a menswear—perhaps her boyfriend's—blue checked shirt, feminized by tucking it in and wearing it open, layered over a white shirt. The look is saved from being very male by the feminine silhouette-cropped jacket and flared pants. Her boyfriend matches her in denim shorts, Tobias Fünke style. A denim couple.
Here we have two pseudo-rockers wearing ensembles that bear many similarities to western streetwear that we see from designers like Virgil Abloh and Kanye West. Both men are also exemplifying some very clean layering that is so prominent in Russian street style. Each man wears trainers, black joggers, a long shirt, a jean jacket, and a baseball cap.
A very interesting look. The picture was taken as he was biking along the Palace Embankment. He is wearing a black and white coordinated outfit: black and white pinstripe pants, white puma sneakers, popped collar with a white vest bearing a black and white motif with a spade emblazoned with a skull and the words "Lucky T," and a white skull cap that resembles a male Muslim cap. A sleeve of dark tattoos is also coordinated. His look has a funny irony to it: he is sporting a "biker" look, while riding an actual bike, not a motorcycle.
Pictured here is a French-African man at the Hermitage. Given the amount of European influence in St. Petersburg, a stylish tourist made an interesting addition to the collection. He wears tight fitting green joggers, monochrome black sneakers, and blue sweatshirt that says "Guccy" [sic]. He has a white t-shirt with a black bar that coordinates with the sneakers and baseball cap.
Black v-neck jumpsuit, oversize white knit cardigan, small black backpack with tassels. Her long hair is the crown to her outfit. Many Russian women sport long, luxurious locks. The clean white converse add a sporty element to an otherwise lounge-inspired outfit. This 70s-inspired look features a dusty pink sweater, shearling bomber jacket that match tan Timberland boots, wide flared light denim pants. She also wears her long hair down. The New Holland Island pelican logo is seen in the background.
This beautiful woman wears open toed stilettos, purple cigarette pants, and a unique navy velvet blazer/sportcoat, Hugh Hefner style. The purple-blue hue of the shoes ties together the disparate color scheme. She wears her coiffeur in loose waves. She appears to have some face fillers, and has dyed her hair a lighter shade. Many Russian women seem to put a big focus on their appearance, spending thousands of dollars on beauty treatments. With 84 men to every 100 women, there seems to be a mild competition in the streets to attract men. This look transforms her into somebody desirable, who people might try to talk to, or about.
He wraps his hand around her protectively. PDA appears to be very popular in Russia. Couples love to go out together holding hands. Often times men or women can be seen with a bouquet of flowers for their loved ones, and there is a preponderance of 24-hour flower shops – a phenomenon that we definitely do not have in the US.
This man is somewhere between punk rock star and artist, with his paint-splattered cuffed jeans. His sneakers are straight from the manufacturer, but their multi-colored surface perfectly matches his pants. The look is saved from being messy because it is paired with a crisp white v- neck t-shirt, and a well-fitting leather jacket. His hair is also perfectly groomed, and the red hue matches his colorful persona.
He is another example of the heavy influence of western street style in St. Petersburg. A very interesting and cohesive layered look, paired with a glare into the camera that can't be beat. The cross on his clutch evokes the religious message that is so prominent in Russia.
Shades of blush. A hyper-coordinated couple. Her Nike sneakers, ballet-inspired tulle skirt, and handbag are all light pink (with a traditional scarf tied around it, also pink) matching her boyfriend's shirt. The outfits are accented with touches of cream on her bag, her blazer, and his sweater – thrown preppily around his neck. The preppy look is not a common one in Russia.
A very fun couple in a very hip spot (photographed on New Holland Island). He rocks a fedora and skinny pants, and layers a patterned shirt under his denim jacket. She has her jacket draped over her shoulders, a very common look amongst women in St. Petersburg, with a fanny pack strapped around her waist and jeans that match her boyfriend's jacket.
Хулиганки! This highly coordinated couple looks somewhere between The Transformers and a motorcycle gang. It makes me wonder if "The Hooligans" is the name of an official club, or perhaps how he and his girlfriend identify. They match perfectly, from the worn-in jeans to armor to brown hair. This is an incredibly eye-catching look, especially on that hot day, when most people were in shorts or dresses. This couple immediately projects an identity, and stirs many connotations in people's minds as soon as they see them. When they put on this gear, they transform from average people to somebody noticeable, somebody to talk about.
[hr]
Claire Kalikman and Lucas Ferrer are sophomores in Morse College and Pauli Murray College. You can contact them at claire.kalikman@yale.edu and lucas.ferrer@yale.edu.