Not Just a Home of Champions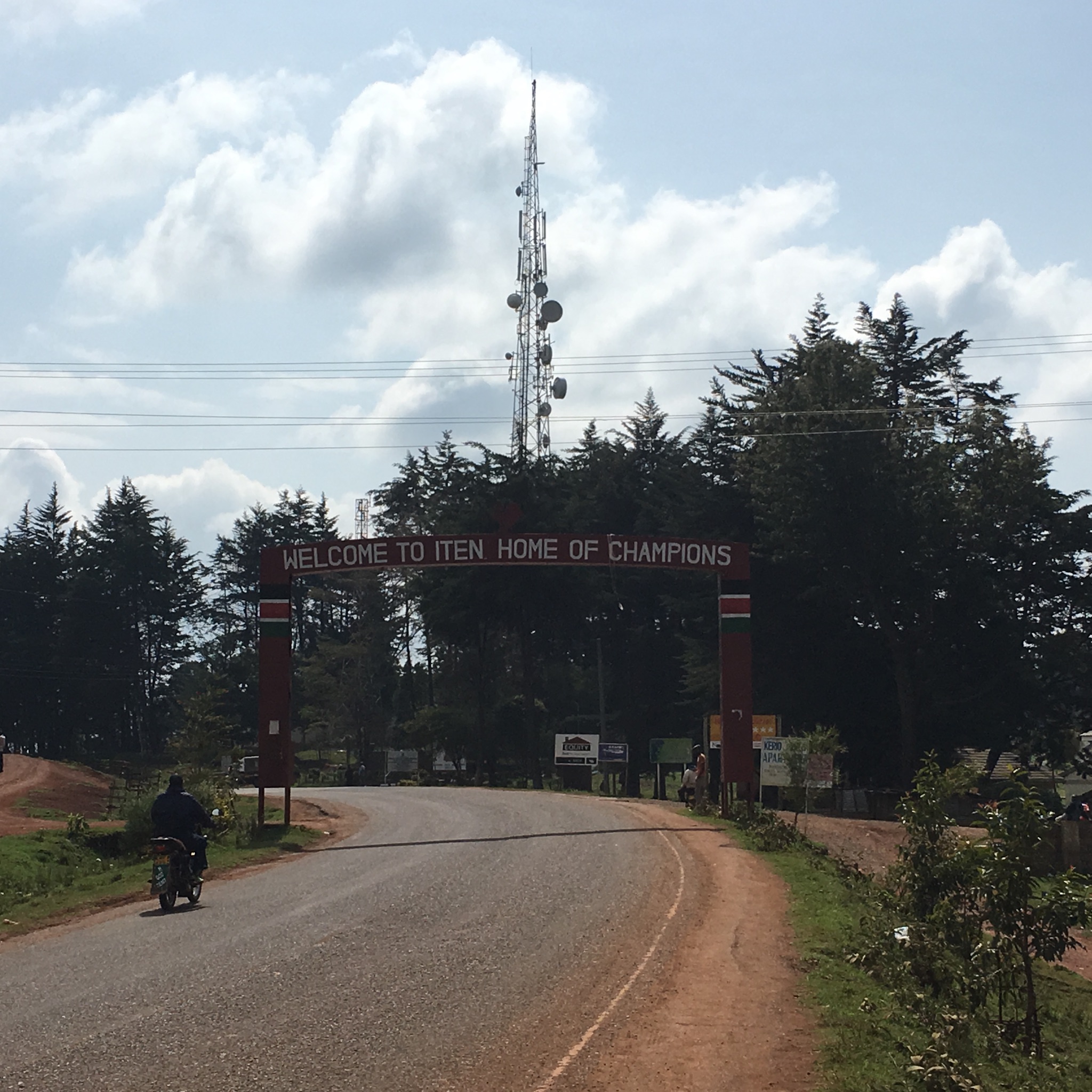 By Luke Chang
[divider]
Having arrived in Kenya a month before the Olympic Trials, I drove forty kilometers out of Eldoret, the major town of the western Rift Valley, along the single tarmac road that runs alongside the valley rim. A month later, I would be driving in the opposite direction to Kipchoge Keino Stadium, the site of the Kenyan Olympic Trials from June 30 to July 1, to watch Kenya's elite distance runners compete for the opportunity to represent their country at Rio.
[dropcap]C[/dropcap]limbing to a final elevation of 8000 feet on its way to Iten, the road gradually exchanges crowded lines of mutatu vans and motorcycle taxis for throngs of runners passing along the side before they turn off into the rolling hills of maize fields. At the town limit, an arch stands over the road emblazoned with the words "Welcome to Iten Home of Champions." The arch marked my arrival in the small town that would send many of its runners in the opposite direction outside the town in a month's time. For those elite runners, the triumphant arch served as a fitting testament to the success that allowed them the chance to race for a spot at the Olympics. I came to Iten believing that the "Home of Champions" was a unique place, a haven dedicated fully to athletics. On the eve of the Trials, it seemed that Iten had realized the Olympic ideal of athletes pursuing excellence out of an amateur passion for running, even if most were professionals and were paid along the way. The branding of Iten as a "Home of Champions," however, became increasingly problematic over the time I spent this summer speaking with the runners who strive to live up to it. In the world of competitive distance running, Iten stands out for the sheer number of record holders and champions it has produced. Walking down Iten's dirt roads, it is difficult not to notice the degree to which success in distance running has come to define the town's identity. Across the street from the Champions Running Shop, a poolroom advertises itself in large block letters as the "Home of Champions," unclear whether it is referring to the billiards skill or running prowess of its patrons. In the lead-up to the Olympics, I came to Iten to talk to the members of the community who would not be making the trip to Eldoret to run in the Trials, for whom the slogan "Home of Champions" is more an unlikely promise of success than a reality.
Jeremiah and Edwin: Seeking Stability
[dropcap]J[/dropcap]ust above the escarpment that plunges down to the Rift Valley floor, the Kamariny track serves as the center of gravity for the town's runners. On Tuesday mornings, the dirt track hosts crowds of over a hundred athletes working out in groups or individually, but on every other morning there is always a handful of runners circling the grassy field. Although its wooden stands are decrepit and rotting away, there are signs of changes at the track. Workers have poured concrete for modern bleachers on the opposite side of the old one, and a wire fence now encloses the entire field to keep sheep and goats from grazing in the middle of the track. Despite the changes occurring around them, the runners still came to put in their work. A vast majority of the runners, however, were not training for the Trials. For most, the Trials were a world away.
Among the crowds of runners on one Tuesday morning, Jeremiah and Edwin did not stand out in their worn training gear and battered shoes. Sitting in the wooden stands above the track, the two men changed into their sweats after their workout and chatted with me about their experience training in Iten. Soft-spoken and less confident with English, Jeremiah often looked to Edwin for a translation of my questions into Swahili. Having lived in Iten for five years, Jeremiah trains full-time and supports himself by competing in local races around Iten and Eldoret. When I asked whether he had any help from the government or a manager, he explained, "You train as an individual." For Jeremiah, as with many of the other runners circling the track that morning, running full-time does not involve a steady flow of income, and he came to Iten as an individual without any guarantee of support from a professional coach or manager, which most runners I spoke to consider prerequisites to achieving success. Jeremiah's dedication to running seemed to be a sign of his abiding love for the sport, for he showed no tangible gains from his efforts, and at twenty-seven he is old for someone attempting to break into the running industry. Jeremiah surprised me when he said that he was looking for work outside of running. He said, "I can do any light work, but it is hard to find work." When I asked what he would do if he found a decent job, Jeremiah quickly answered that he would stop running. For him, running is a job, and he only runs full-time because of a lack of other employment opportunities My ideal of amateurism, the pursuit of athletic excellence without attention to its economic benefits, conflicted with Jeremiah's experience.
Edwin's experience of professional running further stressed the importance of economic factors in the choice to pursue athletic success. Having spent seven years running professionally in Iten and Eldoret, Edwin estimated that he usually runs two marathons, three half-marathons, and three 10ks per year in local races, and on average he made between 15,000 and 20,000 Kenyan shillings (about $150 to $200) per race depending on his performance. His estimated income of about $1,050 to $1,400 per year from professional running roughly matches the GNI (gross national income) per capita of Kenya, which was $1,290 in 2014, the most recent year for data from the World Bank. Although he is making about the same as the average Kenyan, he has not achieved the economic success enjoyed by elite runners for all the sacrifices he has made. His income is also unreliable. If he becomes injured and cannot race, his income immediately falls. Edwin came to Iten from a village about forty kilometers away from Iten, and he visits home twice a month, and he is unsure when he will stop running professionally. "It all depends on sponsorship," he said when explaining what influences his decision to keep running. To receive a sponsorship, however, would require Edwin to run elite times and stand out from the crowds of other runners at Kamariny. Besides being a sign of athletic excellence, a sponsorship with a brand would also bring a significant increase in income from the prize money won at local races. In my conversations with more of the runners in Iten, I increasingly came to see that the dream of being a champion has more to do with economic pressures than an abstract desire for excellence.
Charles: Training a New Generation
[dropcap]F[/dropcap]arther up the hill from the wooden stands at Kamariny, three large military-style tents stood side by side every morning I visited the track, with men washing clothes or chopping wood on the grass nearby. The tents housed about thirty soldiers of the Kenyan army who had been granted leave to train in Iten. One morning I was invited to speak with Charles, the coach in charge of the soldiers' training. At the moment, his runners were building up their aerobic base in preparation for cross-country, and they would be staying in their tents until October, the start of the racing season. A soldier himself, Charles has been coming to Iten since 2004 in between racing seasons for its high altitude before going back to the valley floor once the races start. His runners train two or three times a day, but only once in the morning on Sundays. Despite their rigorous training and support from the army, Charles estimated that only two to three of the thirty runners he coaches will make it abroad to race. The success rate of his runners suggests that the chances that the other runners working out everyday at Kamariny have of "making it" are even lower. Charles' runners have already been preselected by the army for their running talent and have access to a steady income and a coach, yet they still face long odds of achieving what they seek. Charles explained that each soldier is given a certain amount of time to show improvement in his performance, and if he fails to improve his commanders will order him back to regular military duty, removing his opportunity to train. While the soldiers retain their military employment, according to Charles most of those in his group enlisted in the army "for the facilities, for the training" with the purpose of becoming professional runners. Running is their best option, and having to return to regular duties represents a failure of their goal. Compared to other jobs, Charles said, "The sport pays more than our salary [as soldiers], more than the farming." For most of his runners, their pursuit of success as professionals will be cut short, with the dream of a higher income and stable livelihood nothing but a memory.
Charles himself was once a runner, and he was able to make it abroad to race. When asked whether he wanted to be a runner because he loved the sport, he answered that he started running for the potential to make money. Charles' account of how he came to be a professional suggests just how spontaneous the process can be. He described how he placed second in a 30-kilometer race in Kenya where a Western manager happened to be present scouting for talented runners. According, to Charles, the manager then quickly wrote Charles' name down in pencil on some paper and asked him if he had a valid passport. When Charles answered that he did, the manager told him to apply for an Italian visa, and soon enough Charles was in Italy racing professionally. Charles said his best result was a 2:09 marathon in Trieste, and eventually he returned to Kenya and took up coaching once he became too old to run competitively.
His story, however, is exceptional. While he was able to make it abroad, many of his friends did not. Charles said, "They run for ten years, but they haven't gone anywhere." Charles was fortunate to have a combination of talent honed by rigorous training and the opportunity to display that talent on the international stage. A few of the runners in his training group may be able to replicate his story, but by Charles' own admission for most of them running will fail to deliver on their dreams. When asked what he thought were the main obstacles for runners trying to make it, he said that one of the most significant issues is the limited number of managers in Kenya who are able to give runners the opportunity to become more visible. Without a capable manager, most runners in Iten lack the contacts and resources to travel to major races and further their careers.
Ruth: When the Dream Meets Reality
[dropcap]O[/dropcap]f all the runners I spoke to during my time in Iten, no one exemplified the pursuit of distance running success against all odds more than Ruth. After being introduced through a friend, I sat down with Ruth inside her home just a short walk from the escarpment over the valley. Speaking excellent English although she only finished two years of high school, Ruth said that she had run in some half-marathons and road races around Iten with the hopes of making it as a professional. Despite her evident dedication to running, Ruth faces significant obstacles to realizing her dreams. She is already thirty-two years old, and she has not run in any major races or seen much success in the local racing circuit since she came from Kapsabet three years ago. Ruth said, "It is difficult for me to get my dreams to come through…I need to support myself. Sometimes I am stopping my training and starting again." She explained that it is very difficult to find a job in Iten, and the jobs she is able to get often interfere with her training. Without reliable work, she struggles to find odd jobs around town, such as washing clothes or helping at one of the hotels. Ruth described how, as with most of her fellow aspiring runners in Iten, she rents her small living space, putting pressure on her to find work to be able to make her payments. According to Ruth, a typical job at one of the hotels in town demands that she work from 7AM to 7PM and only pays between 100 and 150 Kenyan shillings. Such long hours leave little to no time to run, but Ruth said, "There is nothing you can do because you need the money."
Her choice to continue to pursue her dreams is all the more impressive considering the pressures that she faces as a woman. Ruth told me that for girls coming out of primary school, "There is more pressure to get married than to train." Besides the social expectation to marry, there is also an economic pressure. Explaining why many women choose marriage over running, Ruth added, "It is better than to run because you do not have any support [in running]." She described how several of her friends had moved in with a man, sometimes without being married, and had children. The resulting family responsibilities curtailed their running careers, especially in the cases where the man left. Without a steady income from running, the relative stability of marriage becomes more attractive to female runners. When I asked what other issues runners face in Iten, Ruth noted that some unscrupulous people prey on the ambitions of aspiring runners by posing as managers and promising them opportunities to go abroad or race at major meets if the runners are willing to cover some costs. Desperate for a chance at making it, the runners are easy targets. Once the runner has paid, the fake managers disappear with the money. Even while describing all the challenges in the way of success, Ruth still expressed her desire to pursue distance running as her way to a better life. She knew the hard reality of the running industry, but she was willing to risk it. For Ruth, there were no other options that gave as much hope.
At the Rio Olympics, several runners who train in Iten represented Kenya with great success. The elite athletes added to Iten's reputation for developing distance running talent, but to only celebrate Iten for its champions would ignore the struggles of the many runners who continue to train hard everyday knowing in all probability they will not make it. Their struggle is not a romantic or idealistic quest for athletic excellence. In Iten, running is a means of survival.
[hr]
Luke Chang is a junior English major in Branford College. Contact him at luke.chang@yale.edu.