Vienna's "Social Housing"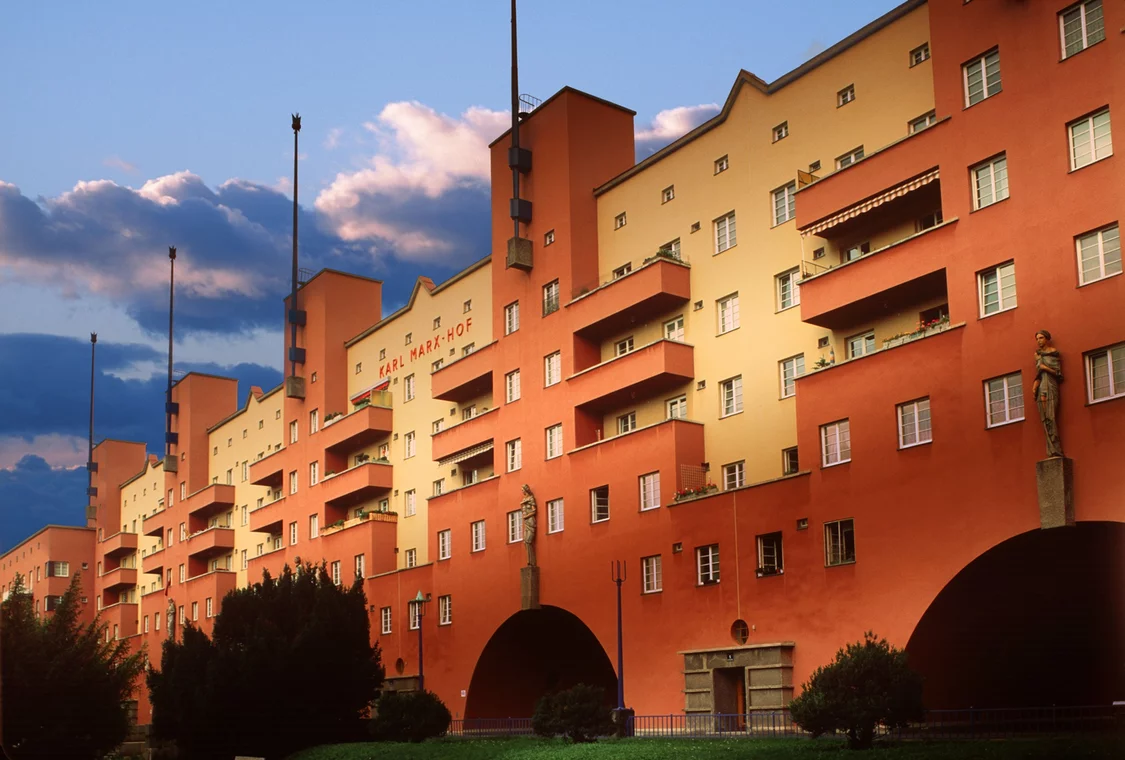 Lessons in public housing and quality of life from a city's socialist roots.
By Sarah Holder
[dropcap]P[/dropcap]ublic housing in the United States is fraught with an ugly history. The term calls to mind images of cinderblock high rises, the crumbling walls of the Pruitt Igoe building in St. Louis, decades of decay and government neglect, social stigma, and institutionalized inequality. But in the past few decades, city planners, government officials, and community organizers have fought to help public housing better serve communities in need, attempting to improve standards of living while keeping costs low.
Vienna, Austria is one salient model of international public housing gone right. Vienna's framework for housing policy begins with a fervent ideology on the governmental level that housing is a basic human right, not a capitalist construct. Today, as a result of progressive and innovative policies behind "social housing," 60% of the Vienna population lives in subsidized apartments.
This pioneering approach first emerged in the late 19th century as a reaction against the rapid urban decay caused by Europe's industrialization. And after WWI, when the Habsburg monarchy collapsed, the new socialist regime made social housing an even bigger priority as a tool of governmental control. In the 1920s and '30s, an era when the city was dubbed "Red Vienna," the Social Democratic Party-controlled government built 61,175 units in 42 housing developments. They began by building Gemeindebauten, communal housing blocks that combined workers' housing with public services, gardens, and commercial businesses.
In doing so, city officials hoped to provide the working class with access to the same amenities  as the upper classes, and encourage interactions across social hierarchies.
Nearly one hundred years later, the legacy of Red Vienna remains—in both tangible and political forms. The Vienna City Council built Karl-Marx-Hof (see below) in 1930, situated in the city's wealthy 19th district as an emblem of socialist strength. The sweeping complex was constructed to house 5,000 workers, and included facilities for laundromats, daycares, and doctor's offices, services families in the working class would not have had access to under past regimes. 85 years later, Karl-Marx-Hof still holds the title of largest single residential building in the world, and its orange walls, small square windows, and looming arches stand strong.
Today, the Viennese government owns a quarter of the city's housing stock—more than 220,000 apartments—and spends 450 million Euros in federal funds per year on housing, in addition to 150 million in municipal funds. Eighty percent of new housing units are built using these subsidies, which cover 30-40% of the cost of each project.
Vienna's spending methods differ from the U.S Department of Housing and Urban Development Section 8 strategies, however, in that they are not supply-side—rather than providing vouchers for individuals, the subsidies cover housing construction. The government delivers this support with the stipulation that half of the units in each development are conferred to the city, to be made available for low-income residents. The remaining half can be filled by the developer, and are usually inhabited by middle-income residents. This ensures that "mixed-use" and "mixed-income" developments, often inaccurately applied when used to describe private U.S. developments, in fact serve multiple economic tiers. Residencies in social housing complexes are given to low-income residents first, and they are allowed to keep their homes even if their incomes rise in subsequent years.
Developers' competitions, called Bauträgerwettbewerbe, choose what buildings receive this cocktail of finances. Designs are judged on four criteria: economy, quality, environmental performance, and social sustainability. This puts the impetus on the developer to create affordable housing that is also creative, innovative, and eye-catching—so far, architects have delivered. Just like their private counterparts, public housing projects are architecturally daring, filled with amenities, and accessible to all.
The Viennese City Government commissioned the Wohnpark Neue Donau (see above), designed by Harry Seidler, in 1993. The oblique arrangement of seven apartment buildings rests along the Danube River, and is designed to give almost all 850 units a river view. Some apartments feature rooftop terraces; many have private gardens. And, in keeping with the tradition set by Karl-Marx-Hof, services like a laundry room, nursery, and a garage are all contained within the complex boundaries.
Buildings like Karl-Marx-Hof may seem ideal, but Vienna's system is imperfect. Though it is designed to avoid economic and social stratification, divisions have become clearer in recent years, with a new influx of immigration into Eastern Europe. Many newly settled families live in older buildings, while older Austrian families move into more recent ones. Some are worried that the 450 million Euros spent each year might not be enough to meet this increased demand. And Bauträgerwettbewerbe are not as democratic as residents would like: they don't include community voices in voting, relying instead solely on city officials, developers, and architects to impose their vision on the public.
Though Vienna's unique housing solution was built off of a tradition of socialist paternalism, it has since evolved to fit the needs of modern residents, and proves that supply-side subsidies and top-down design competitions can be effective in ensuring high volumes of housing and high quality of life. Of course, these solutions aren't all feasible (or desirable) at the scale of the United States and its population. But as U.S. cities struggle to make public housing affordable, aesthetically pleasing, and accessible to the communities that need it, they may look to Vienna for inspiration.
---
Sarah is a junior in Saybrook College. Contact her at sarah.holder@yale.edu.