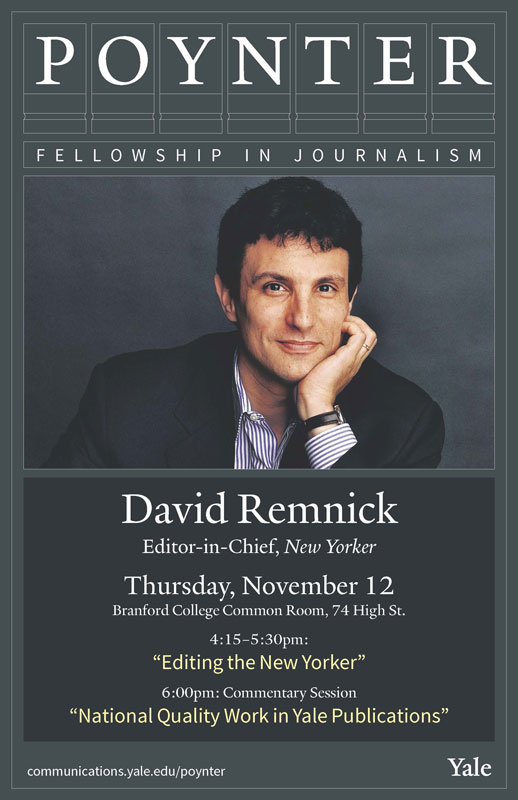 David Remnick talks to Yale students
By Leila Murphy
"I was extraordinarily lucky in that I knew exactly what I wanted to do," David Remnick, Editor in Chief of the New Yorker said, telling his audience how he got to where he is today.
On Thursday afternoon, students crowded into the Branford Common Room to hear the person that Fred Strebeigh ― the Yale English professor who moderated the event ― introduced as "the best magazine editor in the United States." In a hour-long interactive conversation organized by Yale's Poytner Fellowship in Journalism, David Remnick spoke to students about his experience editing the award-winning New Yorker magazine since 1998.
The theme of chance echoed throughout his narrative. He was lucky that The Washington Post was hiring twenty-two-year-olds. He was lucky that no one else wanted to go to Moscow in 1988 (where he became the Washington Post's Moscow correspondent). He was lucky to be named editor of the New Yorker when Tina Brown stepped down "without having ever edited anything in my life except my high school newspaper". Yet Remnick steers away from false modesty. He acknowledges how he stuck with his roles and ― no matter how ill-prepared he came in ― became an expert in each one.
Within the first five minutes, Strebeigh opened the floor to audience participation. For the rest of the time, Remnick answered questions on everything from how he reconciles editing and writing ("I can't") to how much sleep he gets per night ("five hours"). He injected his responses with humor and grace, engaging the room in a thoughtful conversation on reading, writing, and editing.
Perhaps as a testament to his editing skills, Remnick is inclined to provide honest, direct, and challenging advice, and he has ample opportunity to do so. When asked how he preserves individual authors' voices in the editing process, Remnick explained that New Yorker writing must be clear and accurate, but "after that, all bets are off." As editor, his function is simple: to bring out the clearest expression of each writer's voice. But this relatively straightforward goal doesn't mean the job itself is simple. As editor, Remnick has to revise individual pieces, work on how to put together varied issues, and think about the future of the magazine. He always has forty things to do and ten emergencies to attend to. "I've disappointed a number of people just last week," he says.
Remnick fielded multiple questions on changes in The New Yorker, specifically in regards to the emergence of new technologies. While he acknowledged that he tries to adapt to new mediums, he highlighted the difficulty of simultaneously staying true to The New Yorker's mission: "I have to keep our soul intact," he says. Remnick emphasizes that there's not an online New Yorker separate from the print ― "it's the same thing," he said. The challenge is figuring out how to write the in-depth articles that the New Yorker is known for with the speed of online. Remnick seems prepared to face this challenge, along with the many others he encounters on a daily basis.
Fittingly, Remnick ended by giving his audience a challenge of their own. To a crowd of aspiring writers (almost all the audience members raise their hands when he asks who wants to write), he has one suggestion ― to become "a radical and deep reader."
He admits it sounds "teachery," but he knows from experience. "When young writers don't read much, I know it's not going to happen," he says. "You're not going to be interesting."
And with that, Remnick ended an enlightening hour, inspiring the "deep, deep, voracious, can't-stop-me reader[s]" at Yale to follow in his path.
Leila Murphy is a freshman in Morse College. Contact her at leila.murphy@yale.edu