A Movement from Within: Zimbabwe's Fuel Protests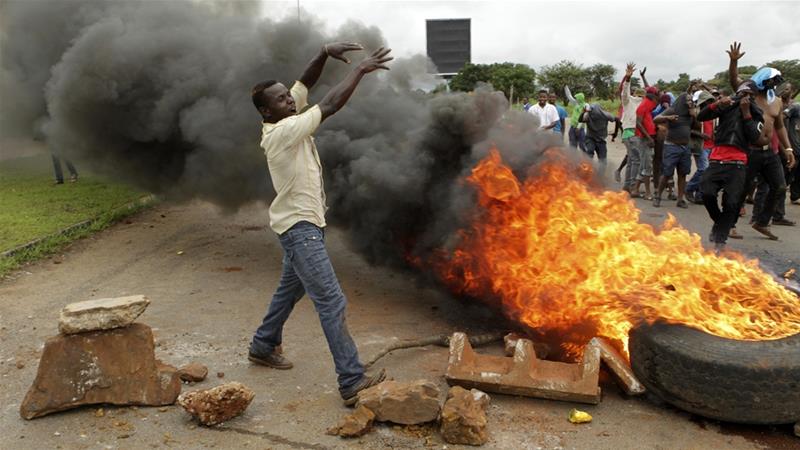 Featured Image:Youths barricaded the roads to protest fuel price hikes announced on January 13th. (from: [Tsvangirayi Mukwazhi/AP])
By Mercy Idindili
Earlier this year, from January 14th to January 17th, Zimbabweans staged a national stay-away to protest an increase of fuel prices by more than 100%. To address the fuel shortages and to discourage the illegal fuel market, the government increased the oil prices from $1.24 to $3.31 a litre and diesel prices from $1.36 to $3.11, making Zimbabwe the country with the highest fuel prices in the world according to Global Petrol Prices.
The national stay-away was organized by the Zimbabwean Congress of Trade Union (ZCTU) and the #ThisFlag movement–a citizen-led national movement that was founded and is led by Evan Mawarire,a prominent activist, in 2016. In a video posted on Twitter Mawarire together with Peter Mutasa, the president of ZCTU, explained the need for the stay away, stating that Zimbabweans could not accept what was happening. They cited  the increase in fuel prices and the fact that Zimbabweans are facing many other economic challenges already. The key demands behind the stay-away, as voiced by Mutasa in the video, were for the Zimbabwean government to address economic challenges, for workers to be paid in dollars, and for the removal of bond notes. Bond notes are a legal tender to the U.S. dollars in 2016 because of high demand for U.S. dollars in comparison to the South African rand, which was reducing in value. Zimbabwe stopped using its own currency in 2009 due to hyperinflation.
In November 2017, Zimbabweans took to the streets for a celebration. After thirty seven years in power, Robert Mugabe had resigned after a military take-over that was followed by protests demanding his resignation and a move by the parliament to impeach him. Although Mugabe was replaced by Mnangagwa, a member of ZANU-PF, the party through which Mugabe operated, Zimbabweans still seemed hopeful for change. In his first speech after Mugabe's resignation, Mnangagwa told the people that they were "witnessing an unfolding and full democracy," according to the Guardian. Mnangagwa encouraged this sense of optimism for change in his UN address when he said that "Zimbabwe is open for business and we are presently undertaking a raft of economic and political reforms to ensure an environment that facilitates inclusive and sustained economic growth."
One year later, it was clear that things haven't changed much. In July 2018, during the first general elections since the ousting of Robert Mugabe,  the army opened fire on opposition protesters who were protesting the election results that stated Emmerson Mnangagwa of ZANU-PF was the winner as opposed to Nelson Chamisa, the main opposition party (MDC) candidate. Six people were killed. Public and international concerns on the conduct of the elections were ignored. In addition to this, the country faced a high rate of inflation, which meant that prices of goods were on the rise and that the bond notes were no longer as valuable as the U.S dollar.
According to Eddie Mandhry, director of the Yale Africa Initiative, the January protests show the extent of Zimbabweans' discontent with the economy. "…the protests are emblematic of elevated levels of popular discontent with the state of the economy as a result of government policy/action. In such instances there is always a chance that popular protests could result in greater calls for political change or policy reform," Mandhry said.
The January protests aren't the first socio-economically motivated protests since the ousting of Robert Mugabe. In October 2018, the trade union leaders and 33 members were arrested ahead of a planned demonstration to "protest introduction of a tax on electronic transactions and draw attention to shortages of essentials like food.." according to NEWSclick. In December 2018, rural teachers started a march to Harare to demand to be paid in US dollars because bond notes were decreasing in value. They were able to complete their march, but many were arrested along the way. It's worth mentioning that the Zimbabwean lawyers for human rights came to their defense when they were arrested. That same month, doctors went on a strike to demand better pay after an over 20% inflation rate made it hard for their wages to suffice for even basic expenses. The strike ended after 40 days on January 6th. Their demands had not been met.
Despite the fact that these smaller protests didn't result in immediate changes, Mawarire is convinced that each protest helped fuel the next. "It almost feels like a relay. One protest hands over the baton to the next…eventually leading up to the January protests," he said.
With the announcement of an increase of fuel prices by more than 100% overnight, people rushed to get fuel when it was still cheap.
The stay-away was centered at Harare–the capital–and Bulawayo, with other cities joining on Tuesday. Daily Nation–an independent Kenyan newspaper–reported that thousands of young people took to the streets to demonstrate even though ZCTU and #ThisFlag called for a stay-away. Nehanda Radio–a Zimbabwean online radio–also reported that some youths barricaded and blocked roads, sometimes threatening to burn peoples' vehicles, sometimes forcing them to pay in order to get access to the road. The youths threatened to stone anyone who refused to pay. The government responded with a violent crackdown that was internationally criticized. Security beat and fired on people. They also raided homes and accused people of initiating violence. The internet was shut down by government order. By the end of the three day stay-away and protests, twelve people were killed and hundreds were injured. More than six hundred were arrested, including the activist Evan Mawarire.
The violent crackdown signals a return to Mugabe's brutal government. "We didn't expect that they would use so much force. This was supposed to be a new dispensation. There wasn't supposed to be violence. Soldiers are supposed to be friends, not enemies." said Michaellah Mapotaringa, a sophomore at Yale from Zimbabwe. She also mentioned that the army had stood up for the people's demands for the ousting of Mugabe in 2017 and that this was supposed to be a turning point for the relationship between the people and the army. "So do we trust the system? Did anything change at all?" she continued.
Protests are not new in Zimbabwe, and neither is the government's use of violence to suppress them. The January stay-away and protests, however, were different from earlier ones because they were the first large, socio-economically motivated protests since the ousting of Mugabe. According to Mapotaringa, nothing illustrates this more than the government's reaction to the protests. Mail Guardian–a South African newspaper–reported that Zimbabwean civil society and opposition parties described it as the "most severe crackdown since the post-election violence of 2008." The preceding protests all involved specific groups: teachers, doctors, workers, etc. The other protest that occured during this time were the demonstrations by opposition parties to dispute the 2018 election
The stay-away is also part of a larger trend towards citizen-led protests. #ThisFlag, the movement that was behind the stay-away, has heavily influenced citizen-led protests, starting in 2016 when Mawarire posted a video on Twitter encouraging Zimbabweans to be bold in speaking out and seeking accountability from the government-then under Mugabe. Two months later, #ThisFlag, together with other citizen-led movements, organized a national stay-away (due to the poor economic situation) through social media. It was suppressed by arrests, threats, and an internet shut-down imposed by the government. Despite this, the stay-away encouraged many other protests that followed, leading up to the military take-over and ousting of Mugabe in 2017.
According to Mawarire, the citizen-led, issue-driven nature of most of the recent protests in Zimbabwe is a new phenomenon. Most of the protests in the past were led by political parties. "People are beginning to understand that protests are part of constitutional citizen response to government's actions," he added. Mawarire believes that this change was influenced by the adoption of a new constitution in 2013 and through movements such as #ThisFlag.
The future of Zimbabwe following these protests remains uncertain. Fuel prices have remained unchanged and inflation is at its highest level since 2008. Democracy doesn't seem anywhere in sight. Sam Brakash '21, a Zimbabwean national, insisted that a democratic Zimbabwe would be realized if the government becomes more accountable. "Until there are channels for communication for real change to happen, then Zimbabwe will remain undemocratic," he added. Mawarire, Brakash, and Mapotaringa all agree that the ousting of Mugabe in 2017 did not lead to a change in the government system; until that change is realized, Zimbabwe cannot make major strides towards reform. Despite this, Mawarire is encouraged by what he sees as a desire by the youth of Zimbabwe to change their country. "It speaks to a turning season, a new generation of freedom fighters and democratic actors that is coming to play… the spirit that has gripped the youth now is similar to the one that gripped Zimbabweans who joined the liberation movements…  we are driven by the same things: disdain for oppression, disdain for corruption."
---
Mercy Idindili is a first-year in Ezra Stiles College. You can contact her at mercy.idindili@yale.edu.