Politics is the Goalpost: The Geopolitics and Diplomacy Surrounding International Soccer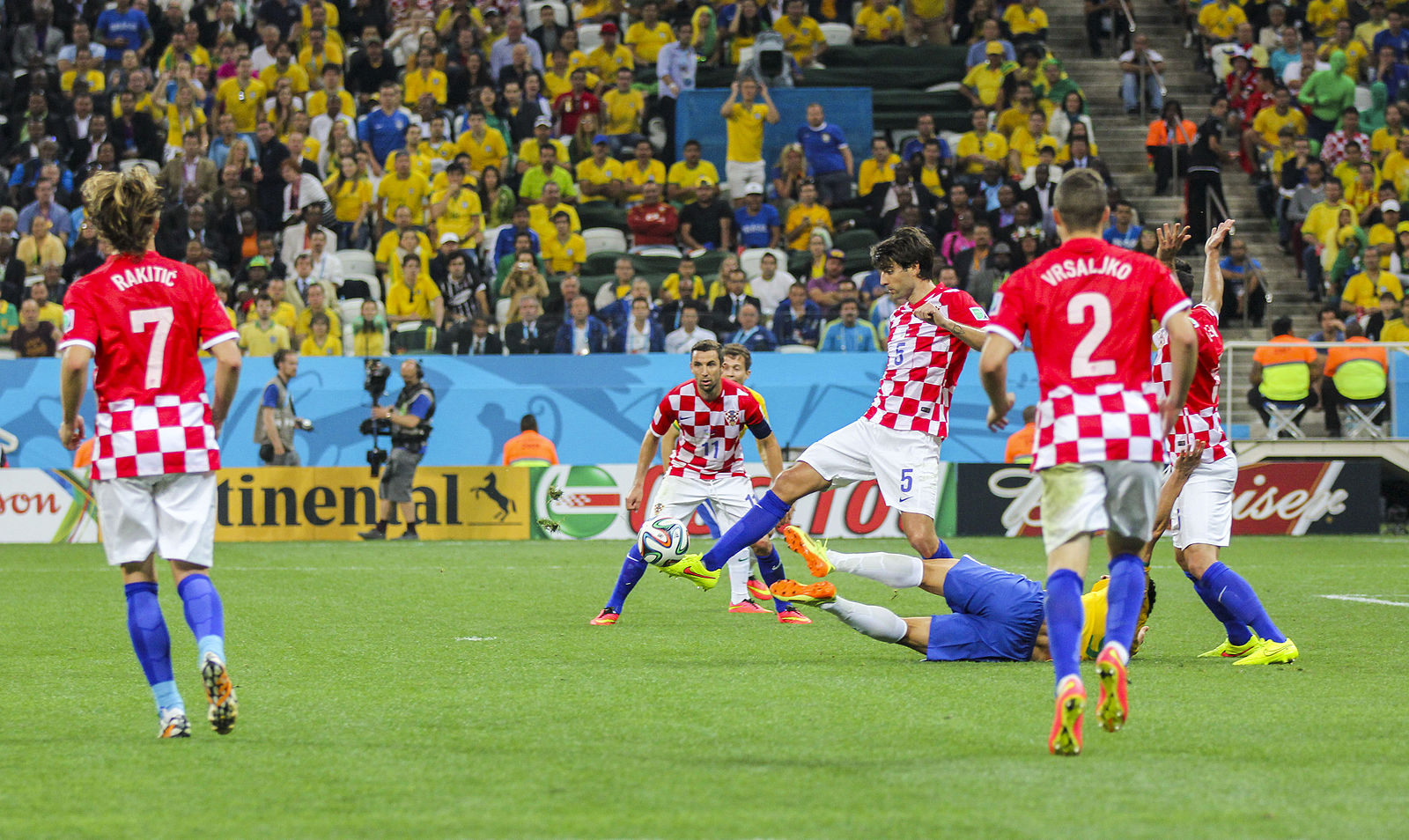 By Lekha Sunder
With the kickoff to the 2022 FIFA World Cup in Qatar came an inflammatory gesture from the Iranian national team, who refused to sing the country's national anthem just before its match against the United Kingdom on Monday, November 21st.
The gesture far outshone the results of the match—a resounding 6-2 defeat against the UK—and many political commentators and Iranian citizens praised the team for finally supporting recent protests against the regime. Iranian state TV cut its coverage of the anthem, quickly switching to pre-filmed footage of the stadium. Fans in the stands joined the team in its political stance, holding up signs that said "Woman, Life, Freedom." 
Monday's demonstrations are hardly unusual for the World Cup, an event that many people assume is politically agnostic. In fact, the World Cup (and the institution of international soccer in general) has long been used by state actors and civilians as a vehicle for political expression, soft power, and diplomacy. "Soccer Diplomacy"—a term coined by De Montfort University Professor Heather Dichter—has been a political tool in nearly every arena, from constructing stadiums to creating national teams to hosting the World Cup. 
And given the current geopolitical climate—marked by the war in Ukraine, tensions between Israel and the Middle East, and, of course, Iranian revolts—this year's World Cup will be watched with anticipation by not only avid soccer fans, but world leaders as well. 
If We Build it, They Will Come
Soccer diplomacy begins well before the match—it starts with the stadiums. Stadium diplomacy (you may notice a pattern here) is a form of cultural diplomacy where nations build stadiums or sports facilities in order to exert soft power and establish regional relevance. These stadiums are financed typically as gifts, paid through low-interest concessional loans (loan agreements that favor the receiving country) and often involve labor partnerships or resource contingencies. Donor countries have included India (who financed the Providence Stadium in Guyana in 2006) and the United States (who funded the Phoenix Stadium in Haiti post-2010 earthquake), but the overwhelming majority of stadiums have been funded by China.
Since 1970, China has financed 42 stadium projects, with total construction costs estimated at $1.9 billion. Its first investment was in the development of the National Sports Stadium in Mongolia.
China's stadium diplomacy has been focused in Latin America and Africa, two regions of strategic importance for the People's Republic due to potential resource acquisition. During the 1970s and 1990s, China "devised a niche" on the African mainland through stadiums, which "signified a symbol of Sino-African associations in the harmonious times of third world non-alignment," according to Preethi Amaresh from the Geneva School of Diplomacy. In the mid-2000s until around 2013, soccer stadiums were often gifts to Latin American and Caribbean countries. Not only did these strengthen bilateral relations, but they often served as "dressing to more controversial announcements," focusing attention on unity rather than division. 
These nations were drawn to China's offerings because the country could construct stadiums at comparatively low cost and local politicians could tout the development as proof of their success and accomplishments in office—they inaugurate the stadiums with "great fanfare," integrate them into their national identity, and use the venues to hold political conferences. 
For China, this diplomatic tool was relatively painless to use. As August Rick of Forbes notes, "gifts [can] be tricky in politics. Infrastructure investment requires research, new schools can favor certain politicians….By comparison, sporting facilities are simple, high-visibility contributions."
China, of course, was rewarded with access to political leaders, expanding the nation's sphere of influence. For example, Latin American countries began relying less on the United States, despite the nation being closer in geographic proximity. Moreover, China leveraged the investment to tap into resources. In 1989, China built a football stadium for Guinea-Bissau in return for China's ability to explore the nation's sea and forest. 
Most recently, stadium diplomacy has been a central pillar of China's Belt and Road Initiative (BRI), the global infrastructure development strategy adopted by the Chinese government in 2013—namely through its often under-discussed people-to-people element (P2P). P2P is China's effort to build social and cultural "networks" with foreign nations in an effort to increase connection and rapport. China sees soccer as a prime way to connect with other nations. 
China has never been a power player in international soccer, but the nation is hoping to change this, both to boost national pride and to bridge cultural divides with the rest of the world. As a part of its vision for the coming three decades, the country has pledged to win the Football World Cup by 2050. And they are "spending big" to make this happen: in 2016, Chinese clubs spent over $450 million on international players, the majority of which were Latin Americans. By investing in its own national soccer team, China aims to expand its network with other nations. World Cups can become stages for negotiations. 
BRI's expansion of stadium diplomacy has shined light on the way the tactic harms and preys on developing nations. Amaresh furthers that through BRI, "China is attracting underdeveloped nations into unsustainable debts…that allow China to take these assets when receivers encounter [a] debt crisis."
Moreover, reports of human rights abuses—from wage theft to physical harassment—by Chinese companies constructing BRI projects and contracting domestic labor have raised alarm bells from international NGOs. 
These stadiums temporarily stimulate the economy, but prevent investment in more immediately vital areas, such as health care, education, and water access. The pandemic exacerbated tensions and hostility towards these seemingly unnecessary gifts. Photos circulated on social media of stadiums overgrown and in disarray, leading to protests across Africa. 
"People see that there's no such thing as a free gift," says researcher Itamar Dubinsky of Oregon State University in the United States. 
Post-construction, the maintenance costs have been dumped onto recipient countries, breeding issues for under-resourced and corrupt local governments to handle. The Sligoville stadium in Jamaica was left in ruins just years after the Chinese left. China left Costa Rica's The Monster's Cave—a $100 million stadium—with no funding for maintenance. Oftentimes, post-construction maintenance is contingent on the recipient nation's unequivocal support of China: China's gift of a stadium in St. Lucia was abandoned after the nation's recognition of Taiwan. Many stadiums report faulty sewage systems and eroding infrastructure. 
Needless to say, China's stadium diplomacy is facing an overdue yellow card. 
Unfriendly Rivalries
Once the stadium is built, however, the politics are only magnified. Indeed, while sports may seem like passive hobbies at best and indulgent passions at worst, international soccer has become a proxy for geopolitical feuds, heightening the stakes of simple matches to often violent degrees. Benign acts such as holding up a poster have made national headlines, largely because they breach the understanding that soccer is a political safe-space, where players leave stances outside the stadium. They also metaphorize the match—victory transcends the field. 
At the 2012 Olympics during a match against Japan, South Korean midfielder Park Jong-Woo held up a flag that read "Dokdo is our territory," in reference to contentious islets that Japan has also claimed in a centuries-old dispute. The International Olympic Committee (IOC) and FIFA accused Park of displaying a politically-charged sign, a violation of organization rules against players demonstrating political leanings. Park was banned from medal ceremonies and initially denied his medal.
More recently, in the 2020 Union of European Football Associations (UEFA) championship—which was co-hosted by Russia—Ukrainian players showed up with a map of their country printed on the front of their jerseys. The map, according to Grace Wyner of Georgia Tech's School of International Affairs, included Crimea, a territory Russia annexed in 2014. The jerseys sparked outrage amongst Russian senior officials, including parliamentary deputy Dmitry Svishchev who called the jersey "a political provocation" and "illegal." On February 29th of this year, FIFA indefinitely suspended all Russian teams from its competitions, eliminating the national team from the Qatar World Cup. 
In 1969, a series of three qualifying matches between El Salvador and Honduras—two nations in bitter conflict due to land disputes and immigration—catalyzed violence in an event known as "Soccer War" or "The Hundred Hour War." Violent riots were reported right before and during the matches—1,700 Mexican police attended the final match to prevent outbursts. 18-year-old Salvadorean Amelia Bolaños shot herself in the heart with her father's pistol after watching Honduras win in the first game. She was declared a martyr by the Salvadoran government and her funeral was televised. 
Yet arguably the most contentious "World Cup Proxy War" arose in the May 1990 match between Serbia's Red Star Belgrade and Croatia's Dinamo Zagreb, in a riot seen as the cause for the wars in Yugoslavia. 
The "Dinamo-Red Star riot" took place at Maksimir Stadium in Zagreb, Croatia (then part of Yugoslavia) between the Bad Blue Boys—supporters of Dinamo Zagreb—and the Delije—supporters of Red Star Belgrade, derived from the Serbian word for brave. The clash took place just weeks after Croatia's election of pro-Croatian independence candidate Franjo Tudjman and increased fear-mongering about the potential for a Croatian genocide. Thus, the football match served as the "ideal opportunity for many Croatian fans to vent their frustrations against the team that represented Belgrade," a dispute that was "partly nationalism, partly sporting fervour," says Zakariyya Ali of Varsity UK. 
The Bad Blue Boys began throwing stones, causing the Delije to tear up the stadium, corner Croatian Dinamo fans, and chant Serbian nationalist slogans. One Delije member was Zeljko Raznatovic, who went on to lead the paramilitary group "the Tigers," which killed roughly 3,000 people over the course of the Yugoslav wars. The event would ultimately come to "symbolise the beginning of Croatian resistance against Serbia," Ali continues. To this day, there is a dedication in the Dinamo's stadium which reads: "to the supporters who began the war with Serbia in this ground on May 13, 1990".
Soccer has an unusual ability to rile up existing geopolitical tensions, because matches like the World Cup are seen as a friendlier form of interstate rivalry and posturing. The idea of a "national team" lends itself to, you guessed it, nationalism—international soccer is associated with national pride, strict allegiances, and a firm sense of identity. This is especially true for countries in Europe or Latin America, where their prowess in soccer has been a notable characteristic of their identity for decades. It, thus, becomes less surprising why emotions become so easily tangled with 90 minute matches. 
Sportswashing 
Here comes another term: "sportswashing." Sportwashing was coined by Amnesty International and refers to the usage of sports as a tool of soft power and reputation-building, typically by drawing attention away from human rights abuses, corruption and other domestic issues. Sportswashing, in theory, can be an effective national strategy—particularly if it comes in the form of hosting international events—as they garner enough media attention to effectively drown out other stories. The last World Cup, hosted by Russia (who could certainly use sportswashing), attracted 3.5 billion viewers. 
Qatar hosting the World Cup has been labeled sportswashing by many, a consummation of its decades-long efforts to rebrand and elevate the nation's image through sport. Like other Gulf states, Qatar has sought to improve its FIFA ranking by sponsoring and directly investing in more leagues. It has also participated in sports migration, the signing of foreign athletes (on the condition of citizenship) to local leagues or national teams for international events. Qatar has invested in an ambitious scouting program for young athletes, the "Aspire Academy," and has emerged as a "leading destination" for sports clubs preparing for international competitions or training camps. To guarantee that its efforts haven't gone unnoticed , Qatar has expanded the reach of broadcasting networks such as Doha-based beIN to markets in Europe, North America, and Asia. 
As Giorgio Cafiero and Kristian Alexander of the Middle East Institute note, Qatar's sports engagement promotes three themes intended to rewrite the nation's old narrative. The first goal is to improve 'health and well-being,' intended to reorient a country whose "overweight and obese" rate is nearly double the global average at 70 percent. The second is 'modernization and progress,' which will confront negative stereotypes about technological backwardness in Gulf States. Lastly is 'prestige or attractiveness' to boost its tourism sector and diversify an economy that has—for too long—been reliant on oil and gas.
International soccer may seem like a bizarre and ineffective means to achieve a "national overhaul," of a sort, but for Qatar—a nation with limited hard power and little international muscle—sports diplomacy can dramatically level the playing field. You see, on the soccer field, Davids and Goliaths are equals. The United States plays Wales, Cameroon plays Brazil. The formation of a skilled national soccer team can attract more attention to Qatar than a free trade agreement or press conference could. 
However, as Cafiero and Alexander caution, sportswashing can also backfire with "soft disempowerment," the loss of influence and reputational damage that amounts when the spotlight shines light on nefarious actions of the state. For Qatar, soft disempowerment is already occurring. 
Since the ground broke on Qatar's eight new World Cup football stadiums, human rights organizations and NGOs have criticized Qatar for its mistreatment of migrant construction workers. Roughly 1,200 migrant workers have died since the country began preparations for the World Cup. The cause of death was most often heat stress-related cardiovascular distress. Studies show that in the summer months in Qatar, it is only safe to work for a maximum of 15 minutes an hour between 9am and 3pm. Migrant workers in Qatar reported receiving a 30 minutes break every eight hours.
Moreover, many workers have reported wage theft and unsafe living conditions—in 2019, a group of 1,200 workers went unpaid for several months and went weeks without running water or electricity. Much of the abuse towards Qatar's migrant workers—who make up 95% of the nation's labor force—stems from the Kafala system, a sponsorship-based employment system which legally binds foreign workers to their employers, limiting their ability to change jobs, advocate for better pay, or even leave the country. 
While Qatar has passed legislation to reform the Kafala system and reinforce labor standards, World Cup contractors seemed especially resistant to new reforms—a significant majority of contractors still abused workers post-reform. 
Qatar has faced soft disempowerment before, when it hosted the IAAF World Athletic Championships in 2019. Stadiums were empty even though tickets were handed out for free, demonstrating the country's incompetence with marketing and logistics. Events were held late at night and in high humidity, jeopardizing player's health and leading to protests from athletes. In short, sportswashing is proving more harm than good for Qatar—the corruption and dysfunction it is trying to conceal is too large to hide. And while experts worry that journalists will let these issues flow back with the tide of the news cycle, it is imperative that this labor abuse and corruption doesn't go forgotten once the games end.
Between Games, After Games
As players cool off between matches, discussions heat up amongst world leaders at the World Cup. Antony Blinken plans on holding crucial diplomatic talks with Qatar, one of America's most trusted interlocutors with Iran. Israeli officials are working with Qatar to ensure the 10,000 Israeli tourists at the World Cup will be safe in a country where their state isn't recognized. Behind every match is a meeting. 
A gathering of 32 states—each with ideologies, agendas, and issues of their own—cannot be disentangled from geopolitics. Rather than an oasis from alliance and opposition, the World Cup is a pillar of nationalism and power struggles—from the first brick of a stadium to the cheers at the match's end. 
---
Lekha Sunder is a senior in Silliman College and can be reached at lekha.sunder@yale.edu.