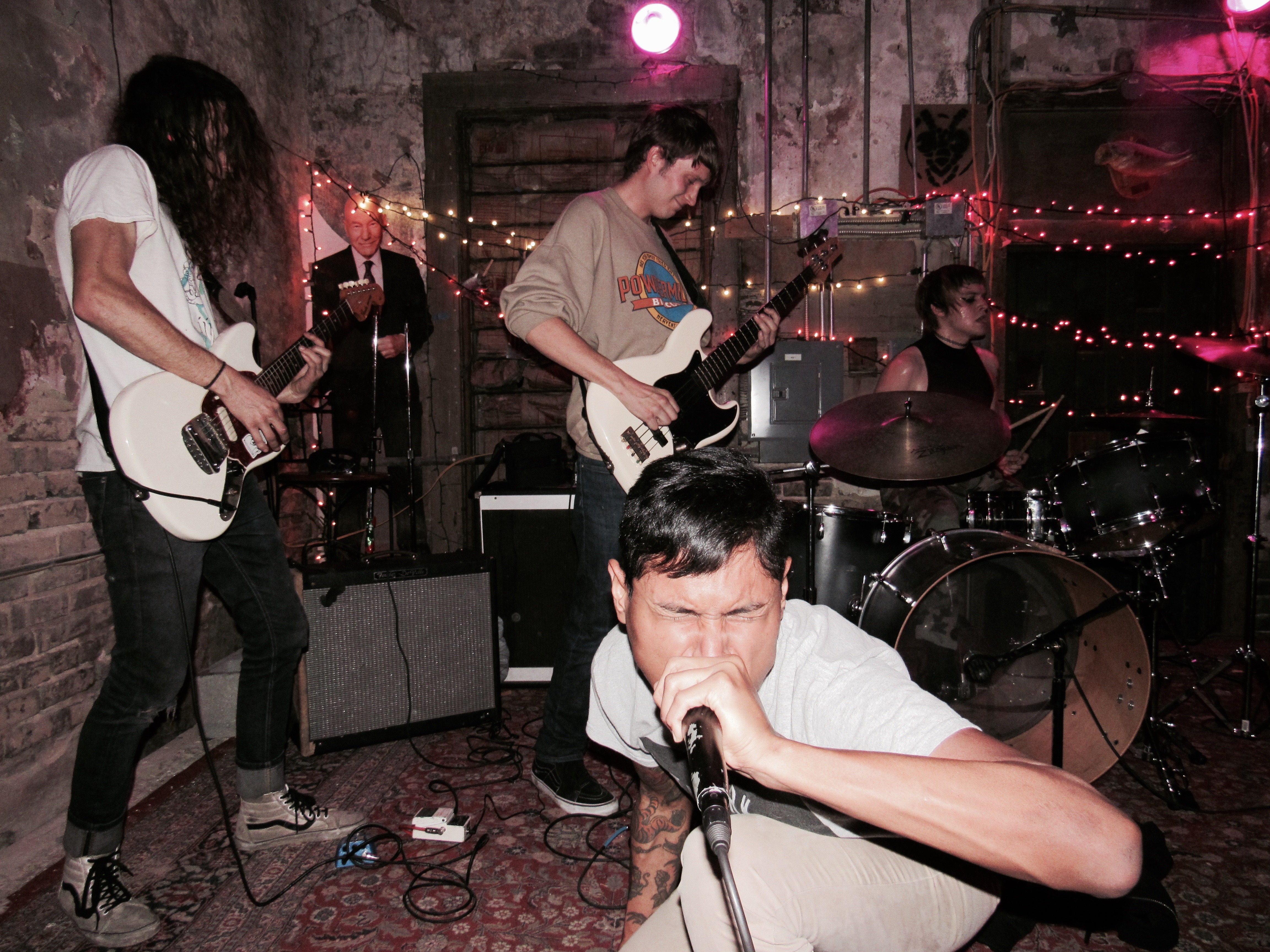 Alternative Spaces in Birmingham, Alabama
By Olivia Burton
[divider]
[dropcap]"H[/dropcap]ey y'all. I ain't got shit to say except f**k Nazis and eat more cornbread."
On January 19, Michael Harp was writing the weekly newsletter for DIY Birmingham, a grassroots collective of artists, musicians, and friends working to facilitate alternative expression in alternative spaces. The day before, Birmingham's Levite Jewish Community Center was evacuated due to a bomb threat. This would be the first of three successive bomb threats to the center, part of a wave of anti-Semitic incidents across the country beginning in early 2017.
For Michael, as well as many other members of the DIY community, art is an act of political resistance. But it can also be therapeutic. The next day, Michael challenged his Facebook friends to "create and/or release one piece of art before the end of the day."
Michael lives a double life taking classes at the University of Alabama in Tuscaloosa during the week and booking shows for DIY Birmingham on the weekends. He has been involved in Birmingham's music community since he was a student at Mountain Brook High School. Back then, he would translate his Latin homework under the dim stage lighting of Bottletree, a restaurant and concert venue downtown.
Brother and sister duo Merrilee and Brad Challis founded Bottletree in 2006, turning a former furniture store into a (mostly) vegetarian café, art space, concert venue, and even movie theater. Bottletree became a vibrant, inclusive space where people gathered for Sunday brunches of vegan jambalaya, catfish and grits, and the "BLTree," which included bacon bread pudding and collard greens. The walls were scaly with old concert posters and memorabilia. At night, the tables were cleared off the stage to make room for local bands, touring bands, and budding giants like the Alabama Shakes, St. Paul and the Broken Bones, St. Vincent, and Fleet Foxes.
For Birmingham, a medium-sized town of just over 200,000 people not usually associated with music, Bottletree was cutting edge. As an intern, Michael ran around town putting up concert posters, learned how to operate the soundboard, and worked the lights. He got into shows for free in return, and later played onstage at Bottletree with his band Velouria.
But in March 2015, Merrilee Challiss announced on Facebook that Bottletree would soon close for good.
Hundreds of people attended the Bottletree Farewell Fest. "It felt like my church burned down," Michael said. "It was a life-changing place. It sort of converted me from being some kid from Mountain Brook to being a part of this community."
For many Birmingham residents, including Michael, Bottletree was a gateway to Birmingham's underground music scene. For many others even before Bottletree, that gateway was Cave9, a non-profit, all-ages venue for punk, hardcore, and even hip hop artists. Cave9 was in business from 2002-2009, during which time it provided space for shows, art exhibitions, meetings, potlucks, flea markets, and film screenings. Although Cave9 existed before DIY Birmingham, it was still a DIY venue in its multi-functionality and inclusiveness.
The ends of Bottletree and Cave9 were major blows, but Birmingham's music community bounced back. Their closings underscored the vulnerability of independent community spaces in Birmingham. DIY spaces, which almost by definition make zero profits, are even more vulnerable. DIY Birmingham, one organization within the broader DIY community, works with what they have.
"The thing with DIY spaces is that they pretty much have an expiration date," said Michael. The DIY community orbited around two venues during his high school years: the Forge and MONO, both of which operated on a tight budget.
In May 2015, Michael had two shows booked for MONO when the police unexpectedly shut it down. Knowing they had a small PA system, Michael contacted the nearby Desert Island Supply Co. (DISCO), a nonprofit arts venue and creative writing program for Birmingham students located in a renovated Masonic lodge in the Woodlawn neighborhood.
Now, Michael books several shows for DISCO each month, although he plans to take a short break until he graduates from college. DISCO is a vibrant community center in the middle of one of Birmingham's poorest neighborhoods. During the day, elementary through high school students write poetry, meet with book clubs, and write for the Tattler, a student-run newspaper at Woodlawn High School. At night, DISCO hosts DIY concerts, film screenings, ambient shows, and reading groups.
Today, many DIY shows also take place at the Spring Street Firehouse in Avondale. The converted firehouse includes a massive open space on the ground floor and an apartment space above. Even though they open up their home to dozens of potential strangers almost every week, the owners of the Firehouse seem to want to maintain at least some semblance of privacy. DIY Birmingham's website includes a directory of event venues and addresses. Under Spring Street Firehouse, it simply says, "ask a punk."
Like Woodlawn, Avondale is a predominantly low-income and black neighborhood. In the past five years, Avondale has begun to attract several new restaurants, music venues, and breweries. Michael does not see DIY Birmingham as contributing to gentrification. All of its shows are free with suggested donations, and some promoters, including Michael, bring free rice and beans with Cholula hot sauce. One of their main venues doubles as a residence, and the other is a non-profit for the community.
Although she was born in Paraguay, Anna Thomical was raised in Alabama and self-identifies as a Birmingham local. Now, she makes music with her post-rock experimental band Zenosyne, books shows for DIY Birmingham, and participates in political activism around the city.
Michael and Anna are among several members of the DIY community who have begun to address the fact that, in spite of gathering in predominantly black neighborhoods within a city whose population is more than 70% black, the DIY music scene still has work to do in addressing issues of representation.
"Even if there's no economic barrier to an art space, there's still a social barrier," Michael explained. "It's a balance of trying to figure out how we can connect with the people who actually live around these venues in a way that doesn't make us like permanent tourists in these people's homes."
DIY has inclusive aspirations: "The goal of DIY is to break down the social and economic hierarchies that bar people from creative expression and creative experience," said Michael. Although the movement began with the punk scene in the '80s, DIY has continued to diversify and grow.
"Even before it was officially called DIY Birmingham, it was always the punk scene," said Anna. "But now it's a lot more than that." While Anna appreciates the anti-establishment, inclusive spirit of most punk rock, it has never been her favorite genre. When she books shows, she tries to book eclectic bills. "I'll usually do one punk or hardcore band, but I'll also try to get electronic or hip-hop so that it pulls from different pools of people," she said. Likewise, Michael hopes that DIY Birmingham can begin to bridge the gap between Birmingham's different creative communities as well as the broader DIY community. DIY Birmingham's online calendar and newsletter help publicize events to people in different communities who might not know about them otherwise.
Some shows are purely for entertainment, but many have a political slant. Of these, several are political in little more than name, like the "Marxist Body Horror Opera" experimental show at the Firehouse. Kit Goldschmidt, drummer for local band Whirlybird, described it as "basically just a bunch of 20-somethings who read too much about different political ideologies."
But Anna plans shows that focus on real-world issues, usually bringing in a speaker with knowledge on the topic. The summer before she was asked to join the DIY Birmingham staff, she told the partner of the person who invited her that she "had a vision of utilizing the music scene to have a draw on social justice issues." In January, she organized a Standing Rock benefit show that included a speaker who had actually been to the reservation. Other events have addressed LGBTQ rights, especially since the 2016 election.
"Community outreach should really be a central part of the DIY community even though it's really easy to become comfortable with the people you already know," she explained.
In an increasingly hostile political and social climate under the new administration, Anna, Michael, and other members of DIY Birmingham see the collective's efforts to provide welcoming spaces for free expression as more important than ever.
DIY is not unique to Birmingham. DISCO has hosted bands from as far away as France and Switzerland. As a concept rather than an organization, DIY shows happen all the time even when they might not be stamped with the DIY label.
"What these people have in common is that they're doing something they care about," said Michael. "They're driven by the pure act of creation. At its most complex, it's an international network of likeminded musicians who sort of help each other out."
Michael currently feels no desire to move to a city with a bigger music scene, like Nashville or Atlanta. "Here, nobody is paying attention to what we're doing, so we pretty much do whatever the hell we want," he said, referencing an ambient installation at DISCO where 15 people played the same note for an hour. He finds freedom in the fact that Birmingham has the music without the music industry.
As the recent bomb threats as well as the lingering effects of segregation in the Magic City clearly show, Birmingham still has not recovered from the problems of inequality and injustice that made it a hotbed of the Civil Rights movement in the '60s. Of course, neither has the rest of the country. Still, these resilient, community-oriented spaces continue to grow. Punk has evolved, but it's as loud as ever.
[hr]
Olivia Burton '18 is an English major in Morse College. Contact her at olivia.burton@yale.edu.
Above: Laughing Sword, a local Birmingham band, at the Firehouse for Trans is Beautiful, a benefit concert for Transgender Advocates Knowledgable Empowering (TAKE). (Photo courtesy of Anna Thomical).
*Editor's note: This article has been updated since its original printed version.