Strengthening a Sanctuary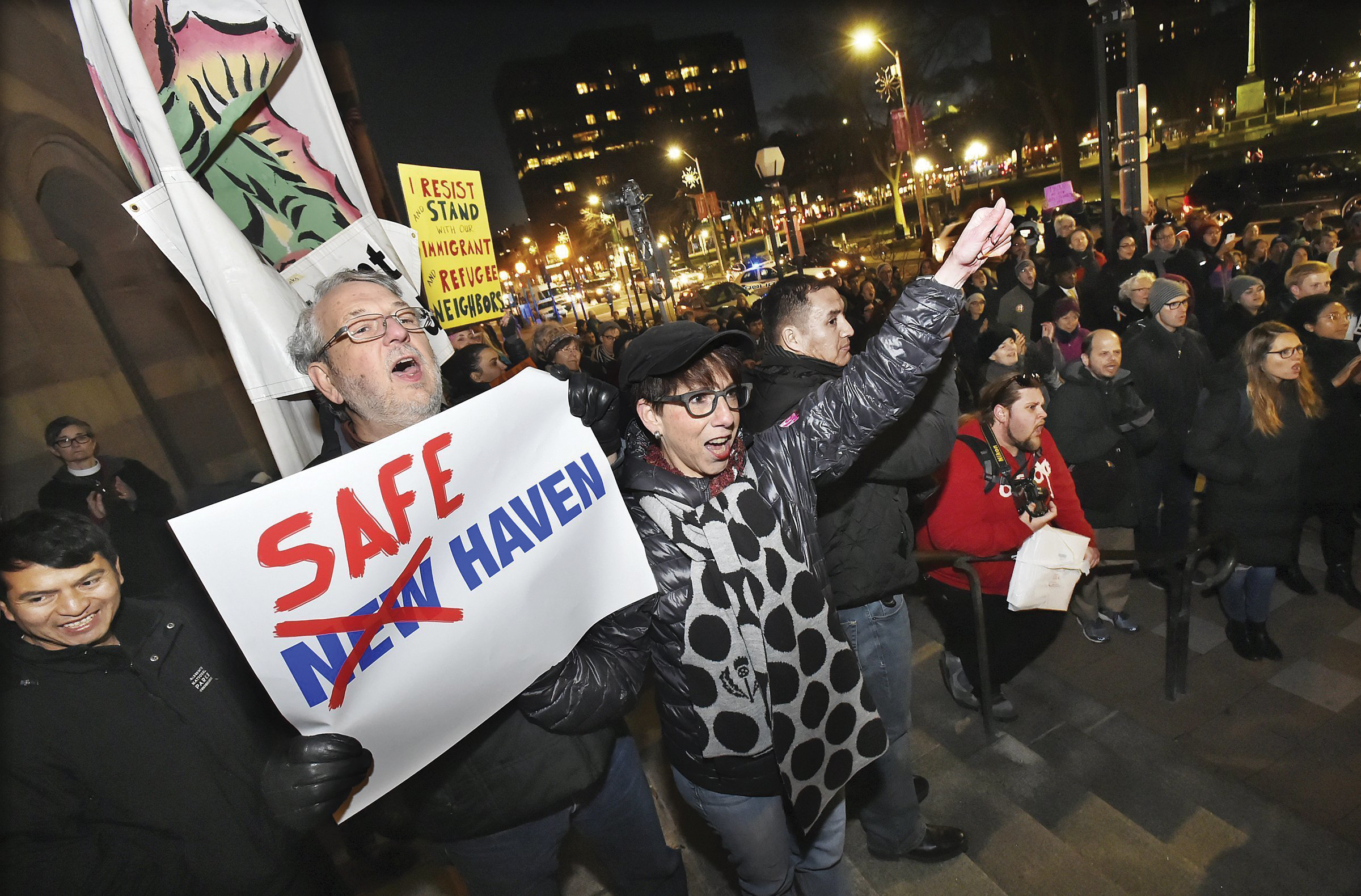 Will New Haven be able to protect its undocumented immigrants?
By Henry Robinson
[divider]
[dropcap]J[/dropcap]esus Sánchez is getting impatient.
Since Donald Trump's inauguration, he and other members of Unidad Latina en Acción (ULA) – a New-Haven-based group that advocates for undocumented immigrants – have been fighting to keep New Haven a sanctuary city. Although that's an informal title, it means that New Haven police don't routinely ask about immigration status, or enforce federal immigration laws. During the 2016 campaign, Trump pledged to deprive such cities – of which there are about 300 across the country – of federal funding unless they fell in line.
Although New Haven Mayor Toni Harp has reaffirmed her commitment to maintaining/ preserving sanctuary-city status, Sánchez worries that the city's programs to protect immigrants aren't being strengthened fast enough – that without decisive action from local officials, immigrants could soon be at greater risk of deportation raids.
"I don't think that the city administrators recognize the urgency of this matter," he says. "There's obviously a whole process to go through, and it may take some time, but while we're waiting New Haven may be the next one on the list."
***
New Haven derives its "sanctuary-city" status largely from two policies, each implemented within a year of one another. The first, signed in December 2006, is known as General Order 06-2 – a directive from the then-chief of police, Francisco Ortiz. It instructs the NHPD not to inquire about the immigration status of those who came in for assistance (unless they've been charged with a crime), and seeks to minimize cooperation between the department and federal Immigration and Customs Enforcement (ICE).  Without these protections in place, merely reporting crime would carry a deportation risk for undocumented immigrants.
The second policy, implemented in June 2007, is a trailblazing bill that established the Elm City Resident Card program – making New Haven the first city in the US to issue municipal ID cards. These have been available to undocumented immigrants, as well as citizens and permanent residents, for about 10 years ; they allow the bearer to open a bank account, access parks and public libraries, and demonstrate that they belong. Since 2007, a number of other cities – such as San Francisco and Trenton – have followed New Haven's lead.
Alicia Camacho, a professor of American Studies and Ethnicity, Race & Migration at Yale, is an expert in the history of transnational migration. She situates these two policies during a period when confrontation between cities and the federal government over immigration was reaching a fever pitch.
"Militarized law enforcement led to a large increase in deportations, both under the Bush and Obama administrations," Camacho says. "In many municipalities around the country, local law enforcement and city governments didn't want to act as federal law enforcement, and they posed legal challenges to this policy; New Haven was one of those cities that thought to create a different mechanism for integrating immigrants."
Perhaps unsurprisingly, New Haven's transformation into a sanctuary city was not a smooth one. Although the general order was signed relatively soon after being proposed by local activists, the ID card proposal sat in limbo for almost a year before being approved.
Kica Matos, the Director of Immigrant Rights and Racial Justice at the Center for Community Change in Washington, D.C., was working on these policies in New Haven at the time. She's the former Deputy Director of JUNTA for Progressive Action – another immigrant-rights group, based in the majority-Latino community of Fair Haven, that has played a crucial role in sanctuary-city advocacy. She witnessed firsthand the pushback against the ID proposal – much of it from people outside New Haven.
"It was a very hostile climate," she says. "The press went crazy…white supremacists were very eager in their efforts to fight back."
How eager, exactly? Matos received death threats, and kept a binder full of abusive emails. There were protests outside city hall. Lou Dobbs condemned the policy on Fox News. In one particularly ugly incident, anonymous activists posted flyers on cars outside of a New Haven black church, featuring edited quotes from Frederick Douglass that cast him as anti-immigrant.
But for Matos, there was a bright side: "the more aggressive they got, the more New Haven came together to fight for the ID card." Faith and community leaders, local residents, and even Yale students came together to pressure the city government to go forward. Some legal residents came to get ID cards purely out of solidarity.
"We created," Matos says, "a sense of community around a set of policies that would support and protect immigrants in New Haven."
***
On the evening of January 26th, as the sun sank over the New Haven green, a crowd of about 150 people gathered outside City Hall. They were addressed by local activists, Mayor Toni Harp, and a representative from the New Haven Police Department, who spoke about their commitment to keeping New Haven safe for undocumented immigrants.
The support from the police was especially noteworthy. Camacho notes that – before the General Order – the need to serve as immigration authorities, as well as municipal officers, had eroded trust between New Haven police and the community. More broadly, she calls attention to the role police have historically played in the sanctuary debate:
"Anti-immigrant sentiment holds that if people are in violation of US immigration codes (civil, not criminal law) they're lawbreakers; and if they're lawbreakers in that domain, they're a security threat in every domain," Camacho says. "Law enforcement has played a very important role in contesting that."
But with the increased pressure on New Haven from Washington, there's a threat that police forces will be pushed back in the opposite direction.
Right now, groups like ULA and JUNTA are focused on strengthening existing policy and providing resources to people worried that their lives are about to be overturned. On November 17th, Mayor Harp met with activists from ULA – out of which was formed the Sanctuary City Working Group, a committee of community leaders, alders, and city officials that has been soliciting community input.
Ana Maria Rivera, JUNTA's current Advocacy Director, discusses one of the major issues on the table right now: strengthening the General Order, which hasn't been updated since 2006.
"We were one of the first municipalities in the nation to pass a general order; now there are neighboring policies that are much better," Rivera contends. As an example, she cites a similar order in East Haven, which is more explicit about certain things local law enforcement cannot do – they may not, for example, collaborate in any way with ICE unless the federal agency has a judicial warrant.
Another issue of pressing concern to local parents? The prospect of immigration raids in public schools. In January, the New Haven system submitted a proposal to the Board of Education, including a requirement that any ICE official who wishes to enter a public school first report to the superintendent's office and display a signed warrant. It's currently under review – but meanwhile, as one 9-year-old student expressed to Mayor Harp, many students are afraid to go to class.
Rivera isn't sitting idly by – while the city considers these new reforms, she's doing what she can at the grassroots level. Since the election, JUNTA has ramped up its programming for New Haven/Fair Haven residents – running community-defense workshops and know-your-rights trainings to prepare for encounters with law enforcement. Although JUNTA offered similar programs before the election, Rivera tells me that she's since seen an increase in the number of people coming by.
"Some of the people have been involved with JUNTA for a long period of time," she says, "but we're overwhelmed with folks who haven't been prepared in the past – who want to know how they can protect their families."
The anxiety hanging in the air is palpable. Rivera, like Sánchez, worries that city administrators aren't being as responsive as they should.
"Raids," she says, "can happen at any moment" – and indeed, they've already started. In early February, ICE announced that it had rounded up 680 people across 5 U.S. cities.
But even though the threat now is greater than it's ever been, Sánchez's priorities haven't changed a bit.
"Our main concern has always been and will always be the safety and well-being of our communities, he says. "People need to be feeling safe at their homes, their school, their jobs. That's a huge thing."
[hr]
Henry Robinson '19 is an English and South Asian Studies Major in Silliman College. Contact him at henry.robinson@yale.edu.