The Children of Rwanda Twenty-Five Years After the Genocide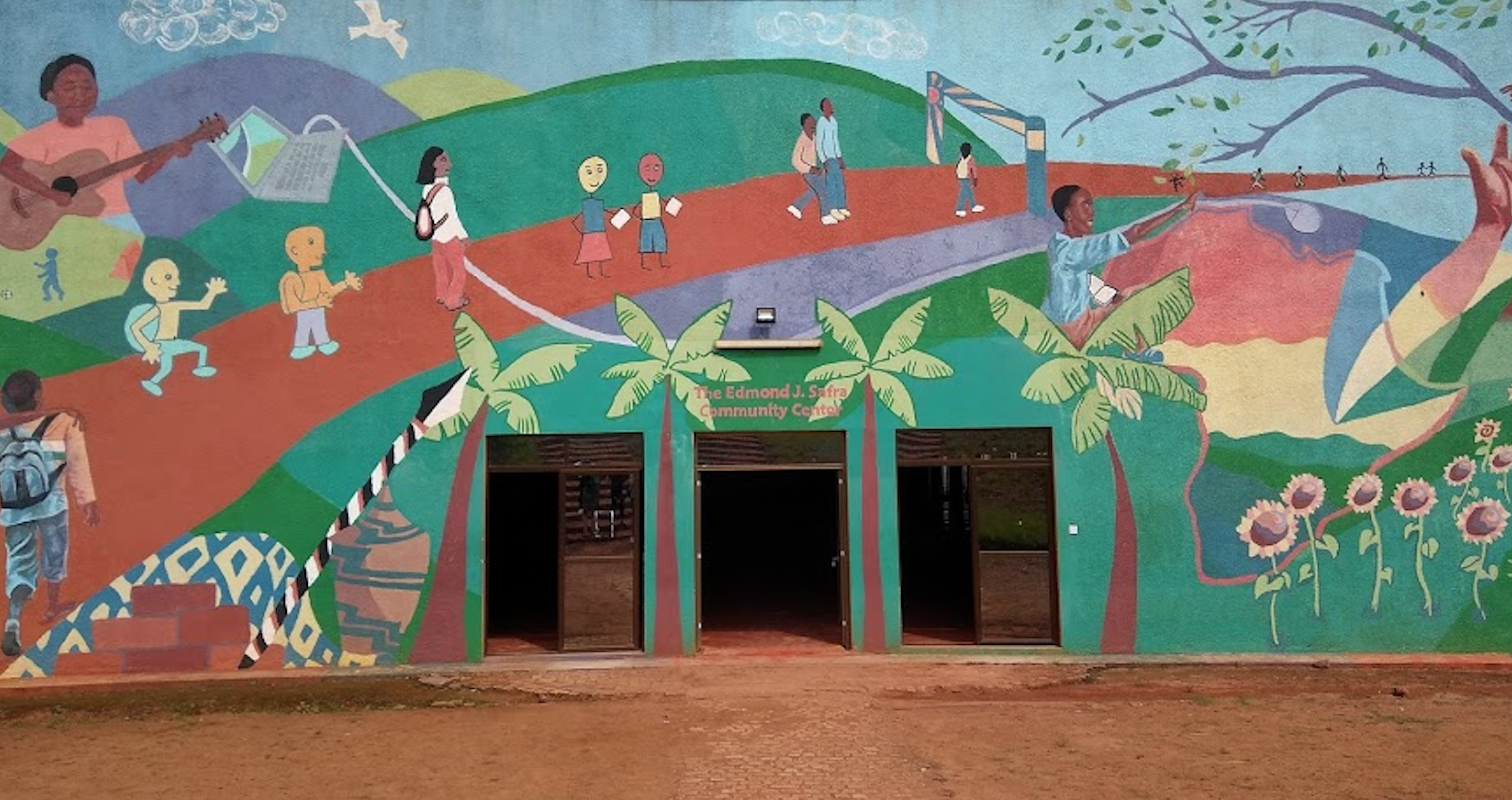 Feature image: a mural on the outside of the cafeteria at ASYV.
By Claire Zalla
[dropcap]W[/dropcap]e strolled beneath a verdant canopy down a dirt path that seemed to lead directly into the endless sky beyond. As we approached the horizon, we discovered stone benches sloping down to a stage painted with a colorful mural—an amphitheater at the edge of the world. As vibrant as the art was, it could not compete with the breathtaking view sprawling behind it: a panorama of green that extended all the way to the horizon crowned by a range of smoke-blue mountains. The hill we stood on was in Rwanda, but those mountains were in Burundi.
This view was the physical manifestation of the philosophy of the school which we were visiting—"If you see far, you will go far." School is not entirely the correct word—the Agahozo-Shalom Youth Village (ASYV) is at once a school, a residence, and a place of refuge—a home for the 523 students enrolled there.
Walking around ASYV today, visiting the classrooms, the media and art centers, and the fully functioning farm, it is shocking to remember that the picturesque campus grew out of Rwanda's tragic history. Founded by American attorney and philanthropist Anne Heyman and located in Rwamagana in the Eastern Province, ASYV was created in response to the orphan crisis in Rwanda following the Genocide Against the Tutsi in 1994. 
The Genocide Against the Tutsi occurred over a period of roughly one hundred days from April 7 to July 15, 1994. European colonizers thought that the ethnic group called the Tutsi were "racially superior" to others and assigned them administrative positions. Rwandans were forced to carry identity cards denoting their race, thus facilitating further discrimination which created much ill will between groups. After Rwanda won its independence from Belgium, over 700,000 Tutsi were exiled between 1959 and 1973 by the majority ethnic group, the Hutu. Some joined the Rwandan Patriotic Front (RPF) and invaded in 1990. From 1992 to 1994, early persecutions and massacres of Tutsi took place, but these "rehearsals" were largely ignored by the world.
In 1994, Rwandan President Habyarimana and the president of Burundi, both Hutu, were shot down in their plane and killed. Culpability for the assassination is disputed, but shots were heard shortly thereafter, and pre-prepared Tutsi death lists were released. In one hundred days, between 500,000 and 1,000,000 Tutsi and moderate Hutu were killed and between 250,000 and 500,000 women were raped. There were over 1 million orphans in a country that had a population of 8 million. 
It was a clear, sunny day when we visited the Kigali Genocide Memorial, a small museum inaugurated in 2004 which is surrounded by terraced gardens. It is difficult to reconcile the beauty of the exterior with the horror of the exhibits within, particularly the Children's Room, a memorial to the children who were murdered. The evil acts that humans have the capacity to commit upon each other are truly unfathomable. 
A sign in the exhibit reads: "Many families were totally wiped out, with no one to remember or document their deaths. The streets were littered with corpses. Dogs were eating the rotten flesh of their owners. The country smelt of the stench of death. The genocidaires had been more successful in their evil aims than anyone would have dared believe. Rwanda was dead." 
As we exited the museum and stood blinking in the sun, we saw the gardens in a new light. They were the final resting place of over 250,000 victims of the Genocide. Their names were engraved on black, stone walls, and blue and white banners were hung reading "Kwibuka 25" which means "to remember" in Kinyarwanda, the national language of Rwanda. Underneath was emblazoned: "Remember, Unite, Renew." These banners were hung everywhere in Kigali, a reminder that our visit to Rwanda coincided with the twenty-fifth commemoration of the Genocide. 
When asked what the twenty-fifth commemoration meant to Rwandans, Sam Munderere, CEO of Survivors Fund (SURF), an NGO that represents and supports genocide survivors, said that "twenty-five years may sound like a long time, but for survivors, it's not at all […] Survivors remember their loved ones every day. They live with their memory, they live with their consequences. So I think that twenty-five years on, the life of survivors has improved, but the consequences haven't changed."
Liliane Pari Umuhoza, founder of the annual Retreat for Women Genocide Survivors, a program that psychologically and financially supports women who experienced rape during the genocide, said that "when you talk to survivors, they will tell their stories as if it were yesterday because healing is an endless journey." While twenty-five years might have passed, she said, many women survivors still have to get up every day and take their HIV/AIDS medication. 
The loved ones who were lost are never forgotten. But to say that this dark chapter in Rwandan history was the end would be woefully incorrect. Burdened as it is by the past, a new story is being written. It was clear during our visit that the passion, energy, and drive of its young people ensure that Rwanda is on track to being one of the most successful, sustainable, and innovative countries in Africa. The Genocide is the only narrative that many Westerners associate with Rwanda, if they are aware of this small East African country at all. In the next few years, however, Rwanda stands to defy that limiting categorization. Rwanda is not dead. If anything, it is bursting with life.
National development is the current priority of Rwandan President Paul Kagame. Kagame was the leader of the Rwandan Patriotic Front that ended the genocide, and he has been president since 2000. His platform places a significant emphasis on youth education. 
"You are the ministers, presidents, and leaders of tomorrow," Kagame said to over 2000 young professionals at the Meet-the-President session at Intare Conference Arena on August 19, 2018.  "Rwanda expects a lot from each of you. Now is the time to prepare for that role. It is now, it is you."
When fellow Globalist journalist Kyle Mayer and I arrived at ASYV, we were welcomed by representatives Deetza Elf and Eugene Harerimana. They told us the history of the youth village in the shade of a mango tree. Agahozo-Shalom, Agahozo meaning "the place where tears are dried" in Kinyarwanda and Shalom meaning "peace" in Hebrew, is modeled on villages in Israel created for Holocaust survivors. While the school itself is secular, it subscribes to two Jewish philosophies: tikkun halev, "healing the heart," and tikkun olam, "repairing the world." The goal of the village is to provide enrichment that heals the hearts of its students, enabling them to heal the world when they graduate. Through providing a safe space for healing, the village strives to cultivate self-reliant individuals and young leaders who give back to their communities and Rwanda. 
ASYV welcomed its first class of 128 students in December of 2008. Because the youth village is for high school-aged students, it no longer serves genocide "survivors," according to the UN definition of a "survivor," which doesn't account for intergenerational trauma or the effects of growing up in HIV/AIDS-impacted households. However, it still functions as a village for vulnerable children from all around Rwanda.
We rose from beneath the tree and walked between the buildings woven together by lush greenery. It was clear to see that ASYV is a village, not simply a school or an orphanage. It has a functioning farm on 30 acres of farmland where it raises rabbits, goats, cows, and produce, and the solar field, built on adjacent land leased by ASYV, provides clean, renewable energy to 15,000 Rwandan households. 
More than anything, however, ASYV is designed to be a home. We visited one of the houses in which the students live for all four years in families with Mamas, women who are often survivors themselves and who might have lost their own children in the Genocide. Elf and Harerimana are a part of this family system: Elf is known as a "cousin," an international Fellow who lives in the village for a year and helps the students with their English among other activities, and Harerimana is a "big brother," a graduate who returns in a mentorship role for younger students. Harerimana explained that the homes are a place where the students can talk, build confidence, and feel cared for. It helps them build trust in other people and feel loved.  
Each class of students names their house after a hero of their choice. We walked by plaques emblazoned with the names of a wide variety of artists, scientists, activists, and thinkers: Mahatma Gandhi, John Locke, Helen Keller, Coretta Scott King, and many others. Even after the class has graduated, the plaque bearing the name of the house hero is removed from prominence, but it remains on the house so that the graduates are never forgotten. 
This small detail is evidence of the love that is palpable in the village. It is clear that emotional care is just as much a priority as academics. A student's first year is an "Enrichment Year" in which he or she is brought up to speed on academics while also meeting with ASYV's psychosocial workers who can provide therapy and treatment. 
According to ASYV psychosocial workers Theophila Ingabire and Sharon Amanda Murara, because of the students' experiences, it can be difficult for them to trust and open up. 
"They need to have a safe place first," said Ingabire, "then [have] someone who can hear them, listen to them, […] give significance to their emotion, and then accompany them day by day in their life."
The psychosocial workers help students adjust to the community and focus on their studies at ASYV, which "provides […] a safe place, and also it kind of gives them a different experience, probably an experience that they might not have had in their lives. [It] really correct[s] their emotional experiences by providing the constant presence of the mamas [and] providing them with psychosocial workers," said Murara. "Also, there's something about the staff here that's really nurturing. They are very loving, and they care about the students very much to the point where a student […] feel[s] like they can talk to anyone […] It doesn't have to necessarily be us. It's just the environment here that is very healing."
This attention to health care is rare in Rwanda, as emphasized by Munderere's experience. SURF works hard to provide mental health support for survivors, including people who fall out of the UN definition of survivor, such as children born from rape, children who witnessed the genocide, children who grew up in the homes of survivors, and/or children who listened to testimony in Gacaca courts (community justice courts that arose after the genocide to address the huge number of accused awaiting trial). All of these people were traumatized in some way but had difficulty receiving mental health assistance, partly because of a lack of access to resources, but mostly because of the present sociocultural norms. 
Mental health is misunderstood in Rwanda. Munderere said that people avoid getting help because they don't want their neighbors to think they are going mad, and they are hesitant to discuss their lives with psychologists. For this reason, Munderere believes that far more survivors have mental health problems than the officially reported 35%. In regard to changing the culture in order to combat mental illness, Munderere said, "Sometimes I think we need to be as vigilant as we were fighting HIV and AIDS."
There is a greater fear as well: if this generation of survivors does not receive the help that they need, their trauma might affect their children, too. 
"The issue of intergenerational trauma is a reality," said Munderere. 
Umuhoza was only two years old when the genocide occurred. She grew up with "people who were half-broken" while she tried "to make sense of something that will never make sense." Umuhoza learned about her own history for the first time from her peers at school because many survivors did not talk to their children about it, either in an effort to protect them or because they were unable to face the trauma themselves. She asked, "How does one support one's child when one is struggling with one's own healing?"
ASYV seeks to break the cycle of intergenerational trauma through its recruitment process which is intended to select the most vulnerable children in Rwanda. The process takes six months during which ASYV writes to the heads of the 30 districts who then select the 10 most vulnerable children between the ages of 10 and 17 in their district. How this initial selection occurs and what criteria is used is not clear since ASYV only performs a review after it has a list of nominees. Once they have the 300 candidates, ASYV officers and a psychosocial worker visit the child's school and home to test for orphan status (loss of one or both parents), vulnerability (risk of physical or sexual violence), and poverty (according to the World Health definition). Just as Rwanda no longer discriminates based on race or tribe, neither does ASYV. Everyone is simply "Rwandan."
The process involves no academic testing, but ASYV wants to ensure that the children they accept will take advantage of the opportunity and develop into young leaders. In essence, they are looking for resilience, or as Elf and Harerimana put it as we explored the creative spaces in the village, a "determination to succeed."
The students' cafeteria, residences, and creative outlets are entirely separate from the school which is perched on top of a steep hill overlooking another breathtaking view of the countryside. At ASYV, the students spend four days learning the government-mandated curriculum where they can choose among history, economics, geography, literature, math, and computer science. They spend the remaining day learning life skills, English, art enrichment and art therapy, music, sewing, media, or inventing. The focus on enrichment in sports and art is intended to build confidence and self-expression. 
"Akuzuye Umutima Gasesekara Kumunwa" is painted on the stage of the amphitheater where students can share their talents and passions. Harerimana explained that it was a traditional proverb that means "What is in your heart must be expressed through your mouth."
[divider]
The amphitheater at ASYV bearing the slogan "Akuzuye Umutima Gasesekara Kumunwa" – "What you have in your heart, you must say with your mouth."
[divider]
The opportunity is there for young leaders to take center stage in Rwanda, but Regis Umugiraneza, CEO of CARL Group, mentions that there are still several challenges. Regis is one of four entrepreneurs including Larissa Uwase, Clarisse Murekatete, and Ada Elyse Irirashenono who co-founded CARL Group, an organization based in Kigali.
A survivor himself, Umugiraneza studied agriculture and business, and he dreamed of finding a way to make use of a "useless" crop—white sweet potato. In Rwanda, sweet potatoes are considered food for the poor or for animals, and they have a negative connotation for many Rwandans who were forced to eat them in the years after the Genocide. People thought he was "crazy" for trying to innovate with them, but Umugiraneza discovered the orange version we are most familiar with in the United States, which has high nutrition content. He used it to make nutrient-dense breads and sweets. He won a grant from the Innovation Fund, a fund organized by SURF for young survivor entrepreneurs, and has been studying, innovating, restructuring, and reinvesting into his business since. 
We visited his premises on the day that his new packaging arrived. Since plastic bags are illegal in Rwanda, he had to try several different brands of paper bags to find one that suited the bread best. It was incredible to see this stepping stone in the life of the start-up and to see how proud he was of the new design.
Umugiraneza wanted to create a business that filled a need and benefited the community, which is why he continued experimenting with using sweet potato mash as an ingredient, which at first created less consistent products than sweet potato flour because it is a more nutritious option. This attitude echoes that of Kagame, who emphasizes the importance of using education to build a better Rwanda.
[divider]
Regis Umugiraneza and Claire Zalla outside CARL Group holding the sweet potato bread in its new packaging.
[divider]
"Education means understanding the world around you and learning to lead in this complicated world." he said. "You have to get skills and do your best with your skills. Do something that benefits you, but also benefits others,"
Unfortunately, when asked what the greatest challenge was facing survivors and young Rwandans who want to become entrepreneurs, Umugiraneza said it was acquiring the necessary skills. He had the idea of making bread, but it was difficult to get the technical training to turn his idea into a reality. Many survivors lack business experience, and it is difficult for young entrepreneurs to acquire capital. Interest rates are high, and the banks do not trust startups without collateral. Since many survivors don't own land or property, they can't be approved for loans.
"Those three [factors] can put you down if you are missing one," said Umugiraneza. 
Even though there are still significant challenges to success in Rwanda, the young people we met were not discouraged, but excited by the thrill of innovation and the prospect of giving back to their country. Reconstruction and reconciliation is a long process, but the motivation to work hard in the face of that adversity is there.
"In the school of resilience, nobody graduates," said Umuhoza, quoting a survivor she met at one of her retreats. 
Visiting Rwanda, we were only able to experience a small slice of the country within our all too brief stay. During that visit, we met incredible people—true students of resilience. We witnessed the aftermath of tragedy and the pain and sorrow of its remembrance. But we also encountered young leaders in every field: art, business, technology, public service, and more. The past is interwoven into the Rwanda we saw, in a way more irrevocable than banners or museums. But there is no denying the energy and the drive toward a future built upon the efforts of the youth who dare to dream of a better world. The resilience is here—the vision and the determination to go far. 
---
Claire Zalla is a junior in Pauli Murray College studying Global Affairs and English. She can be contacted at claire.zalla@yale.edu.