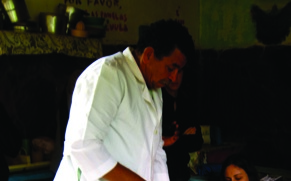 by Alexis Cruzzavala:
The pungent scent of cinnamon lingered on my clothing for days after I left the dense forest of northeastern Brazil's National Park, Chapada Diamantina. I can remember waking up as the sun began to rise and falling asleep to the nightly rain. The air in the chapada was purer than it was in Bahia's capital, Salvador, and the people spoke more softly and with less urgency than big city folk. Everything in the chapada hummed with life, but a quieter, more peaceful life than the hustle and bustle of Brazil's biggest cities.
People from all over South America flock to the Chapada Diamantina to experience the mystical powers the jungle has over its visitors and residents. Many come for the hikes or the chance to escape into the wild, but all are struck by the sense of rejuvenation that comes from living in a sustainable community with roots in holistic healing. The communities of the chapada pride themselves in supporting a philosophy and way of life that attends to the health of not only the body, but also of the mind and spirit.
When I arrived, I was surprised by the unwavering faith these people placed in holistic medicine—so different from my modern lifestyle. Herbal tea and salves were valued above fast-acting pills, and a combination of yoga and meditation was believed to fight off future diseases like cancer. It sounded absurd. I wanted to understand, but I also wanted to make them understand how unlikely it was that a meager cup of nine-herb tea was going to cure the hideous cough that was plaguing me. As a foreigner unversed in the subtleties of local language and culture, though, it seemed safest to be still and listen.
For just over a week, I spent my days working in Horto Vale Flora, the community garden. There, nestled in the park alongside other students, biologists, nomads, and the local medicine man, I met some of the people responsible for the preservation of the community's holistic healing practices.
Emiliano Evangelista Neto, or Seu Santinho as he is fondly called, is a stocky man with leathery hands, slurred speech, and the ability to identify nearly every plant in the national park. Born in Conceição dos Gatos in 1955, Seu Santinho inherited the duty of medicine man from his father, and for over 30 years has worked with medicinal plants native to Chapada Diamantina. With his volunteers, Seu Santinho maintains an expansive medicinal garden teeming with plants that do everything from soothing a sore throat to exhibiting antiviral properties. When he is not assisting local midwives with births and postnatal care, Seu Santinho collects plants to make his famous nine-herb tea, which he freely distributes to anyone experiencing flu-like symptoms. It was this very tea that became the topic of many of our conversations over dinner: He was eager to have me try his method before turning towards the nearest box of antibiotics. I was hesitant, but there was no harm in trying, and his esteem in the community certainly didn't hurt.
Along with this attention to physical health, Seu Santinho and the other residents of the Chapada Diamantina dedicate just as much time to the betterment of the mind and spirit. To complement the tea that was supposedly healing me, I was encouraged to meditate once a day and to devote my mornings to the community garden. As Reuben, a Bolivian nomad who works alongside Seu Santinho, told me, "You must be willing to walk into nature knowing that every living creature or plant can teach you something new about the world. When you listen and learn, your mind is healing… and your spirit thanks you when you find connection with nature. These are the things that will cure the world."
Perhaps the philosophies behind holistic medicine are outdated or lack sufficient scientific support to hold true in today's culture of fast-acting pills and treatments. But in a society discredited by modern medical standards, it is a discovery to find a group of people who are healthy, strong, focused, and connected to the natural world around them. I found myself feeling calmer, more energized, and even happier after only a few days in the chapada. And by the time I left, my month-long cough had miraculously subsided.
Alexis Cruzzavala '13 is an Anthropology major in Davenport College. Contact her at alexis.cruzzavala@yale.edu.