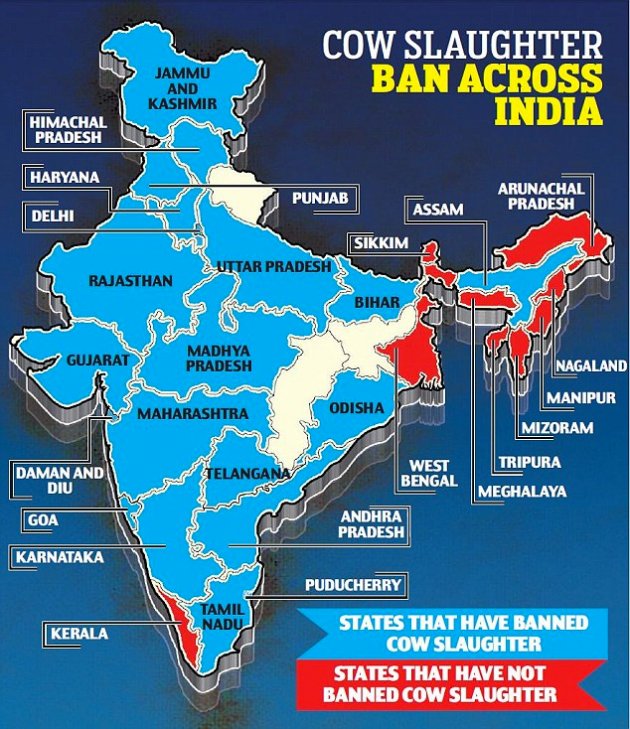 The Beef with Beef
By Leila Murphy
[divider]
[dropcap]"C[/dropcap]learly, Yale, cows, and me go together," said Professor Rohit De, to laughter, at the start of his "Cow Politics" lecture this past Thursday afternoon. De was referencing a job talk he had given at Yale in 2011 on the same topic ― a topic that he formally titles, "Cows and Constitutionalism: Economic Rights, Religious Rights, and the Politics of Beef in the Indian Republic."
Faculty members, graduate students, and undergraduates alike crowded into a small room in Luce Hall, accompanied by chai and samosas, to hear Professor De talk. His lecture was the inauguration of the South Asia Spring Colloquium, a Thursday afternoon series of speakers organized by the South Asian Studies department. Karuna Mantena, the Chair of the South Asian Studies Department, introduced the lecture.
Over the course of an hour, De covered the economic, religious, and political aspects of the beef issue in India, spanning from colonial times to the present. De emphasized that this issue is live, acknowledging the lynchings for beef consumption that have occurred within just the past two years.
From the beginning, De highlighted that this issue is not solely a religious one, and treating it as such misses the point. In De's opinion, the conflict over beef is directly related to the conflict between citizens and the state ― and to fully understand this issue, we must analyze changing ideas of property, economic development, and constitutionalism.
"The nature of cow politics changes with the coming in of the British," De said. He went on to explain how beef became a marker of difference during colonial times, distinguishing English modernity from Hindu backwardness. The colonial period set the stage for the Cow Protection Movement, which placed cows as a unifying national symbol and began to constitute the basis of the Indian national movement. De explained the logic of the Cow Protection Movement after partition, paraphrasing what a ban on cow slaughter represented for the Hindu nationalists of the time: "We are different, no longer a colonial state, and not Pakistan, so we must have a ban on cow slaughter."
De discussed the economic and environmental implications of this issue, addressing arguments on both sides. He also mentioned a legal challenge to the ban on cow slaughter, initiated by the Qureshis, a subcaste of North Indian Muslims. The Qureshis argued that maintaining cows past a reasonable age presented a huge cost, and many farmers ended up simply abandoning their cattle on the street. "The valuable arguments they make is that cow is good for the economy, and the ban on cow slaughter is bad for the cow," he said. The Court ended up ruling that local bans could stay, but that there could not be an absolute ban.
De ended his lecture by drawing attention to an inconsistency: "How is a country which has many bans on cow slaughter managed to be one of the world's biggest beef exporters?" He drew an analogy to the conflict in the U.S. around reproductive rights ― an issue which, like the beef ban, is not regulated nationally but by states, often with coded language, and associated with similar tangential questions. The question of how early a fetus can be protected is somewhat parallel to the question of how late a cow can be protected (an issue that the Qureshis brought up in their challenge of the ban). It's fitting that De ended by drawing this comparison, because De's analysis of "Cow Politics" relates to many other issues ― representing, as De says, "a really useful way to think about all different types of political questions."
[hr]
Leila is a freshman at Morse College. She can be contacted at leila.murphy@yale.edu