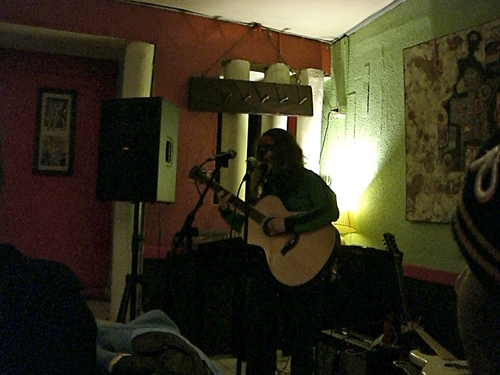 by Eric Gresham:
The only constant company in my hostel is the owner's 120-pound mastiff "Butch," as winter is the slow season for travel in Puerto Varas, Chile.  But a couple weeks ago two college girls arrived for the weekend, taking a break from their summer non-profit work in Santiago, Chile.  Caroline, from Maryland, and Angela, who grew up in Colombia, were going hiking at the Volcano Osorno the next day, and I agreed to join.
Early the next morning, we boarded the bus, and I met Angela's sister, Natalia, who was also in town.  Natalia, 25, has lived in Chile for a year now, first moving to Santiago after meeting a Chilean pop singer, Maria Colores.  After spending some time back home in Colombia, she decided she wanted to return to Chile to record a solo album, and has been working on that album ever since.  While Caroline, Angela, and I exchanged college stories on the otherwise empty bus, Natalia kept the driver company.
We had to endure three hours of thick Patagonian forest with nothing but our sense of direction as our guide when our improvised trail ended in a 50-ft drop —but we survived, and the experience helped form a friendship.  I made plans to meet them in Santiago, as a trip I was planning for my magazine would lead me there.  Staying at Nat and Ang's apartment two weeks later, I learned that our romp in the riverbed was barely a tick on Nat's register of adventures since graduating from the University of Illinois at Chicago in 2008.
A small, fair-skinned girl with an unassuming smile and glasses, always accompanied by her guitar, Nat credits her appearance as why she has never run into trouble adventuring around the world.  And she has had plenty of opportunity.
A year after graduating college, Natalia joined the organization No More Deaths, a group which aids immigrants crossing the Mexican-US border by placing water jugs in the Arizona desert.  But eager for a more visceral experience, she decided to try the traverse herself.  Joining a group of Mexican teenagers hitching rides on freight trains, Natalia successfully made the journey in two weeks.  This and other experiences have left her with enough stories to write three autobiographies, but she chooses to pen her thoughts and memories with voice and guitar rather than on paper.
The night I arrived Natalia was playing at the Restaurant Aymara, a bar close to her apartment, and I witnessed an artist in love with her craft.  As she crooned softly in Spanish and English, in appropriate moments revealing her powerful voice, the audience of the small bar slowly quieted.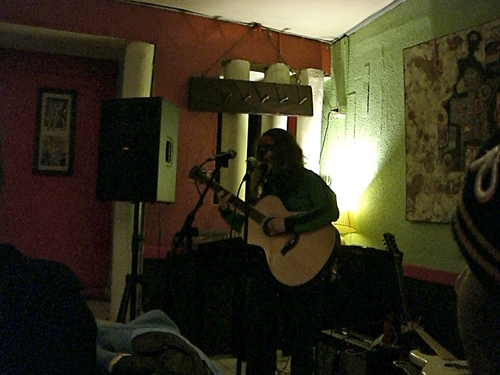 In addition to playing songs off her upcoming album, she performed a duet with Christian Muamba, a political refugee from the Congo who recently moved to Chile. As Nat sang a refrain with Christian rapping and singing over in his native Congolese, I looked on in disbelief.  Half an hour before I had witnessed their first rehearsal in Nat's apartment: after an exasperating 10 minutes of communicating in French, Spanish, and English, they had agreed they would just improvise their performance.
After the show, she thanked the crowd and came to our table, collapsing in a chair with a tired but satisfied smile on her face.  Congratulating her, I fought the urge to ask, "So what's next? When do you think you'll get signed?"  While telling me about her time in Mexico, she mentioned that she had never been sure when her next meal would be and she did not think more than five minutes ahead.  Currently, her life is more stable than living on a boxcar, but for the moment she is content finishing her album and working at Amnesty International, a non-profit initiative, and tutoring English to help pay the bills.  She is experiencing life, and happy to share it with anyone who stops by.  A beneficiary of her and her sister Angela's generous hospitality, I count myself lucky to have crossed her path.  But I still can't help but wonder where Natalia's talents will lead her next.  I do not believe the walls of Santiago's bars and clubs can contain her much longer.
For music videos and recordings, visit Natalia's artist site:   http://natasongs.com/wp/music/ or her Facebook page, La Muna, at: https://www.facebook.com/natasongs