A 'permanent' temporary shelter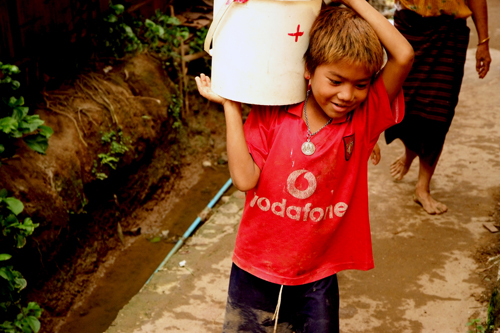 by Adrian Lo:
What do people do if they cannot return home, yet have no future in their current settlements? This is a question facing millions of refugees around the world, yet for Burmese refugees along the Thai border, this has become the norm and a way of life for many — making their camps into a living prison.
During my time in Mae Sot, I had the chance to visit one of the nearby refugee camps, the Mae La camp, located about an hour away from town. The largest and oldest of the nine official camps, the 27-year-old camp currently houses about 50,000 Burmese refugees, mainly from the neighbouring Karen state.
My journey to the camp with Bhante Ashin Issariya, a leading monk in the 2007 Saffron Revolution who later fled to Thailand, was a pleasant one. Situated along a strip of land bordering the main highway across the area, the camp was observable even from the road. Set against lush forests, the Mae La camp at first sight was rather picturesque. Refugees seemed to be living in neat rows of bamboo huts while children ran around in the lanes. Only a handful of Thai soldiers could be seen patrolling the main entrance.
Since Thailand has not officially recognized the UN Refugee Convention of 1951, these camps are technically under the domain of the Thai government and run with the assistance of the Thailand Burma Border Consortium, a group of NGOs in charge of different provisions within the camp. Due to these legal constraints, Burmese refugees are confined to their camps. Anyone found living illegally outside faces the risk of arrest and deportation.
Upon arrival, I was surprised by how well-developed the camp was: not only was there a marketplace at the center of the community filled with fresh produce, but also there were grocery stores and even internet shops. I was later told that the camp has its own local administrative structure with elected camp and section leaders.
During a one-hour discussion with Ko Metta, a middle-aged refugee who serves as the English teacher in Zone B, we were educated about the current struggles and some ironies in the situation. For one, despite the abundance of goods and services that refugees have access to within the camp refugees are handed only a monthly ration of staple foods like rice and sugar but not any forms of currency. This means that most households must have an additional source of income—so despite the prohibition to leave camps, many households still send family members to work outside, mainly as sweatshop workers in factories in Mae Sot or in agriculture nearby. Some students also choose to receive their education in the higher quality migrant schools in Mae Sot and its surrounding areas; the schools within the camps are suffering, as teachers' salaries were cut in half from 500 bahts (about 16 USD) per month to 250 bahts (about 8 USD) per month this year. A system of entering and exiting the camp, albeit illegally, is an acknowledged part of life here.
We also discussed the recent reduction in rations since June, which is a direct response to the reduced aid given by the European Commission, the largest aid contributor to the camps. After a visit by Kristalina Georgieva, European Union Commissioner on International Cooperation, Humanitarian Aid & Crisis Response in April, she mentioned in her blog post (Link: http://blogs.ec.europa.eu/georgieva/a-friendship-bridge-to-a-better-future/) that the EU wishes to shift its focus towards training and capacity development of refugees, while reducing aid and supplies year by year. However, the refugees don't necessarily share her vision. While skills training in computer science, mechanics, and hairdressing are provided, these skills are really only applicable for those who wish to resettle in third countries or work illegally outside the camps.
Lately, teachers like Metta are also troubled  by the expected departure of one of the NGOs, ZOA Refugee Care, which is responsible for the provision of primary education in the camps. Unless another NGO steps in to fill its shoes, explained Metta, many schools might face the threat of temporary closure. He teaches at an independent school in his zone, where he gives regular English classes to groups of 20 to 50 of different levels and age groups. He even uses his home as an after-class tutorial center.
UNHCR constantly denies rumours in the media about the Thai government's plans to close all nine refugee camps, yet the status of the refugees remains vulnerable. On his part, Ko Metta has a rather grim outlook for the future: he said that there seems to be no way to improve lives within the camps for the majority of the refugees who have no intention of resettlement. Their only hope is to wait for situations in Burma to improve.
The visit left me with a sense of despair: an entire generation has grown up within these camps. Yet none of the 50,000 here wishes to call this 'temporary camp,' as Mae La was designated a quarter of a century ago, their permanent home.