Papa Pedja: a tale of Bosnian hospitality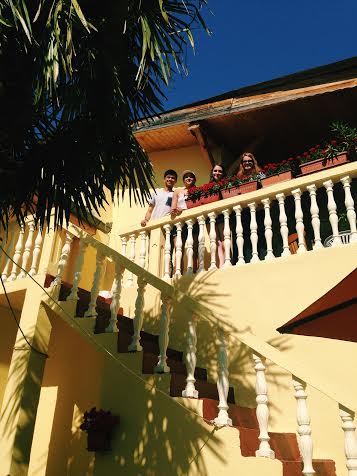 By Clara Mokri
Imagine wandering down a narrow alleyway, surrounded on each side by run-down homes—some poorly kept due to an ailing economy, and some with bullet holes in the walls and blocks of cement missing, remainders of the war. You pass garage after garage, shut and seemingly unwelcome to outsiders, each with a different colored 1995 Volkswagen Golf CL parked in front. Suddenly, when you start to believe you've taken a wrong turn, you reach an incandescent sign that reads Hostel David in blue letters. Between the beads of sweat dripping down your temple, and your increased heart rate from trekking through the city with your luggage, you breathe a sigh of relief. From the outside, Hostel David looks just like another unwelcoming garage, but upon entering you are greeted by a beautiful yellow Spanish-style oasis—pink, red and orange flowers provide vibrant accents to the majestic palm tree planted in the center of the outdoor courtyard. Frank Sinatra's "Oye Como Va" echoes through the hostel. It was so beautiful, that my mother jokingly asked if I was at a resort on Miami Beach when I texted her pictures, thanks to the rare high-speed wifi that came with what we immediately deemed "the best hostel ever."
Perhaps, the greatest part of our experience was neither the living accommodations, nor the delicious and bountiful home-cooked meals that we were served, but rather our host, Pedja. In those short four days, he treated us like we were his children—whether being adamant about eating a healthy and hearty home-cooked breakfast, inviting us to his bar to listen to throwback American rock tunes, or caring for us when we felt under the weather, Pedja felt more like a host dad than a hostel owner. During our second night in Mostar, Pedja invited us up to his patio for drinks. Although he didn't speak fluent English, we sat and talked to him for a large part of the evening. Paco de Lucia was playing in the background, which prompted Dianne to ask him where his musical taste came from. "Paco is the best guitar player ever," he answered. "I play guitar, and he inspired me." After countless pleas, Pedja finally agreed to play us a song that he wrote. "I wrote this with two of my friends, 20, 25 years ago. One moved away, and one was killed during the war." Whenever the war is brought up, you can feel a sort of heaviness bear down on the conversation. Meeting people who were close to our age during the war, and today still have their entire lives ahead of them makes the reality of the war much more tangible and obtrusive. We all sit in silence and listen to the CD recording.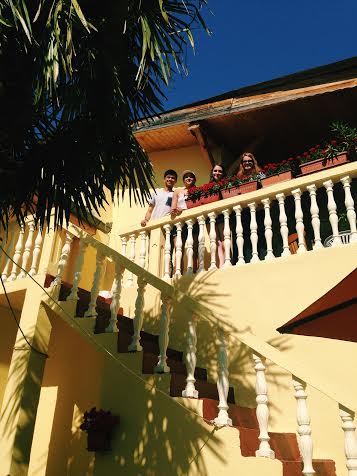 The patio is dimly lit; the main light source coming from inside the house shines onto the table, casting Pedja in the shadows. He lights another cigarette, and the ominous glow is just strong enough to illuminate his facial features. As the song progresses, and someone starts to sing, you can see the sadness in Pedja's eyes. This man, a complete stranger just over 24 hours ago, made himself completely vulnerable to a group of American college students. One thing that I've noticed while being in Bosnia, through sourcing for my article and interviewing different people, is how willing people are to share their stories. As a country that has historically been neglected and overlooked, Bosnians are excited at the opportunity to share their culture and livelihoods with anyone who is willing to listen. In my opinion, that is what makes them such a friendly population. Fedja, Pedja's friend and employee – our other host at the hostel – told us that, "it is not the Bosnian citizens that hate America, or any other country for that matter. Just because our governments do not see eye-to-eye does not mean that the people cannot like one another. I like people from all countries, and I have a lot of international friends who like me. So what's the problem?" This ability to indiscriminately befriend people and easily open yourself, your home and your life to others made the experience of listening to Pedja's music that much more powerful. Feeling the emotion in every lyric is what made that evening one of the most memorable nights of the trip.
Alas, when it was time to leave, it was a bittersweet goodbye. Although we were excited for the next leg of our adventure, we were sad to say goodbye to our newfound "Bosnian dad."' In my opinion, the feeling was mutual, because as we were heading out the door, Pedja pulls out his phone and snaps a quick selfie.
Clara Mokri '18 is in Timothy Dwight College. She can be reached at clara.mokri@yale.edu.