Behind The Baskets: The Art of Rwandan Weaving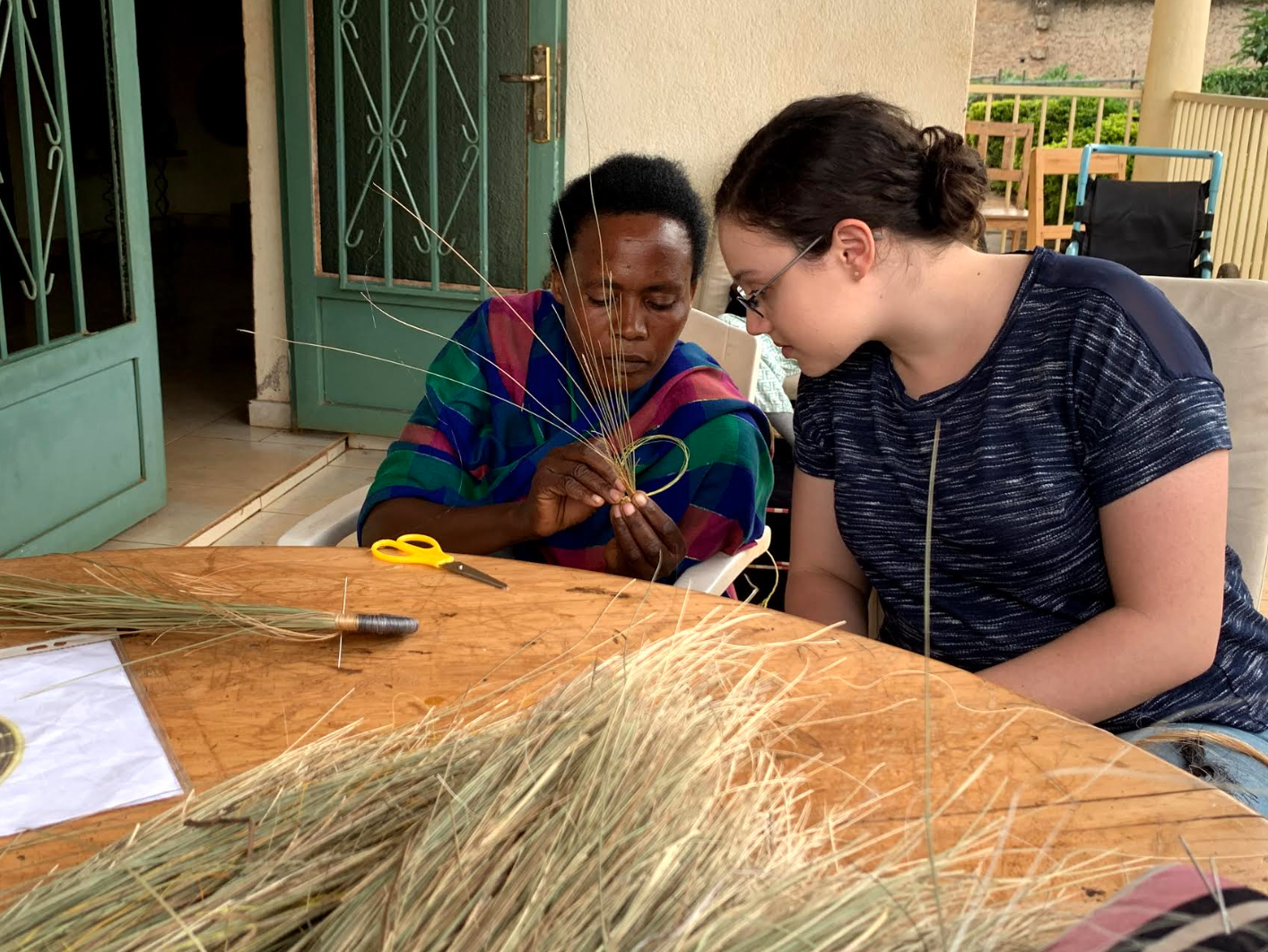 Featured image: Learning how to weave. 
By Sara Lewis
The sun beat down on me as I walked down the dusty road. Motorcycles rumbled along and cars zipped by, leaving only a slight breeze in their wake. I finally saw the sign I'd been looking for a few meters ahead: a slab of wood painted with the words "Talking Through Art." I followed the sign's arrow, which led me down a dirt path to a large, white building surrounded by a tall fence. 
As soon as I opened the gate, I was greeted by a barking dog and a chicken waddling around the grass. I couldn't believe the abrupt change in scenery from the street. In this serene environment, there was a garden filled with vegetables and a porch where people sat in wicker chairs weaving with what looked like strands of grass. 
I'd heard about this enchanting place just two days before, when I climbed Mount Bisoke in Volcanoes National Park with the entire Globalist team. With my feet sliding around in the mud as I trudged uphill, I fell behind my group and ended up chatting with two other cautious climbers. When I mentioned my interest in art, they encouraged me to visit Talking Through Art, a non-governmental organization that employs disabled women and their families. 
After the hike, I began researching the organization and became fascinated by its work. Not only does the group hire disabled women and their families, it also offers scholarships for the children of employees, family planning, and yoga classes. It has created an entire community centered around art — specifically basket weaving. 
As an art lover and fervent believer in the importance of art, I set off on my journey to meet the people behind the program. I instantly relaxed in the peaceful setting, and once inside the building, began admiring the woven baskets that adorned the walls. The room smelled vaguely of grass as I moved through it, a constant reminder of the natural materials used in these delicate handicrafts. I looked through hundreds of bowls, medallions, ornaments, and coasters, amazed by the intricacies of traditional Rwandan basket weaving. 
I sat down on vibrant blue and green cushions to speak with Petr, the group's founder, over traditional Rwandan tea. Petr told me how he moved from the Czech Republic to Rwanda a few years ago and launched the group after noticing many people with disabilities, inviting them to lunch, and teaching impromptu art lessons. At the end of our conversation, he offered me a lesson in basket weaving, which I excitedly accepted. 
Myself and Petr, the founder of Talking Through Art, in the shop after our interview.
When I sat down next to a weaver and said hello, I quickly learned that she spoke little English. But language was unnecessary as she guided my hands into the correct positions. I shakily moved them between stalks of grass to begin my weaving project. I carefully grasped the grass-threaded needle, sticking it into already woven sections and then tried to pull the new stalks into a circular formation. 
For the first few minutes, my hand kept slipping, and the weaver reached over to guide me. After some corrections, my fingers began moving in smooth, repetitive motions, and my mentor gave me an enthusiastic thumbs up. I still needed help inserting new blades of grass and changing colors, but I was excited with my progress.  
As I continued my project, the weavers around me worked on their creations with incredible dexterity. It was obvious by how they moved their hands that they had mastered their craft. The swift glide of the needle through the grass that had confounded my efforts seemed to be second nature to them. While I slowly made a row of stitches, those around me had turned a pile of grass into the first section of a beautiful bowl. 
Claire Zalla, who visited Talking Through Art with me, working on her weaving project. 
Claire and I getting help with our weaving on the porch, featuring chickens.
An hour later, my fingers were slightly bruised, and I had completed a small woven section, suitable as a Christmas tree ornament. As I looked at my tiny creation, about the size of a silver dollar, my admiration for these weavers grew. I now understood from personal experience how difficult weaving can be, even for the simplest patterns. 
I thought back to my visits to Rwanda's Kimironko Market, where woven baskets are stacked in massive piles and sold in multiples. Every basket, I now realized, required tremendous work behind the scenes. As I'd walked through the market and gazed at the artwork surrounding me, I hadn't appreciated that each basket had an individual story. 
Sitting on the porch and attempting to weave a circle smaller than a coaster, it became clear that each basket tells a tale, especially at a place like Talking Through Art. On that porch, as animals roamed, weaving baskets gave disabled women financial freedom and the ability to rise beyond circumstance, and I was lucky enough to watch their empowerment for one afternoon. 
My finished weaving project.
---
Sara Lewis is a junior in Benjamin Franklin College. You can contact her at sara.lewis@yale.edu.