Mountain Gorillas: A Photo Essay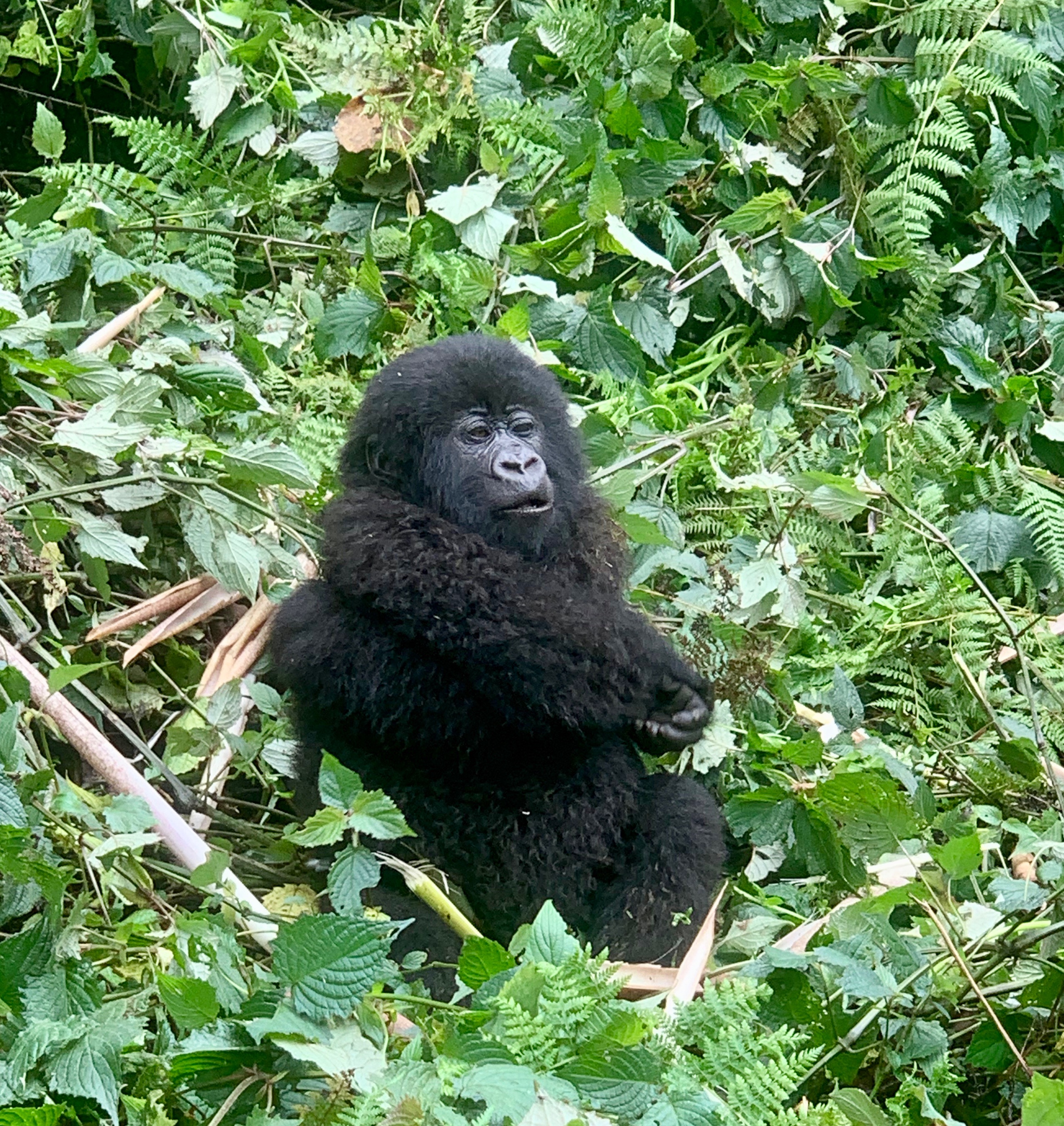 Featured image: A teenage gorilla sitting alone in a clearing.
[hr]
By Sara Lewis
[divider]
[dropcap]O[/dropcap]nly one thousand mountain gorillas live in Rwanda's dense jungle, and I got to meet twelve of them.
[divider]
The bald silverback gorilla peeling bamboo in the jungle.
[divider]
Hiking through damp thickets of bamboo, with five guides clearing the way with long, rusty machetes, I traipsed alongside two other tourists as we embarked on one of the most coveted wildlife experiences in the world. It's expensive to get a permit to see these remarkable animals, but the shockingly close encounters with them were priceless.
My journey began with an early-morning trek through a farm on the edge of Volcanoes National Park, a vast area that houses a rainforest, five volcanoes, rare golden monkeys, and the gorillas. After twenty minutes, we descended into the jungle, using hiking sticks to keep our balance, until we met up with the park's designated gorilla trackers under the cool shade of a tree canopy. They told us where they'd spotted the gorillas napping, and we set off into the mountains, cutting new paths through the forest as we searched for them.
[divider]
A sleepy silverback gorilla and a baby gorilla relaxing in a clearing.
[divider]
Before long, I was pointed toward a dark figure just ten feet from where I stood. I was surprised to discover that it was a gorilla, a male, enjoying his midday nap. We continued walking and soon came upon a clearing where ten gorillas slumbered, all of different ages and sizes. The 2,000-pound silverback gorilla, about the size of a small car, was amazing to see, sleeping peacefully so close to me.
[divider]
The silverback gorilla, the head male in the family, interacting with one of the females during naptime.  
[divider]
For the next thirty minutes, we were mesmerized. We watched six-month old gorillas playing and clinging to their mothers' heads and heard gigantic males pounding their chests, sounding like they were beating drums. We then followed some gorillas, as they entered the dense jungle to find bamboo for their second meal of the day. We marveled at their dexterity, as they peeled bamboo and swung between trees. Only once was I briefly alarmed, when a gorilla started lumbering toward me. When he was just eight inches away, one of the guides appeared at my side, quickly moving me away.
[divider]
A baby gorilla grasping onto its mother.
A mother gorilla watching her son play.
A mother gorilla eating bamboo while her son hangs onto her.
A mother gorilla eating bamboo while her son hangs onto her.
Two young gorillas hugging.
[divider]
We were allowed to stay with the gorillas for only an hour to comply with Rwanda's strict rules of conservation. As I made my way back through the forest, I finally understood why tourists designed full trips to Rwanda around these incredible animals, sometimes planning months in advance to get one of the scarce permits. Seeing gorillas in their natural habitat was exhilarating, the lack of barriers between us reminding me how fragile, yet beautiful the wilderness can be.
[hr]
Sara Lewis is a junior in Benjamin Franklin College. You can contact her at sara.lewis@yale.edu.