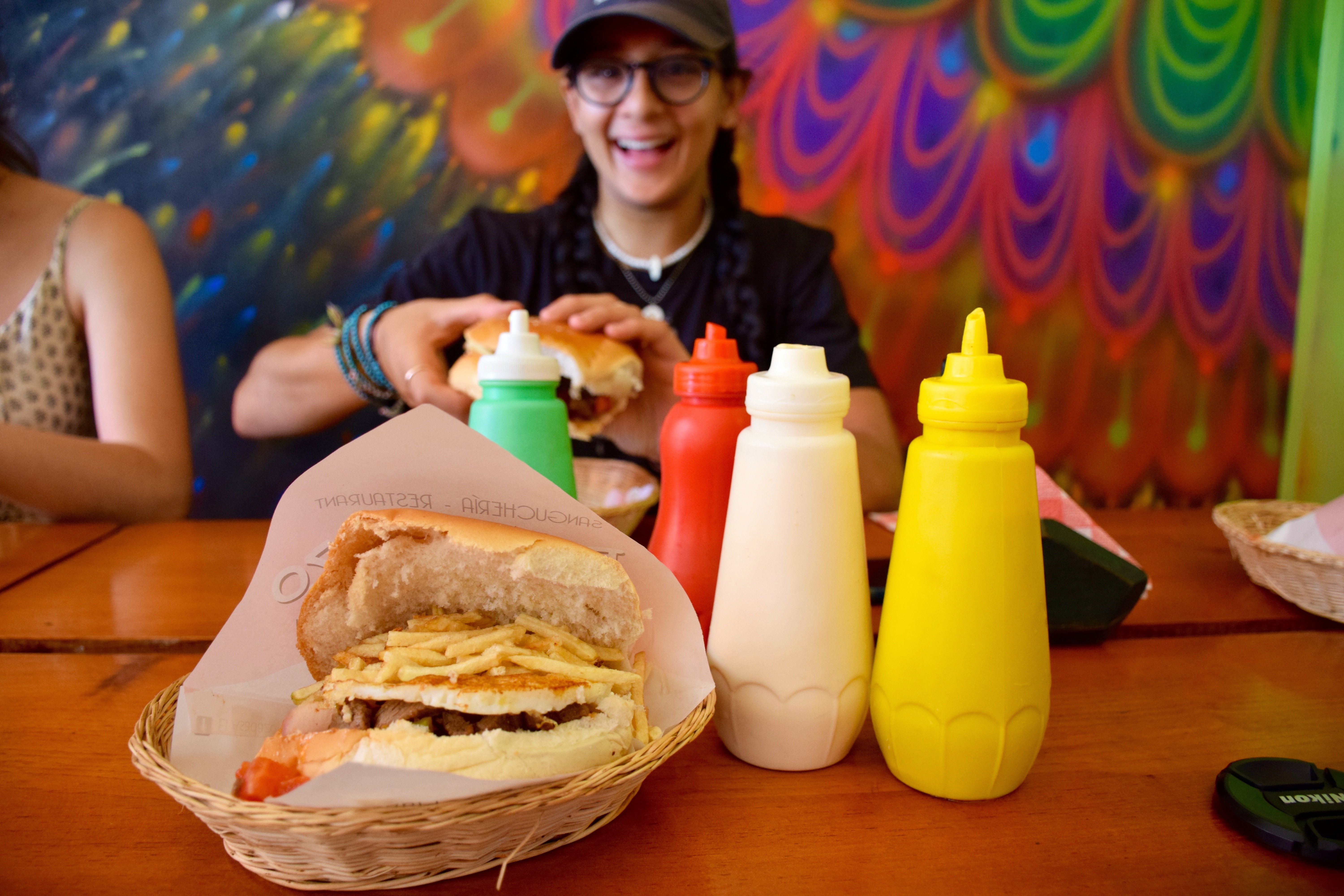 By Olivia Burton
[divider]
I've eaten a lot of sandwiches in my 20 years of life. Probably almost 5,000, assuming I eat about 5 sandwiches per week. And out of those thousands of sandwiches, only about a dozen are truly memorable. The lomazo, at El Asadazo restaurante in Puerto Maldonado, Peru is one of those.
We stumbled into El Asadazo our first night in town. It was dark, but in the humid air of the Peruvian Amazon it was still hot outside. Orange and white streetlamps in the Plaza de Armas cast a warm glow on the streets. Groups of children played tag under a clock tower in the center of the Plaza, and an old woman sold bags of popcorn from a creaky cart. TripAdvisor, my traveling lifeline, had little to say about Puerto Maldonado, especially since most tourists only stay there for one night as they travel to their luxury eco-lodges in the jungle. So we followed our noses.
The grill at El Asadazo is outside, practically on the sidewalk, and you can order a sandwich to go or sit in the restaurant and wait for your food. It's genius advertising— the aroma of sizzling steak and chicken, fried eggs, peppers, French fries, and onions wafts through the square in the humid night air. Yellow light pours out onto the sidewalk from El Asadazo's open windows.
Lomo saltado is a traditional Peruvian stir-fry of beef, onions, tomatoes, chili pepper, soy sauce, parsley and French fries. It was originally part of the Chifa style of cooking, or Chinese-Peruvian food, but it soon became mainstream—you can order it at most typical Peruvian restaurants. The Lomazo, one of El Asadazo's more popular sandwiches, takes this traditional dish and puts it on a warm, toasted bun with sesame seeds. Add a fried egg, some green pepper sauce, and some fried plantains on the side with an ice cold Cusqueña or an Inka Cola to drink, and you're ready to go—all for less than the equivalent of $7.
I'm usually good about trying new foods, especially when traveling, but the Lomazo was so delicious that I never ordered anything else, even though we ate at El Asadazo a grand total of four times while we were in Puerto Maldonado. That's four sandwiches—about 0.08% of my current lifetime sandwich intake.
To me, the Lomazo sandwich—and its various side dishes— represents everything that is so fascinating (and delicious) about Peruvian cuisine.
Lomo saltado, with its roots in Chifa, combines traditional Peruvian ingredients with Chinese cooking techniques brought to the country by Chinese immigrants in the 20th century. Today, Chifa is popular among Peruvians from all walks of life and backgrounds. You can buy lomo saltado off the street or you can buy it in a fancy restaurant in Lima's upscale district of San Isidro. The presentation changes, but the basic dish is the same.
Peruvian food can be traced back to the Inca, who cultivated hundreds of varities of potato—one of the essential ingredients in lomo saltado. But while Peruvian food has deep roots in the past, it continues to develop and thrive today. By putting it on a bun and adding the options of a fried egg and green pepper sauce, El Asadazo adds a modern, multicultural twist to this traditional dish.
By the third time we ate at El Asadazo, the waitress anticipated our order. When I asked for a lomazo, instead of turning to the next person, she asked, "How many?"