A Male Dominion: The Streets of Morocco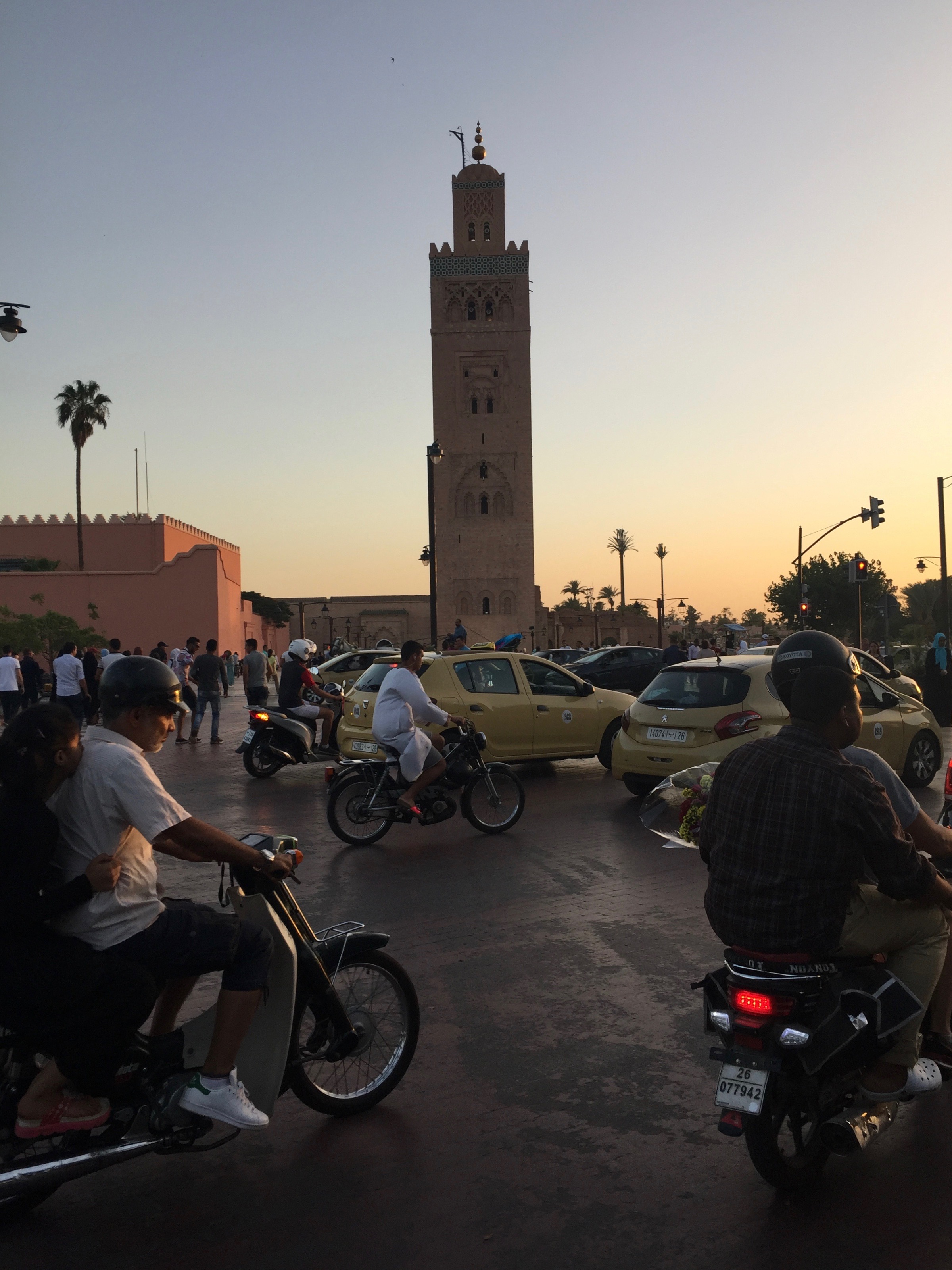 By Hadley Copeland
[divider]
[dropcap]W[/dropcap]hen I reflect on the month and a half I spent in Morocco last summer, there are some experiences that I will always remember: my visit to a traditional hammam in Marrakech, celebrating Eid al-Fitr with my host family in Marrakech's old medina, spending the afternoon with friends exploring the Kasbah of the Udayas, and becoming hopelessly lost day-after-day in the sea-side town of Essaouira. However, I, like many female travelers and Maghrebi women, was quickly exposed to the realms of Morocco that, despite the country's increasing modernization and wealth, still do not dispense equal treatment to men and women.
My first memory of Morocco is the lamp-lit streets of Casablanca during the heart of Ramadan, as our tour bus careened in the direction of our hotel. Although jet-lag bore down on my eyelids, I keenly remember how the young men rode their motorcycles alongside our vastly oversized tour bus, honking and waving excitedly, while their counterparts smoked in the coffee shops lining the boulevard.
Throughout our hour long trip, I caught a glimpse of only one woman: she was alone, and although her features were obscured in the street's fluorescent lighting, her steps were concise and her posture tense. The corners of her hijab waved in the wind as she attempted to ignore the gazes of leering young men, smoking and leaning against the windows of closed shops. She was an independent young woman but, on the streets, these men held all the power.
I knew, even before I went to Morocco, that the country was not the most hospitable place for women. According to the World Economic Forum's "The Global Gender Gap Report" in 2017, the gender gap between men and women was worse in Morocco than in 135 out of the 144 countries surveyed. That is a mere two spots ahead of Saudi Arabia's ranking.
But what these statistics do not convey is the number of Moroccan women seeking to create a more egalitarian state. As a result of their activism, millions of Moroccan women have achieved greater autonomy and rights through the government's passing of laws that ensure gender equality and outlaw violence against women.
While these laws are a step in the right direction, they mean very little if not followed through with definite action, and a destruction of the old male-dominated order.
Thus, we have a Morocco that appears to ensure equality for all, even though it certainly does not. The very laws that ensure women's rights are erratically enforced and in 2014, the former Moroccan Prime Minister Abdelilah Benkirane compared women to lanterns, when he claimed that "when women went to work outside, the light went out of their homes."
When these two ideologies, one traditional and the other contemporary, meet in the public sphere, this gives rise to one of Morocco's most rampant issues: the harassment and belittling of women.
Although I have dealt with harassment in the United States, the degree of harassment in Morocco is entirely different: it was not abating. A woman cannot walk into the Marrakshi souks, or along any major thoroughfare, without feeling vaguely uncomfortable. Sometimes, the harassment was more aggressive.
Once, I was walking with a group of classmates to a flower market in Gueliz when a middle-aged man on a rickety bike began to follow us, shouting in Darija. He continued to persist in his attempts to get our attention even as we attempted to ignore him. But fortunately for us, he gave up when—due to his lack of attention—he hit a parked car and fell off his bike.
This experience, and others like it, shape Morocco into a place that is not only unwelcoming to female tourists but Moroccan women as well. After we were followed by a rather persistent peddler down the Avenue Mohammed VI, my host sister admitted to me that, in the past, she has been scared to leave her family's apartment due to the hostility of men on the streets. She had reached a point where, emotionally, she could no longer deal with all of the 'attention' she received from Moroccan men.
I can discuss at length the situations where I felt particularly uneasy—in groups or alone—but it was not these particular situations but rather the armor of extra-vigilance that I had to adopt each morning before walking out onto the streets that is noteworthy. I became the silent woman in Casablanca, seeking to make myself invisible in Morocco rather than visible—which may be a fine practice for a tourist, but not for the millions of Moroccan women living through this reality day after day. And certainly not for a country that seeks to assure equality for women.
Despite any, or all, of the harassment I experienced in Morocco, I would return to study and live there without hesitation. Many solo female travelers feel differently though and have taken to blogs and Trip Advisor to air their many grievances about the culture of harassment in Morocco. I respect their sentiments, but traveling to and living in Morocco is an experience that shouldn't be missed because of these problems alone.
It is a country renowned not only for its physical beauty but, for the people who have spent considerable time there, also as a place where countless cultures, languages, and generations combine. Spanish, French, Arab, and Amazigh culture have all the shaped this country and in many towns, such as Marrakech and Essaouira, have old Jewish quarters. Nearly every Moroccan I have met exalts their country's tolerance in all matters. In some ways, I agree wholeheartedly. I doubt that I will ever again witness such as cultural, monetary, and generational blending as I did in Morocco: Moroccan men in djellabas wander the souqs alongside Moroccan teenagers in jeans and t-shirts. While some Moroccan families, even those in major cities, still must endure extreme poverty, only two or three streets away, others are living in significantly better conditions than most Americans and Western Europeans.
In two or three decades, when the older generation has passed on, I sincerely doubt that this amalgam will still be distinguishable. And yet, I can only hope that the country's continued modernization will allow street harassment to dissipate as the public sphere becomes the dominion of not only men but women as well.
[hr]
Hadley Copeland is a first year in Trumbull College. You can contact her at hadley.copeland@yale.edu.