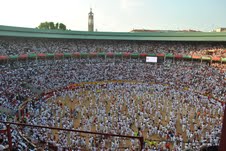 BY NITIKA KHAITAN
It wasn't that difficult, getting caught up in the excitement of San Fermín. Arriving in Pamplona at daybreak with a huge group of (mostly drunk) students. Seeing every single person on the streets dressed in the famous white with flashes of red. Walking through roads littered with trash from weeklong parties that, at 8 AM, carried on with no shame. And then of course, experiencing my first Spanish bull ring, full to its brim with a rumbling thunderous crowd.
I joined in chants of Viva San Fermín as the run unfolded on a giant TV screen, and in standing ovations as the first victors started trickling in. Not one runner was seriously injured that day. Photos were instagrammed and iPhone videos shared without the slightest guilt. It felt like a movie, specifically a famous Bollywood one called Zindagi Na Milegi Dobara (You Only Live Once). Its protagonists learn to appreciate their lives in a whole new way after running the encierro; and here I was watching people do the same.
The end of the encierro, with the bulls back in their holds and the runners all in the ring, only meant the beginning of more games. A heifer would be released into the plaza for 10 minutes to tackle runners while they tried to jump over it. The first time a heifer charged at someone, I was horrified, expecting to see blood and medics on the field. But their horns were curved inwards and blunted, and every man or woman that got tossed, would be on their feet seconds later.
I felt uneasy throughout but the games just didn't seem that dangerous anymore. Sometimes seeing a heifer toss a man even became funny, the kind of funny that YouTube videos of people falling can be. One man stood out as the comic star: inexplicably carrying a backpack, he kept trying to touch the heifer and failing. Thousands laughed as he'd clamber up the ring-side fence, the heifer snorting and trying to tackle him. When he finally succeeded and was carried on shoulders for a half-mocking victory lap, I found myself laughing alongside the crowd.
For a few moments, it felt more like just another sport – there was skill and entertainment – and an added suspense of possible catastrophe that intensified the skill and entertainment. Just like in the movies, men elegantly baited heifers with flags and leaped over them like acrobats. There was pedigree and sportsmanship too – runners helped each other touch the heifer and recover from tosses, and when a young man tried to tackle a heifer, which is strictly against the rules, others pulled him off and slapped him.
Walking back from the stadium, it still felt like what I had witnessed was a normal tourist must. Couples exhausted from the nightlong fiestas were passed out in parks around town. I hurried around finding right sized t-shirts for friends, debating between one with blood splotches and one with the slogan 'Keep Calm and Run On'.
It was only on the bus back that it began to sink in. I heard our a professor explain that the six encierro bulls would be killed in bullfights in the evening. When I reached home, I saw a comment on my instagram photo of the plaza, asking me if this was the fight where a matador had been gored to death. Yesterday, a friend told me of a pile-up during another run that had seriously injured several, and added that from our seats, we would have had a clear view. Eight hours ago, FoxNews reported that during the festival's final run, an Australian woman had been gored in her lung and was gravely ill. The morning I had visited Pamplona, more than a tiny part of me had wanted to run with those bulls.
I am probably never going to be at a PETA naked march against San Fermín. Other activities I am complacent in hurt humans and animals to a far greater extent and should trouble me more, from buying sweatshop goods to eating animal products. And I am also not going to try and shame everyone I meet who might think differently of the encierro than I do.
But still. I mindlessly and eagerly participated in something, the thought of which I find more than mildly horrifying. I never questioned the obligatory nature of the excursion or the excitement I felt in the ring, because no one else around me did. I reduced a festival with genuine ethical complications into another souvenir-shopping and picture-taking visit. In the end though, the souvenir-shopping and picture-taking visit did reiterate, unexpectedly, both how hard and how important it is to live a more examined life.
Nitika Khaitan '16 is blogging from Bilbao, Spain this summer. Contact her at akitin.leo@gmail.com.