Cross Section of a Neighborhood in Suva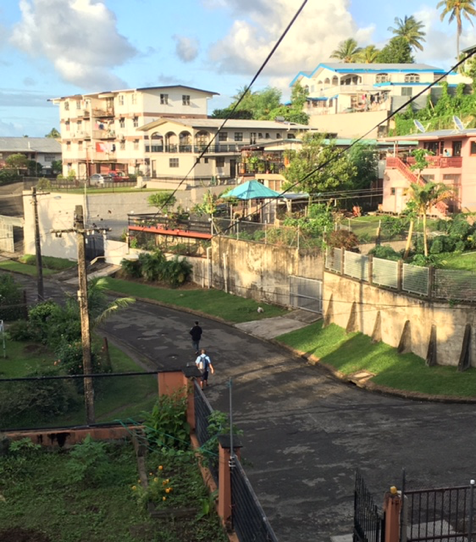 By Jinchen Zou
[divider]
[dropcap]T[/dropcap]he sighting of a new moon welcomes the end of Ramadan. In Fiji, on the main island of Viti Levu, the moon is first seen on the west side of the island in Nadi and Lautoka. People living in these areas who see the moon first will send word to their friends and families in Suva to give the go-ahead to start celebrating.
I had arrived the day before the start of Eid. Over the course of the four-hour drive from Nadi and its international airport to Suva, the capital city, I watched as the landscape became greener and wetter as we headed east. Viti Levu, like many other islands that make up Fiji, is volcanic; the highlands, dotted by mountain peaks, slope down to the flatter coastal areas. Though there exist a handful of communities in the valleys and the hills, Fijians love to live on the coast. As a result, the population density along the seaside is visibly higher, with colorful corrugated metal houses that make up Fijian villages squeezed cozily, one next to the other.
Here in Suva, the houses are similarly close together. Families from the many different communities live next to each other, above and below each other. They overlap, interact, and sometimes blend together beautifully, creating communities that are unique to Fiji. On the street, you'll see schoolchildren wearing bright school uniforms next to an Indo-Fijian woman wearing a sari. There are men standing watching their fruit stands in traditional Fijian sulus and university students in a shirt and jeans.
As a former British colony and a member of the Commonwealth, Fiji's society today remains colored by its colonial past. The first groups of Westerners brought Christianity to the islands, which the Fijians reshaped to coexist with their indigenous culture. Between the 1870s and 1916, the colonial rulers brought Indians to Fiji to work as indentured servants. Over time, immigration and influence of Indo-Fijians increased to the point where they make up around forty percent of Fiji's population today.
Interestingly, recent development has attracted a sizable Chinese and Korean diaspora in Fiji as well, adding to the ethnic makeup of the island nation.
During Eid, I got a chance to meet my Chinese host family's neighbors, who graciously invited everyone to their celebrations. Within the living room, English, Hindi, and Chinese words formed the fabric of the evening's interactions. Over bowls of Sheer Khurma, I learned that the nephew of this Indo-Fijian family learned to speak fluent Chinese over the course of two years in Taiwan doing missionary work with the Church of Latter Day Saints. Someone in the room asked this college student if he would like to tutor a friend in English.
Sitting on the couch across from me, Sana, the daughter of a Chinese immigrant and an Indo-Fijian living in a single-parent household, also surprises me with her story. She knows very little English, the language of instruction at her Islamic school, but speaks fluent Chinese. Sprouting idioms in Chinese that goes beyond my grasp of the language, this thirteen-year-old laughs at my confusion and explains that her mom had sent her to attend school in northeast China. A social butterfly, she proceeds to demonstrate to the host of this gathering in broken English that she knows quite a bit about Eid traditions and quizzes him to tell her more.
I am fascinated with the rich history and culture that is present on this island that sits over 2500 kilometers away from New Zealand. Over the next couple of days, I met people from Tuvalu, the Lau Islands, Australia, and even Guyana, each with their own story and take on the world viewed from the South Pacific. Bula, the Fijian greeting accompanies me everywhere I go.
What seems to bring people together in Fiji to facilitate this interweaving of cultures is a common respect for everyone's attempt to live a simple and well-lived life. The Fijian dream revolves around family and a stable livelihood. Life doesn't need to be so complicated, and joys are shared with everyone in the vicinity. So far, I've received three wedding invitations from people who I don't even know.
[hr]
Jinchen Zou is a rising junior in Calhoun double majoring in Global Affairs and Economics and Mathematics. Contact her at jinchen.zou@yale.edu.