Yale Greenberg World Fellows Interview Series: Manasi Subramaniam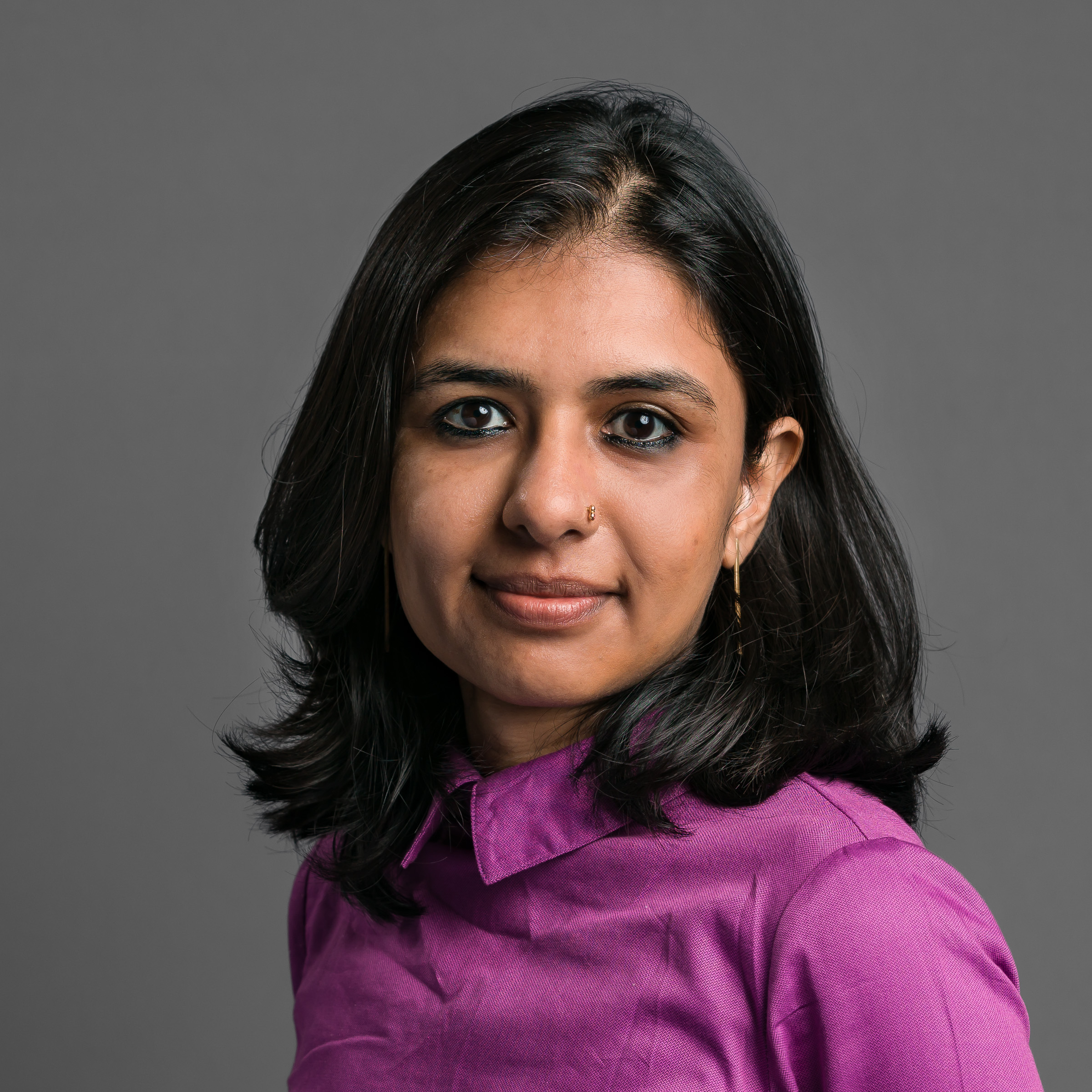 Featured Image: Manasi Subramaniam, Jackson School of Global Affairs World Fellow, Photo by Tony Fiorini
By Neha Middela
Manasi Subramaniam is the Editor-in-Chief of Penguin Random House India. During her time in the publishing sector, she has published a Pulitzer Prize winner and two Booker Prize Winners. In addition to being a 2022 Maurice R. Greenberg Yale World Fellow, Manasi was also a 2012 Frankfurt Fellow, a 2013 Bologna Delegate, a 2014 BIEF-Paris Fellow, a 2015 Visiting International Publisher at the Australian Council of the Arts, and a 2017 Zev Birger Fellow at the Jerusalem International Book Fair. This conversation has been edited for brevity and clarity.
How have you found the World Fellows Program to be so far?
I've found the World Fellows program to be, honestly, quite transformative. I applied for the program, because I was very interested in the question that they asked: how do you make the world a better place?
I got into publishing about 15 years ago. I remember articulating my reason for wanting to work in publishing as: art can make the world a better place, books and literature can make the world a better place. But later, you start solving everyday problems. And as you grow in your career, you end up doing everyday tasks. And sometimes sort of unromantic administrative tasks.
People often think of editors as all curled up with a really good book all the time. But that's not it. It's quite a different world when you're in the business of culture. And so I felt like I had become a bit like a hamster on a wheel. I was doing stuff every single day, but not necessarily having the time or the luxury to step back and look at the big picture and be like, how do I make the world a better place? So this was something I'd been thinking about for about a year — why don't I have the time to even read for pleasure anymore? Why don't I have the time to look at the big picture anymore? And I ended up applying for this because I wanted to give myself that gift of time, for sure. That's how I ended up here. It I found it really useful and transformative, as I said, for that reason, because it has given me the gift of time, because more than anything else through the conversations I've had with the other fellows, I have expanded my own worldview, I have found multiple ways of looking at the world.
Also, the World Fellows Program is interdisciplinary. So now I get the perspective of someone who works in policy or international development or government or social enterprise, or journalism. I get perspectives that I would never have had. And that's been really useful for me.
How did you enter the publishing sector?
I was doing my master's in Renaissance Literature, and I just finished writing my dissertation, which was on Shakespeare's comedies. And as one does in these circumstances, I imagined that I was destined for a life in academia. And I was pretty much figuring out PhD applications, when I had spring break. And I decided that I would use those six weeks by interning at a publishing house.  And then I just fell into publishing. I was like, this is what I want to do. I fell madly in love. Then I was like, this is what I need to do with the rest of my life.
How has the publishing sector changed throughout the course of your career?
It's changed a lot, and it's changing constantly. Audio books have become a much bigger thing than they ever used to be. So, just in terms of the medium rather than the message, a lot has changed.
Also, the pandemic has obviously affected publishing considerably. In some countries, like the United States, for example, reading went up. And that's been great. In a couple of other countries, where lockdowns were stricter and books were not accessible, book sales went down.
With regards to the ethos of publishing, publishing has had multiple reckonings over the last few years. Publishing is an industry that's constantly responding to the world around it. So anytime there's a political reckoning of any kind, the job of publishing is to respond to it, to mirror that. The job of the arts is to mirror society. So whether it was the Arab Spring, Occupy Wall Street, or the racial reckoning of 2020, at every step of the way, if publishing hasn't responded, it's failed in its job.
How has the publishing industry responded to these major events?
Internationally, there's been an enormous push for diversity, both within the industry and for the books that are produced by the industry. It's been an important push, because it's important that the books we publish represent the world we live in.
Let's go to the fact that Shakespeare wrote King Lear during the plague. So now I'm thinking, what are the great writers of our time doing during the pandemic?
Have you seen these themes reflected in any of the specific authors, manuscripts, or books that you have been working with?
Yeah, for sure. It's been a historic year for South Asian literature. The Booker International Prize was won for the very first time by a novel translated from Hindi — Tomb of Sand by Geetanjali Shree, which was brilliantly translated by Daisy Rockwell, and I published that. Earlier last month, the main Booker Prize was won by a Sri Lankan author, the first Sri Lankan origin author to win the prize, Shehan Karunatilaka, for a book called The Seven Moons of Maali Almeida. And I published that one as well. So it's been a very historic year for me, for sure.
I feel that these two things happening on the international stage does turn this signal, in some way, towards the South. The world is turning towards different kinds of narratives, and there's clearly interest.
In what other ways have you seen interest in these narratives grow?
One of the interesting things for me is that there's been a bit of a shift towards translation around the globe. In a country like India, or in the countries of South Asia, I feel that the knowledge of English is a marker of privilege. So to be comfortable enough to write a full novel in English, you clearly come with a vast amount of caste and class privilege. And so in a country like that, for an English language publisher, what can I possibly do to look outside those markers of privilege? And the answer is translations. Especially in a country like India, where books are published in over 22 languages, it is so important to invest heavily in translations into English. And it seems to me that publishers across South Asia are recognizing this.
Switching gears, what do you look for in a manuscript?
That's a difficult question. I don't want to be one of those people that says, I don't know what I'm looking for. But when I know, when I find it, I know that this is it for sure. That's such a vague way to say it, but that's what it is. It's kind of like this weird visceral knowledge that I think there's something special here. Definitely. That's how I see it.
Also, the skill that I think I've developed most as a publisher over the years is probably the ability to see the finished product when I'm reading the manuscript. So, for sure I see what it is. But I also see what it could be. I remember reading somewhere that Michelangelo would say that when he sees a block of marble. He doesn't see the block, he sees the sculpture that is inside. That's kind of how I've always thought of editing as well. Like, I look at it, and I'm like, okay, if I chip away at it, in this way, it could be this.
What do you hope you'll bring back from your time at Yale to your publishing work?
I feel like I have a much wider perspective than I ever did before coming here. What I hope will happen is that I will bring the sensibility of someone who has spent the last few months having incredible conversations. I hope I will bring that sensibility back to my work and approach my work with more nuance, more perspectives, and a wider worldview.
What are some of your current or recent projects that you have been excited about?
There's a wonderful novel translated from Kannada called Tejo-Tungabhadra by a writer called Vasudhendra, and it's been translated by someone called Maithreyi Karnoor. The book is an epic work of history about the relationship between the Tejo River in Portugal and the Tungabhadra River in India and about this brilliant cross-cultural connection between Portugal and India. It's phenomenal. It's absolutely epic in scope, and it's out this month. I'm really excited about that, for sure. I think it's really fantastic.
What else? Oh, a couple of other things, one of which has just come out. A couple of months ago, I published a nonfiction book called The Newlyweds by Mansi Choksi. It's been published in the US by Scribner. It's a book that looks at three different real life couples, and it's a work of investigative reportage. And each couple is a couple that has fought against the odds in order to get married. So you have a lesbian couple, you have an intercaste couple, and an inter-religious couple. And the stories are heart-rending.
I really loved it. I think it's really really powerful and beautifully written and makes you think so much about simple things like love, for example. I'm really excited about that.
For years I've been a big fan of the Pakistani satirist Moni Mohsin. She used to write a column called The Diary of a Social Butterfly. And some of those columns were converted into books. She hasn't written a butterfly book in many, many years. Anyway, she's finally written a new book in that series. And it's called Between You, Me, and the Four Walls. And it's just out. And it's really funny. I often think that sometimes the best way to respond to the world around us is satire. So I've been really excited about this one as well.
What's been the initial reception to these books? What kinds of conversations have they sparked and have they changed the way that people think?
This is such a great question, because, broadly, you're also asking, "can books bring about change at all?" And I think that is, if I had to put it in a nutshell, that is the question I'm grappling with, for sure. In my career, can books have the impact that we as publishers want them to? Do they ever reach as wide readership as we want them to? Yeah, I don't know the answer. But it is definitely the answer I'm trying to find.
One thing I've noticed is how these books have introduced regional narratives and contemporary issues to a wider audience. For example, A Burning by Megha Majumdar, which you published, details the rise of Hindu nationalism and right-wing authoritarianism in India.
I was so pleased to see the kind of reception that A Burning had in the US. It validates the work being done that has been done by people over many, many decades. We now live in an era where an extraordinary writer, like Megha, can write a book that is set in India—in a very specific Indian context— and be lauded for what is clearly a great, great skill.
But there is no getting away from the fact that political repression is happening across South Asian countries in various shapes and forms. And it is a dangerous time to be a dissenter.
Because of these shifting dynamics, do you think the role of publishers and publishing houses have changed in recent years?
We have always been at the forefront of intellectual dissidence. And yeah, I do think the role has changed. I would like to believe that the work being done by myself and people like me, is going to offer platforms to people who might not otherwise find platforms offered to them. Also, it's so hard to look around us and see the kinds of turmoil and oppression and repression that's happening in the world. And I feel like we are living records of these times—books are a living record of these times. The books being written right now, they have to make it out of the hands of people like you and me and into the hands of a wider public. And they have to ferment revolutions. All revolutions begin with storytelling, good storytelling. I think that's the work that we're doing. For sure.
---
Neha Middela is a senior in Davenport College. You can contact her at neha.middela@yale.edu.