Yale Greenberg World Fellows Interview Series: Diego Tituana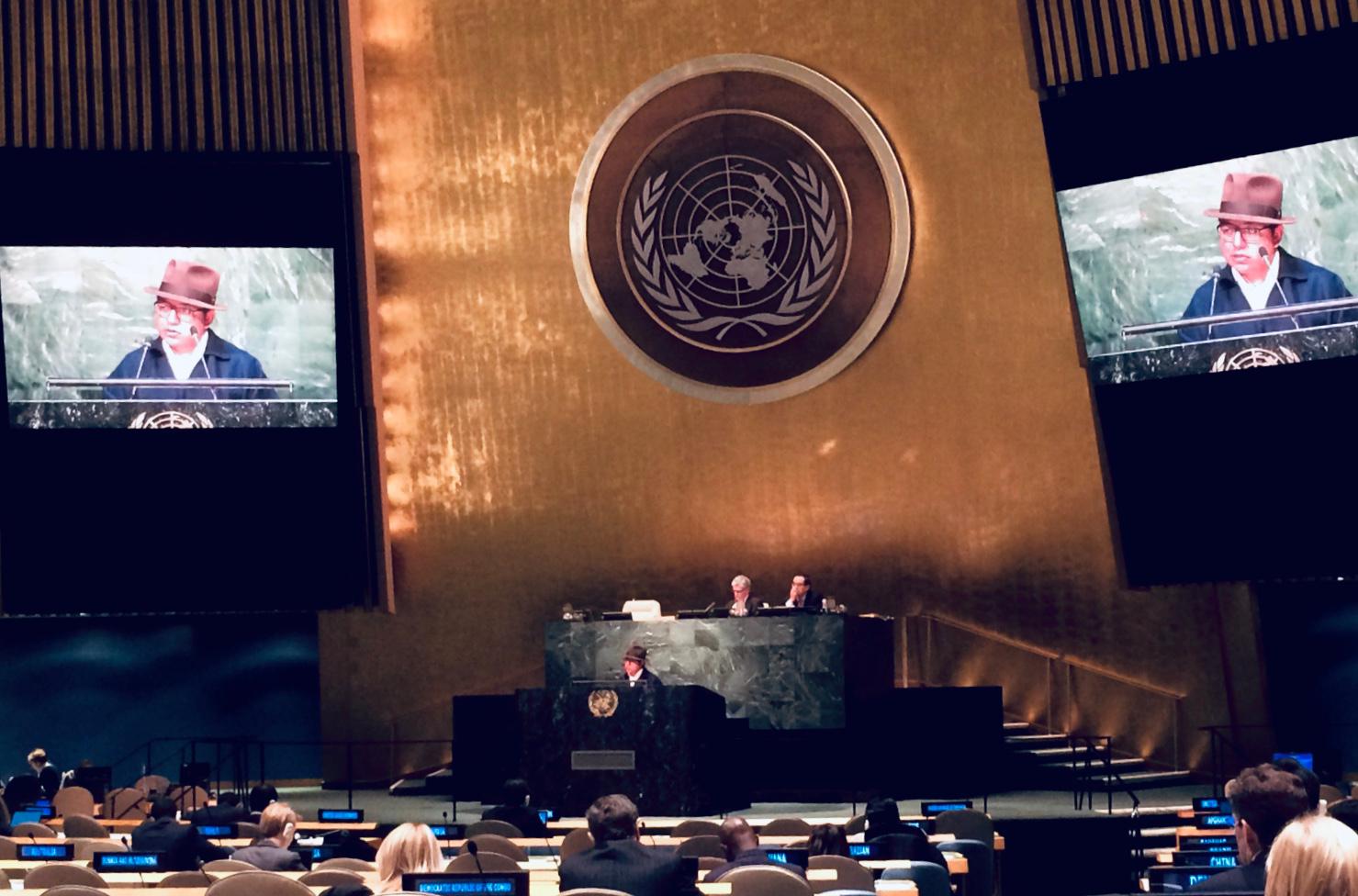 Featured image: World Fellow 

Diego Tituana speaking at the United Nations. 
By Mercy Idindili
A few weeks ago, I sat down for an interview with Diego Tituana, a World Fellow of the class of 2019. Mr. Tituana is a diplomat of the Ecuadorian Foreign Service. He has served at the permanent mission to the UN. During his time at the UN, he worked in the Human Rights Committee and the Disarmament Committee. 
To begin, could you talk briefly about your background leading up to when you started serving at the permanent mission to the UN? 
I belong to the indigenous community of the Kichwa-Otavalo located in Ecuador, an hour and a half north from the capital city. In my community, at least until my generation, completing higher levels of education was never a priority. For most of us, our objective was to achieve economic development. This was done by traveling around the world selling handicrafts, playing music and etc. So right after high school, I went to the US, Brazil, and Chile to sell handicrafts and so I'm very connected to that way of life. After two years of selling handicrafts, I decided to continue my studies. I began studying graphic design and in that time I got an internship at the International American Development Bank(IADB)  in Washington, DC. 
I believe that my 2 years selling handicrafts and my internship helped me realize in what ways I could make a difference.The 2 years and my previous life as well really informed me of the hardships that migrants face and the internship led me to realize that I could make a difference not only in that area but also in poverty eradication, social inclusion and similar issues. So then I decided to study international relations, my objective being to go back to the bank and have an impact through it. 
I tried applying to work at IADB but I was rejected and I assumed it was because they accepted people with masters' degrees or those who've attended prestigious universities. I had just finished my  undergraduate studies and had not attended a prestigious university. So, I decided to start learning english so that I could be accepted to study my masters' degree at a prestigious university so that I could eventually be able to go back and work at IADB. During this time, I was informed that there was a national contest [in Ecuador] to enter in the foreign service. This contest was a little different from previous years because they eliminated the barrier of english to enter the contest. That was great news for me because I couldn't speak english very well. 
I won the contest, in 2012, and that's when I started my diplomatic career. I started by working in the "direction of the UN system" in Ecuador where we coordinated activities with delegations of Ecuador in various UN spaces such as at the headquarters in New York, Geneva and others. 
After 2 years, I was appointed to be apart of the permanent mission of Ecuador to the UN. 
You were the first indigenous career diplomat from Ecuador to join the permanent mission to the UN. Were there any challenges that arose from this? 
It was a challenge being the first because I felt a huge responsibility on my shoulders. My actions could open or closed the doors of the other indigenous. This was something that I always had in mind because I believe that more indigenous people deserve to be there.There has to be a space for indigenous people in the permanent mission and other similar positions. 
During your time at the UN, you worked in the Human Rights Committee and focused in the promotion of the rights and participation of indigenous people. Could you tell us more about this? 
I wouldn't say I was only focused on the promotion of the rights of indigenous people. 
I worked in the third committee of the UN, which is focused on human rights, humanitarian affairs and social matters. We [a colleague and I] were in charge of discussions around social development, advancement of women, the rights of children, rights with people with disabilities, agenda on corruption, racism and dsicrimination and many similar issues.The promotion of the rights of indigenous people also falls in this agenda and so it was part of my work rather than the focus. 
Besides this work, since I was the only indigenous diplomat from my region, I started to lead the only resolution on the rights of indigenous people in the UN at the time. 
Could you tell us more about this resolution, how it was started, and your contribution to it?
I feel very lucky because I started to work on this resolution at a point where most of the foundation work was done. 
I joined the permanent mission in 2014, and in July of that year the UN General Assembly started a discussion on the outcome of the world conference on indigenous people. They were trying to advance the agenda of indigenous. So, I got on board in this movement to push this agenda through the resolution. 
The resolution contained the concerns that were expressed by indigenous people in various forums for example; the permanent forum on indigenous issues, which is a platform that was created to discuss indigenous issues. 
Through the resolution, we could initiate solutions to these concerns and create the base to start negotiations among countries on these concerns. For example one concern that was highlighted in the forums was the concern on the critical loss of indigenous languages. So Ecuador and Bolivia, which present the resolution every year,put this aspect in the resolution and we took on bolder recommendations to proclaim the international year of indigenous languages and at the end we had an agreement on this since the recommendation matched the desire of many actors. In 2016, the UN proclaimed 2019 as the international year of indigenous languages. 
What would you say were the main challenges, in general, in pushing resolutions on the indigenous agenda?
It is difficult to find a consensus with many countries because communities in the indigenous world face different challenges. For example; In Latin America we don't have well structured institutions as others have and in some other indigenous communities they have even worse structures. In addition, for some regions in the world there are still discussions about the recognition of indigenous communities there. Everyone needs to be on board and so patience and understanding is really needed to pass a resolution. 
What would you say were your main accomplishments during your time in the UN, specifically on the indigenous agenda?
We advanced the incorporation of the indigenous agenda at the UN in general. The international year of indigenous language is one of the outcomes. Another one is the process to begin talking about the participation of the indigenous in the UN. We weren't able to advance that, but we intend to restart the process next year. 
On the international year of indigenous languages, do you think that the discussions and initiatives created will last beyond 2019? 
At the end of the day, the international year of indigenous languages is a platform to call for action internationally on the critical loss of indigenous languages.The real implementation will depend on how indigenous people are engaged. How the academia are engaged to include this concern the curriculum. How governments create policies to achieve this and funding. The success can only be reached if there is cooperation between the actors, to sensitize those who don't think this is important and empower those who want to be engaged. 
You are spending this semester at Yale as a World Fellow. What drew you to applying for the program? 
When I was doing my internship in DC in 2006, I was looking for various opportunities to develop myself professionally and academically. I remember seeing this program but after checking the website I realized that there were many requirements I didn't meet. The requirements were very high for me but I kept it in the back of my mind that one day I would do it. 
This is my last year in the permanent mission of Ecuador and so I was looking for an opportunity to continue with my work. I've also always wanted to come to academia and as I was looking into various programs at Yale, I came across the world fellows program. I remembered right away that this was the program I had seen many years ago but unlike then I felt more confident about fulfilling the requirements after my work these past five years. And so, I applied and thankfully I got accepted.
So what would you say are your reasons for being here?
I wanted to develop professionally and I believed I could get that opportunity here. To develop in academia as well, as I have never had the opportunity to study in a prestigious university abroad. I also saw this as an opportunity for me to share my experience and perspective with the Yale community as a migrant and indigenous person. 
What classes are you taking?
I am auditing Negotiating International Agreements:The Case of Climate Change, Intelligence, Espionage and American Foreign Policy, Indian and the Spanish Borderlands, and Gateway to Global Affairs.I also wanted to improve my english so I am taking language courses in the language center. 
Out of curiosity, why are you taking the Intelligence, Espionage and American Foreign Policy class?
I've always been curious about these things but also, this subject is connected to cybersecurity which is relevant to my work because in my last year of working in the UN I joined the disarmament and international security committee. Last year, there was a discussion on cybersecurity matters and I believe that there will be an even greater discussion on the topic in the future and so I wanted to learn more about it. 
You initiated the rights of indigenous peoples' series for Yale students, which involved 2 workshops on the topic and a trip to the UN headquarters to attend a discussion on the rights of indigeous people. What did you hope to achieve from this?
As I said, one of the things I wanted to bring to Yale is this experience on the international discussion on indigenous peoples and their rights. My inspiration is for Yale students to be apart of and engage in these international discussions. I would like to establish a bridge between academia discussion and international discussion. We are close to the UN and so we can take advantage of that to enrich the discussions there.If we can incorporate at Yale, the international discussion on this topic, we can come up with more solutions. 
Having been the first indigenous person to work as a diplomat at the permanent mission from Ecuador, do you have any advice for students from indigenous communities who want to work as diplomats or in international organizations like the UN?
I would like to invite them to continue working to be in those spaces. It is hard, but we need to strengthen our participation in such spaces. We can achieve many things collectively, also with the support of non-indigenous people.
What advice would you give to Yale students who want to work on the promotion of indigenous rights? 
I encourage them to visit indigenous communities so that they can learn and understand the reality of what is happening on the ground and then after that they can try to engage in the international space. I also encourage them to take classes on indigenous studies, do related internships and attend meetings on these issues. 
Anything that we haven't talked about that you'd like to add?
I would love to send a message to Yale student. You may not be privileged but if you can establish a goal even though you may face difficulties, you are going to achieve something from that. I am the first person in my family to get a university degree, I didn't speak English very well when I started working in the UN -I don't speak English very well, I received public education and there are so many disadvantages that come from having such a background even if I got the opportunity to attend a good university. Despite this, I believe that we can be successful, if we establish an objective. My objective was to do something for my people, to open doors and I think that many students can do this. They can establish their goals, work for them and achieve them. We shouldn't give up because of our disadvantages. Working is hard, but you can do it. 
---
Mercy Idindili is a sophomore in Ezra Stiles College. You can contact her at mercy.idindili@yale.edu.