"Experimental, perfectly constructed, and existentialist": A Review of Roma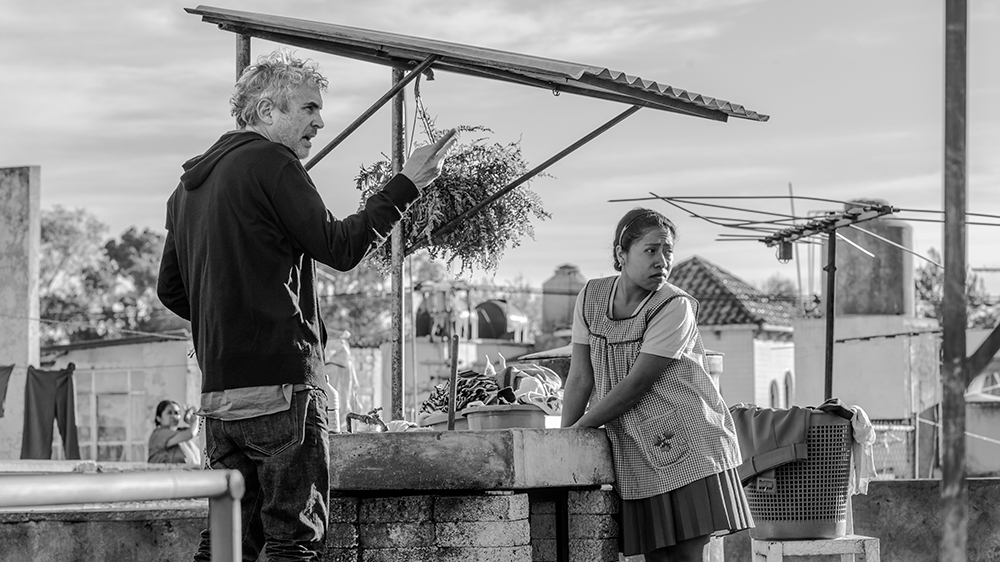 Featured Image: Alfonso Cuarón, the director of Roma, based much of the film on his life story which included a childhood domestic worker, Libo.
[hr]
By Kevin Han
[divider]
[dropcap]A[/dropcap]s the camera pans across a house's many rooms, a figure moves in the background. The camera doesn't follow her as she shuffles in and out of rooms, only allowing the viewer mere glimpses as she dives in and out of frame. There is little spectacle to the scene, the only noise the telltale laughter and chatter of children as they live their lives.
It is in this quiet house that Alfonso Cuaron's lauded semi-autobiographical film, Roma, which was awarded three Academy Awards, takes place. Here, we meet Oscar-nominee Yalitza Aparicio's Cleo. Quiet and mild-mannered, Cleo's small figure captures the viewer's eye even as she scurries through the background of her employer's burgeoning familial unrest. While Roma operates on multiple levels, its sumptuous Oscar-winning cinematography and sophisticated symbolism only add to its basic focus around Cleo. And it is through Cleo that Cuaron conveys his themes of loneliness and change as he shows how Cleo is more than what society has perceived her– and others like her– to be. Cuaron demonstrates how Cleo isn't just a domestic worker, but a lover, a friend, and most importantly, an individual.
[divider]
The film revolves around the life of domestic worker Cleo, played by Yalitza Aparicio, and the story she has to tell as a young Mixtec woman in 1970s Mexico.
[divider]
Cleo's characterization stands as an achievement in complicated storytelling as the remarkable challenges she faces allow for a subtle story to be told between the lines, ultimately resulting in a heart-wrenching climax among the ocean waves. Her life as a domestic worker to Marina de Tavira's Sofia stands, not apart, but in conjunction with her life as a young woman exploring the world around her.
Margherita Tortora, a senior lector in Spanish and Latin American studies at Yale and the founder and director of the Latino and Iberian Film Festival at Yale, views Roma as "perfectly constructed." She commends Cuaron for capturing societal subtleties masterfully via portraying "the chaotic nature of human existence, where each day you don't know what's going to happen." Tortora further highlights that while the film has caused great excitement in Mexico, she views the film as relatable to everyone.
"I think it's really an existentialist film. A film about humanity," Tortora said, "The story of a woman falling in love, the illusion of being a part of a family but not being a part of it. [Cleo] faces her fears…and she [realizes that] she's a good person. She's coming into herself and every person can relate to that."
By showing the multiple attributes that make up one's life, Cuaron illustrates the complexity inherent in life. Furthermore, Cuaron's decision to demonstrate this truth through the lens of the rarely seen domestic worker, and a Mixtec one at that, allows for his film to transcend stereotypes. It is through his creative choices in story and casting that he allows for life's complexity to become universal, a truth that is inherent within every member of society regardless of race, gender, creed, or any other distinguishing factor.
Tortora points out the subtle portrayal of female empowerment as well throughout the film, not just through Cleo but also through Marina de Tavira's Sofia. She highlights the strength that both women gain in order to overcome their struggles throughout the film.
"Both [Cleo and Sofia] really come into their own selves during the course of the film and realize that…they're plenty on their own," Tortora said, "There's a real affirmation of these women as human beings who are able to take care of themselves."
[divider]
Marina de Tavira's Sofia also contends with marital problems as she must carve out a space for herself as the family matriarch.
[divider]
Furthermore, Cuaron's Roma transcends cinema with its real life applications. The spotlight on Cleo, a domestic worker based off of Cuaron's own family housekeeper Libo, has led to a renewed interest in the profession, with over 2.4 million domestic workers in Mexico according to the National Domestic Workers' Union. Activists have utilized the film to advocate for changes to the system for domestic workers which is ripe with corruption and abuse.
"Carne de gata buena barata. The meat of the cat is good and cheap. The rich people would speak of their maids that way," Tortora said, referencing how the use of the slur "gata" holds racist and classist connotations, "A lot of these maids were subject to sexual assault. Many times the first sexual encounter for a rich man is with his maid. And the maids had to be quiet because if they said something, they would get thrown out."
The film's focus on the diverse nature Mexican culture, including the rarely addressed indigenous population of Mexico, has led to greater focus on class and race relations within Mexico itself. Tortora points out this truth exists strongly within the film itself, especially seen in the relationship between Cleo and the upper middle-class family she works for. She points out the "authoritarian attitude" with which the family's grandmother regards Cleo and the instinctual manner in which the family's children and Sofia treat Cleo as well.
"As soon as [Cleo] gets into [the TV program] and is watching it and smiling a little bit, the mother says, 'Cleo, get me some cinnamon tea,' and Cleo gets up right away and obeys and gets the cinnamon tea. Because she's not allowed to be enjoying herself because she's not really part of the family but she sort of is too," Tortora said, "[Furthermore, at the end of the film,] they get home, [and] the little kid says 'Cleo saved us today' and in the next breath is like: 'Cleo, could you prepare a banana smoothie for me?'"
[divider]
The film also draws focus to the complicated and complex relationship between Cleo and her employer's family as class differences separate her from true immersion.
[divider]
Tortora also points out that these class differences exist even more intrinsically within society, as seen in Cleo's relationship with her lover, Fermin.
"She feels loved and admired by [Fermin] but he discards her like a piece of garbage. So you can see that the class differences are not only between the upper class and the lower class," Tortora said, "For Fermin, she's an indigenous country bumpkin and he feels superior because he's a Halcone, he's part of the paramilitary. He feels superior to this indigenous maid."
For Tortora, Cuaron's depiction of these subtle relations is part of why Roma in such a positive light. Roma stands as a rare and wholly unique story in today's day and age. Alfonso Cuaron's latest film is an illuminating piece that demonstrates the universality of human complexity paired with social commentary on modern gender, racial, and class dynamics. Whether it's in the quiet and peaceful house in the titular Colonia Roma neighborhood or the violent clashes of extremist groups with student protestors, Roma draws you in and captures you with its heart and its strength, leaving you contemplative, satisfied, and possibly in tears when the credits roll.
[hr]
Kevin Han is a first-year in Ezra Stiles College. You can contact him at kevin.han@yale.edu.