Contemporary Art in Morocco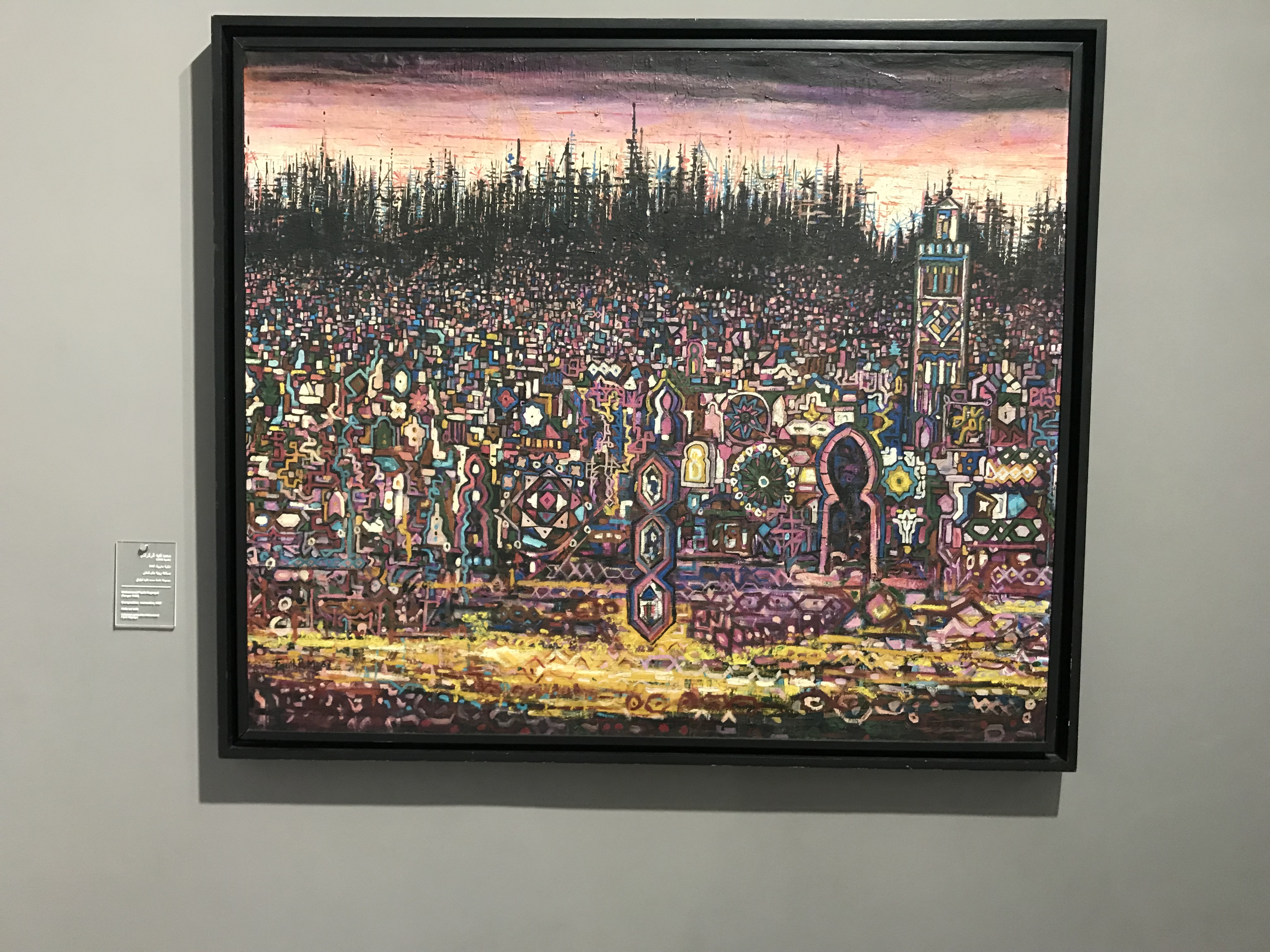 A piece by a Moroccan artist displayed in the Musee Mohamed VI Museum.
[hr]
By Claire Kalikman
[divider]
[dropcap]T[/dropcap]he Musee Mohamed VI is in the center of the city. Its modern architecture is visible from nearly every point in the city and is highly accessible. Yet when I visited, it was empty—not a single Moroccan and only a handful of foreign tourists. Clean and modern, the museum seemed like it had never been used since its 2014 opening. The entire first floor of the museum only showcased art by fairly well-known Europeans depicting what they perceived Morocco and North Africa to be. Only upon entering the second floor could viewers find art by Moroccan artists. It seems a strange choice to prioritize Matisse landscapes of Tunisia over, for instance, works by the "father of Moroccan art" Ahmed Cherkouai.
Morocco has until recently struggled to spotlight and support fine artists. The MMVI opened in downtown Rabat in 2014 and was the first fine arts museum in Morocco. But the museum does not seem to do enough to promote Moroccan art. To fill that gap, three small contemporary art galleries (Le Cube, Le Kulte and the Appartement 22) have operated for the last twenty years in Rabat with the goal of uplifting and showcasing Moroccan artists.
An employee of Le Cube, Zineb Sbai El Idrissi, told me, "Most of the times [museums feature] foreign artists like Picasso [and] Goya. As for the contemporary new artists in Morocco, that is not really their focus."
***
The geography of the museum compared to the galleries highlights discrepancies in funding, support, and visibility of the institutions. In contrast to the visibility of MMVI, the Kulte Gallery was hard to find. After wandering past the MMVI, we finally stumbled upon an unmarked building. Up two flights of stairs, we found the door to the gallery: it was only one room. We asked whether there was a second floor, only to be told that this was it.
Inside, we saw about two dozen works of art in bold, red hues hanging on the wall. The exhibit was called "Résistants Marocains" and shows twenty portraits of resistors who belong to two different periods of resistance. The word "résistance" is repeated frequently on the gallery signs but they never specified the cause of the resistance. At Le Cube, El Idrissi skirted around the issue, saying, "I think that we do raise issues, but the artists are not in conflict with the government. We don't have problems with the state, and we do have people from the state coming in and seeing what is going on. But it is never against it."
[divider]
The Yves Saint Laurent Museum in Marrakech. The fashion designer has a tenuous connection to the country.
[divider]
Appartement 22 is another space that tries to counter the dearth of resources provided to contemporary artists by providing support. Appartement 22 is even smaller than Kulte: just one gallery room and a small living space where artists can stay. We were asked to take off our shoes and put on the traditional Moroccan babouche slippers because there was a rug on the floor meant to be a work of art.
I spoke with artist and A22 employee Soukaina Joual, who currently lives there. When I asked her why Appartement 22 was opened, she could only respond: "What a question." The space has many uses. She said, L'Appartement 22 is an independent art space for contemporary art which organizes exhibitions and events. The space was founded by Abdellah Karroum in Rabat in 2002." There are archives of each person who has come through the space. Everyone leaves behind paraphernalia that researchers or other artists can use as a study source. Williams College professor of Art History, Katarzyna Pieprzak, also commented on how important the archive is, calling it "the first of its kind," and an important step in preserving Morocco's emerging contemporary art culture.
The space also functions as living and working quarters for young artists. Joual says it is a useful space to stay for young Moroccan artists without much money.  She currently lives and works there after moving to Rabat from a small town and said, "I work in cooperation with the Appartement 22, so I welcome the visitors, give guided tours and at the same time I can turn the space into a studio where I can work. It's a good opportunity for me to meet people from all over the world who come to visit the space, and get to talk about the artists work as well as mine."
She continued, "Art is not new in Morocco and the notion of the contemporary Moroccan art actually appears in the 1990s. but it's been only 15 years since we started talking about an art market in Morocco." She also pointed out that "in Morocco, there are not so many artists, because we have only two fine arts university, in Tetouan and Casablanca, in all of Morocco." This lack of institutional support seems to be a big reason the art scene has struggled to find footing in Morocco.
Galerie Le Cube is another space that aims to support young Moroccan artists. Le Cube employee Zineb Sbai El Idrissi told me that Le Cube is a space for contemporary art. Founded in 2003, Le Cube's objective is to provide support to new artists in Morocco. She said most of the artists they work with are Moroccans—they have the priority. She said, "We try to provide help until artists have more visibility in the scene. We do work with established artists from time to time, but most often we have 'chosen ones' who are artists who are still at the beginning of their career, and we keep on working with them. The art often has subjects that have a social or political engagement in Morocco, which could also be universal."
She added, "There are institutions from the state that support Moroccan art, but they support mostly established artists. New artists have only the small spaces like this that can support them. However, the grants by the Moroccan Ministry of Culture go to these independent art spaces and associations that promote the young Moroccan contemporary art scene."
Like its neighbor Kulte, and also A22, Le Cube is a seemingly hidden space, very hard to find from the street. Again, no one but I was in the gallery. Yet El Idrissi still considers it to be a very accessible space and says that for those who don't come, "I think it is mostly a lack of interest, because it is true, you have to have a certain knowledge to be able to engage with artwork." She thinks that the spaces are accessible, but "mostly it is a lack of interest or this idea that it is for the rich. You get a little intimidated by the space. Most people don't know about the galleries…I don't know how much that would be in statistics, but I think it would be more than half of the population that doesn't know about the spaces or have artistic interest." This points to how a lack of support for the arts may start in a lack of education about the subject.
***
Professor Pieprzak also said that though there is a very important art movement in Tetouan, a smaller city. "Nonetheless, some important contemporary artists have emerged from that school and display art on the international scene. Moroccan artists who display their work outside Morocco tend to get more recognition when they show in other countries or at biennales. Likewise, there are a lot of artists who identify as Moroccan but left Morocco long ago."
Part of this exodus may be due to the notion that "We don't have museums", as Joual suggested. She continued, "the first museum dedicated to contemporary art is MMVI, which opened 5 years ago. So we only have one real museum in Morocco dedicated to contemporary art. Now there are others that opened last year in Marrakech—the Yves Saint Laurent Museum and MACAAL. In Rabat, there are three, maximum four galleries and art spaces. For the capital, is not enough."
It is important to acknowledge that the other major museum she references, the Yves Saint Laurent Museum in Marrakech, was built by a foreigner with a tenuous connection to Morocco and showcases no Moroccan art – only the fashion designer's own works. After my visit there, it was still unclear to me why the decision was made to construct a second museum there (the first YSL museum is in France). But whereas the art galleries and the MMVI were empty, this museum was teeming with tourists from around the world. They seemed to be more attracted to this international name than art from the country they had travelled far to visit.
Professor Pieprzak shared my sentiments about art in Marrakech. She said, "I've been there for a couple of Biennales [art festivals] – one of which I really disliked, because they mistreated Moroccan art. Vanessa Branson, sister of Richard Branson, one of the wealthiest people in the world, started the Marrakech Biennale. While many of her intentions were excellent, she also turned the city into a playground for international wealth."
The lack of art institutions seems to stem from the particularities of the Moroccan social sphere. "We're a developing country – there's so much still to do to bring out people to a good level of life. We didn't have time for art before." El Idrissi commented, "Interest in art is mostly at the university level, the intellectual level. There are people who are in the lower class who are not involved in art at all."
***
Until the government invests more in the topic, small galleries such as Le Cube, Kulte, and Appartement 22 will be responsible for furthering the national Moroccan art scene. The MMVI was a first step in what will hopefully be a string of initiatives to support the arts in Morocco, but even then it focuses more on foreign artists of stature than local talent. That mission is left to the galleries. The work of the galleries showcases not only art, but also highlights both national and more personal issues. It is incredible that these talented young people have chosen to devote their lives to small galleries that many in their country do not even know exist and have no governmental support. Though it is a struggle, to the artists, it is worth it. Joual said that she does find it difficult being an artist in Morocco:
"….especially for a woman. For me, I have pressure from my family. They are waiting for me to have a fixed job, a family. Society is waiting for me to get married and have kids because this is what women should do, they think, to end up being a housewife. And also we live in a patriarchal society, so to prove yourself as a woman is extremely difficult. It's a hard fight, it's not easy. I was born in a really traditional family. I had to be careful of what I was saying, what I was doing. I learnt to sit properly and cross my legs in certain way, I can't say this or do that because I am a girl, and so on. But I followed this path because art for me is the only way of expression, to say the things I can't say—I still can't say—out loud. I can say it through my art."
[hr]
Claire is a sophomore in Morse College. You can contact her at claire.kalikman@yale.edu.