Euskara: Differing Views on a Dying Language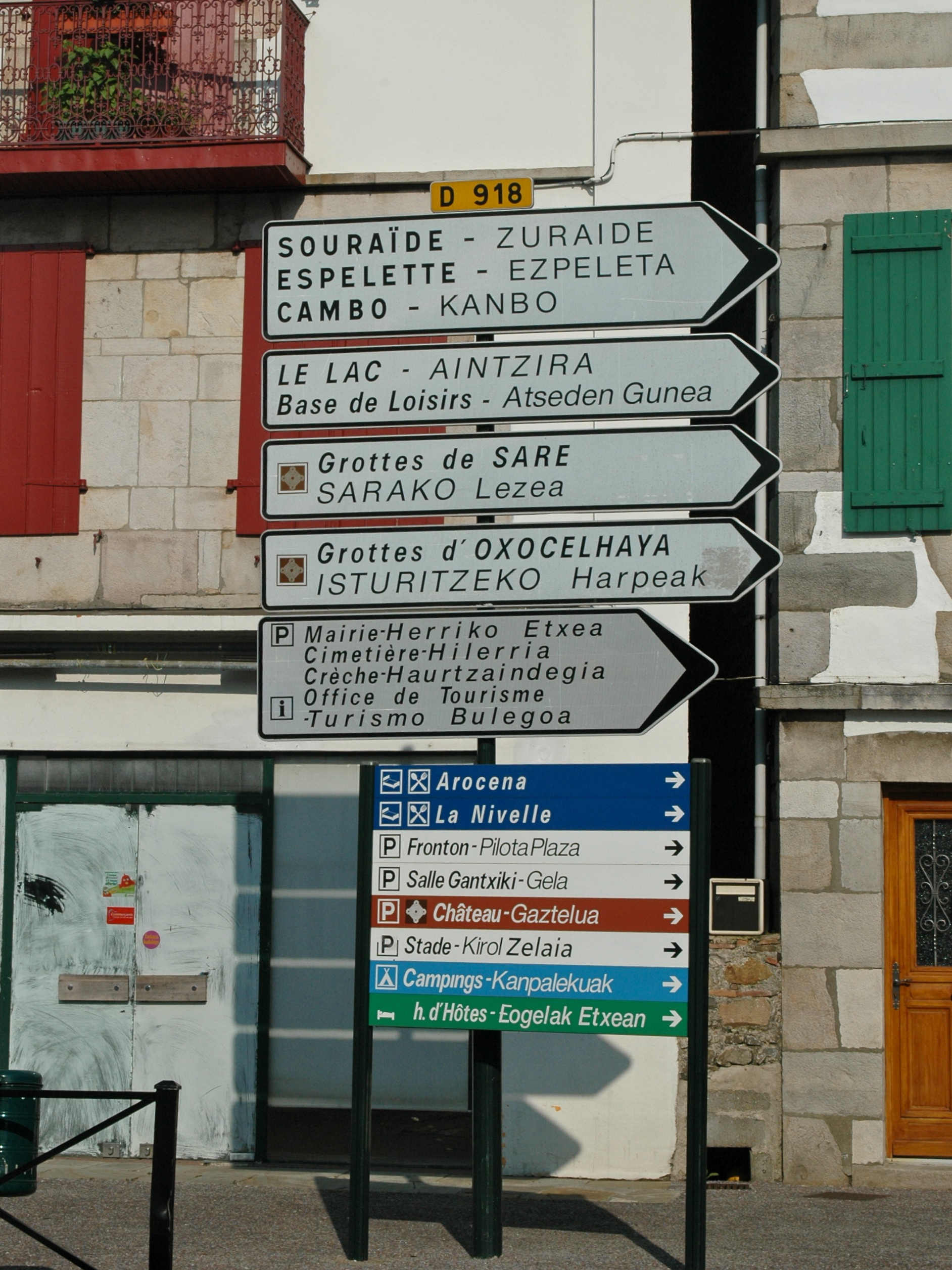 By Nitika Khaitan
The metro map of Bilbao, Spain contains station names that you could imagine seeing in almost any other Spanish city: San Mames, Casco Viejo. But most of its stations have names that native castellano speakers—speakers of what most consider "Spanish"—from any- where else in Spain find hard to pronounce: Etxebarri, Indautxu, Santurtzi, Plentzia.
Street signs in Euskara (Basque), Spain, 2014. (Courtesy Wikimedia Commons)
These names on the station map of Basque Country's capital come from the region's other official language, Basque or euskara, which occupies the same legal position as Catalan in Catalonia and Galician in Galicia. In Basque society however, unlike in Catalonia and Galicia, euskara faces is the center of a cultural controversy and faces extinction. Despite being Europe's oldest surviving language, euskara had neither a written nor standardized form until the late 1960's, existing instead as a series of dialects that differed considerably across Basque Country. As a result, under the dictatorship of Francisco Franco, euskara suffered the most of Spain's minority languages, all of which were banned in an effort to establish national homogeneity. Today, euskara is mandatory in public schools and for government jobs in Basque Country. However, its status as a "language isolate"—a dialect with no relationship to any other known language—makes it far harder to teach to those who grew up under Franco and hence never learned it well enough to pass it on to the next generation. Sofia Vasquez, an euskara language instructor at the University of Deusto in Bilbao, described this mandatory instruction as "unjust," while recounting stories of how some government employees in her class had been told to learn euskara in a given time period or risk being fired. Many of them, she elaborated, were not native to Basque Country and questioned why they should have to learn euskara. Even Basque natives challenge the utility of the language, given it is spoken exclusively in a small region where the vast majority also speaks castellano.
Clara Alvarez, a 37-year old Bilbao resident originally from Madrid, complained that the time her son spends on euskara could be better spent on castellano or English, in her mind far more useful languages. "The imposition now is the opposite of the one before," she said, comparing the present mandatory teaching of euskara in schools and the earlier ban on the language under Franco, "but it is still an imposition." Jabi Zabala of Zenbat Gara, an euskara academy and cultural center in Bilbao, has a response. He answers that just like people in Madrid need to speak Spanish to work there, people in Bilbao should learn euskara, simply because it is the language of the place. "A language is not just a language," he said, "[It is] what gives us identity. I wouldn't feel Basque until I spoke euskara." Indeed, this sentiment is demonstrated in the culture of the academy itself. Like-minded youth perform at Zenbat Gara's radio station and cafe, making euskara music in genres ranging from ska to jazz. The academy's language students, however, tend to be more pragmatically motivated—the majority of students in a class I interviewed were mothers learning the language so they could help their children learn.
Even proponents of euskara instruction like Zabala acknowledge that its mandatory imposition is problematic, but they believe it is the only way euskara has a chance to survive. Yet as Alvarez argues, if a language is not popular enough to survive on its own, what justifies efforts to conserve it? The Bilbao residents interviewed for this article all reported using castellano with their friends and family, creating the problem of passive speakers who learn euskara but never use it in outside the classroom. Adriana Laespada, a recent Deusto graduate, agreed, saying she only uses euskara when she visits her grandparents in her native Basque village outside of Bilbao, where the status of Basque is quite different. The dialect she speaks there is markedly different from the standardized euskara taught in schools, and many of her relatives complain that the standardized language sounds ugly and takes away from the rich complexity of Basque dialects. Euskara is more frequently used in social situations in villages than in Bilbao, according to Laespada, and there are even fundamentalist elements that spray over public signs in castellano, preserving only signs in euskara.
Xabier Kintana, the Secretary of Euskaltza- india, the national euskara language academy, offers another argument for euskara instruction, saying that if a Basque villager could not participate in Bilbao society in basic ways—like ordering food at a restaurant or asking for directions on the street—in the language native to Bilbao, it would unfairly discriminate against him. But Laespada and Alvarez point towards another kind of discrimination. In government jobs nowadays, euskara speakers are given preference over people who are better suited for the job but do not speak euskara. "Usually the government needs to speak what the people speak," said Alvarez, "but here it's the opposite."
Professor Alexander Iribar, who works at the Phonetics Laboratory at Deusto, calls euskara "fascinating from a sociolinguistic perspective;" while languages around the world have been through similar phases of prohibition, standardization and imposition, euskara has undergone these in a remarkably short period of time. Its end, however, might come about just as quickly.
Nitika Khaitan '16 is a Humanities and South Asian Studies major in Silliman College. She can be reached at nitika.khaitan@ yale.edu.The interviews for this article were conducted almost exclusively in Spanish.