"Everyday Religion and Sustainable Environments in the Himalayas: Exploring Possibilities, Research Opportunities, and Collaborations"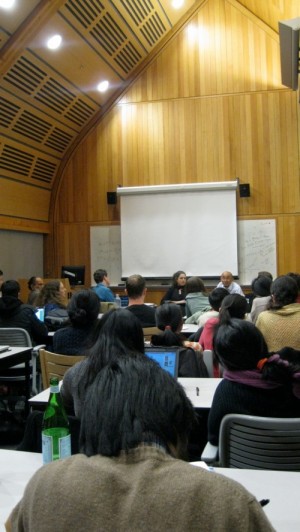 By Ifeanyi Awachie:
"We've never had an event as crowded as this," said the man who introduced Ashok Gurung, Project Director of Everyday Religion and Sustainable Environments in the Himalayas. The tiny Kroon Hall seminar room was indeed packed. Clearly, the organizers weren't planning on so many people being interested in this talk. "Exploring Possibilities, Research Opportunities, and Collaborations" was the first of a series of information sessions on an initiative by the New York-based India China Institute to, as their website elegantly puts it, "uncover new dimensions to the current discourse on global environmental policy." Gurung explained that although religion is an unexpected dimension for environmentalists to probe, research in religion is in accordance with the goals of the Everyday Religion project, which seeks to make the human aspect more central to environmental policy work in the Himalayan region—a territory full of diverse religious traditions. As religious framework concerning nature influences people in the decisions they make about how to treat the environment, it makes sense to examine religion's role in issues of sustainability.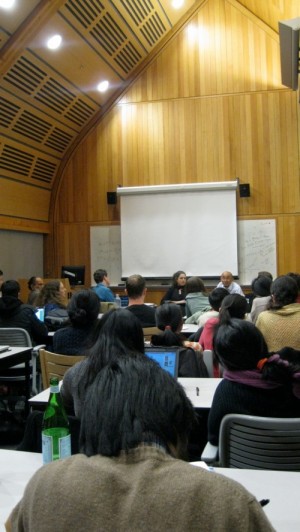 In addition to Mr. Gurung, the Everyday Religion project involves about 40 people and seven sites in India, China, and Nepal. Research investigates existing conditions in these areas, like the local human ecology, of which a major part is the inherited practices of inhabitants of those areas, which religion helps to inform. Members of the project also tackle questions not strictly related to religion and environmentalism. They confront, for example, issues of cultural and ethnic identity, such as the question of what it means to be Himalayan—a relevant inquiry, since residents of the Tibetan plateau, which is bordered by the Himalayas, may not be geographically Himalayan, but are likely to be concerned with issues other Himalayans are concerned with. It is important, therefore, to include the perspectives of such peoples in the discussion of Himalayan environmental policy.
The Everyday Religion project will update those interested on its progress with more talks over the course of the semester. If the crowd drawn by the first talk is any indication, the team behind the project should prepare to welcome numerous converts to the cause of ecology and religion.
Ifeanyi Awachie is a sophmore in Timothy Dwight College. Contact her at ifeanyi.awachie@yale.edu.