In Tunisia, Elections Lead the Way for the Region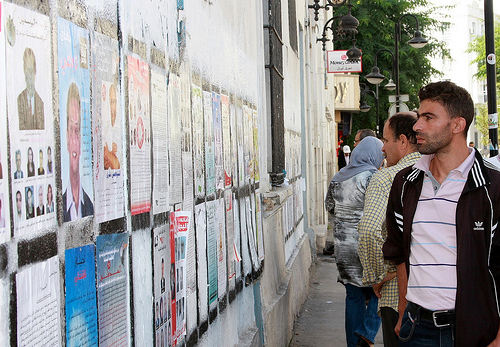 by Charley Locke:
On October 24th, Tunisian voters waited for up to six hours for the chance to exercise their right to vote and elect a new constituent assembly. Al-Nahda, Tunisia's moderate Islamist political party, took 90 of the 217 available seats and 41.47% of the vote—a clear plurality. According to Iranian Parliament National Security and Foreign Policy Commissioner Gholamreza Karami, Tunisians, who led the first revolution in what would become last year's Arab Spring, "had a clear message for the West" in their overwhelming support for al-Nahda. Indeed, the "crushing victory" of the al-Nahda party played into some of the biggest fears of the Western world by affirming "the depth of the regional nations' love and quest for Islam."
U.S. Representative Dan Burton, a Republican from Indiana, voiced Western concerns about al-Nahda's clear victory at the meeting of the House Foreign Affairs Committee on October 27th, telling Secretary of State Hillary Clinton that the current state of affairs in the Middle East "really worries me" and asking her what the Obama administration "plans to do to make sure that we don't have a radical government taking over these places." This Islamic election and clear Western apprehension recalls the Quartet's reaction to the 2006 elections in Palestine, when the United Nations, European Union, United States and Russia threatened to cut funds to Palestinian authorities following the election of the Islamic political party Hamas.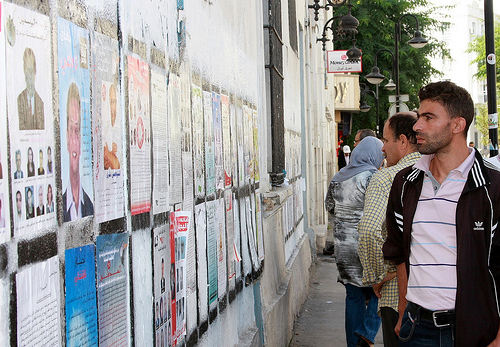 Al-Nahda, also known as the Renaissance Movement, is a moderate Islamic political party. It was banned for decades under President Ben Ali. Yet the party's founder, Rachid al-Ghannouchi, has repeatedly explained that although al-Nahda draws values from Islam, it doesn't regard itself as a religious party; al-Nahda prefers to refer to itself as "Islamic," sensitive to the fearful connotations some Westerners have with the term "Islamist." Party officials claim that the interim government will focus its efforts on economic development and internal securities rather than moral issues. They have emphasized their continuing commitment to women's rights in Tunisia, including issues regarding Islamic dress—like the debate over the headscarf—as a matter of personal choice. Indeed, Tunisia has instituted a quota system that ensures that women hold a number of seats in the new constituent assembly. U.S. Representative Jane Harman, who has been working with the National Democratic Institute on its observer mission, predicts that as many as 30% of the seats will go to women.
In the next few months, however, Representative Burton's concerns are unlikely to be assuaged. Other countries heavily affected by the Arab Spring are likely to support Islamic parties in the stead of repressive autocratic governments. Indeed, in Egypt, the moderate Muslim Brotherhood competes for power with far more extreme groups, like the puritanical Salafists. Karami predicted, "What has happened in Tunisia will be repeated in Egypt and the Egyptian nation will vote for Islamic figures." His prediction seems probable; thousands of Egyptians gathered on October 28th in al-Tahrir Square in Cairo to voice vehement opinions about the upcoming presidential election, shouting "No to East, No to West, Yes to Islamic Government!"
Yet some Westerners see the election as a hopeful sign. U.S. Ambassador to Tunisia Gordon Gray regards it as an exemplar of "what an orderly and peaceful democratic transition looks like in this region," serving to remind the Western world "why the future is so bright for this country and its people." Indeed, in the official U.S. press statement, Secretary of State Clinton "join[ed] President Obama in congratulating the people of Tunisia on their first ever democratic elections." And regardless of Western unease, the Tunisian election certainly serves as a harbinger of the drastic changes that will come in the Maghreb in the next few months, as Tunisia continues to lead the way for other countries in the region. As stated by Ambassador Gray, Tunisians have expressed their desire for "responsive, accountable governance" by a predominantly Islamic Constituent Assembly, and "their voices have been heard." It's a triumphant moment for the Tunisians who rose up less than a year ago against the repressive and corrupt President Ben Ali in protests that would ignite revolution throughout the Arab world.
Charley Locke '14 is in Calhoun College. She is the Globalist Notebook Beat Blogger covering issues relating to North Africa. Contact her at charlotte.locke@yale.edu.