Yale Greenberg World Fellows Interview Series: Nizam Uddin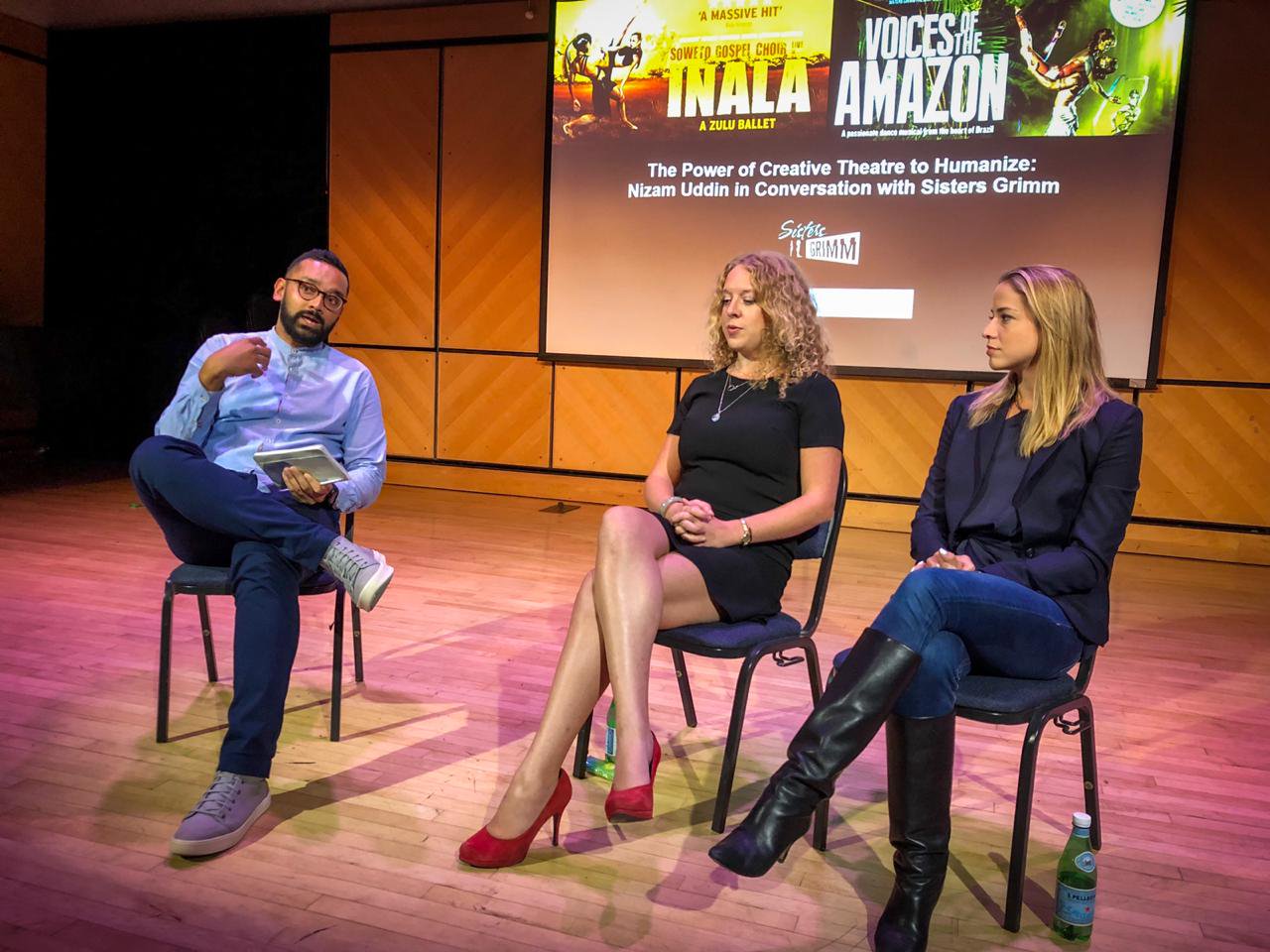 Featured image: World Fellow Nizam Uddin (left).
By Nick McGowan
Answers have been edited for brevity and clarity.
Nizam Uddin is an activist, the Senior Head of Community Integration at the Prince's Trust, and the head of Mosaic. At the Prince's Trust, he leads the organization's efforts on social integration and cohesion activities. At Mosaic, he works to connect communities of disadvantaged young people throughout the United Kingdom to role models in order to improve their chances of fulfilling their potential. He is a 2019 Yale Greenberg World Fellow.
Q: You work at Mosaic, but also for the Prince's Trust. Tell me more about what you do and how you came to these positions.
A: I am the national head of community integration at the Prince's Trust and the head of Mosaic. Mosaic was founded in 2007 by Prince Charles, with a focus on understanding why communities of people in the country — young people who perhaps because of a lack of opportunity, connectivity to role models, people, and cultural and social capital — were not fulfilling their potential. When you have that, you have potentially at-risk people who could be vulnerable to forms of pernicious ideology: guns, knife crime, youth violence, extremism, whatever it may be. The manifestation of our understanding came through a number of mentoring programs. Three years ago, Mosaic joined the Prince's Trust, and my job there is to understand how we, as the UK's leading youth charity and the largest provider of services to youth, can become relevant to isolated communities: these could be Roma traveler communities, inner-city Muslims, white working-class communities growing up in our coastal areas. I would put our work under the umbrella of social integration and social mobility. We're looking to meet people where they are, and help them overcome their obstacles. Our theory of change is simple: you address certain issues around self-empowerment, confidence, and access to social and cultural capital, and by that, you help to build resilience and their ability. In a nutshell, we are helping marginalized segments of society and trying to bring them into the mainstream to help them fulfill their potential and become role-models for a new generation.
Q: You mention many types of groups that could be reached out to through the Prince's Trust. What are the biggest challenges you find in terms of getting your message out and achieving your goals of social mobility?
A: One of the biggest challenges is the barriers that exist in society and within organizations. We have a well-documented sense of invisible barriers that exist within our society: unconscious bias, structural barriers, issues of society and of individuality. Then, you have the visible. There is a language of mobility: for instance, there's a language of being at Yale. If you were to take a random kid from New Haven and put them into Yale, it wouldn't necessarily work out well, not because they're not smart, but because they haven't had the language or the conditioning to initially navigate these walls. One of the challenges of social integration work is addressing how to help somebody know what they don't know, and that is a fundamental part of my job. Often, I see myself being a bridge or translator between communities, between power and people who don't have power. Internally, we're trying to get a fairly large organization to reflect on how we do it. For example, we have to think about if we're hiring the right people. If I look at Yale, a large organization, it's historically not been reflective of American society. It's improving, but how do you get there if people at the very top of the institution do not reflect those communities? To make sure you are achieving those goals, to represent and impact every part of society, you have to ask some difficult questions about if you, or the organization, or the management team also reflect that diversity of thinking. Those are the day-to-day barriers. 
There are some really clear [visible] barriers: discrimination, xenophobia, intentional division of communities for short-term political winds, that's happening everywhere right now. You have some medium-to-long term invisible issues that need addressing, but the difficulty is that our attention is often directed towards issues that are short-term and clear. For example, the city council in Dresden, Germany announced a Nazi emergency in the city, but Angela Merkel's party came out saying that it is not an emergency, showing how political situations might not enable you to fix these issues, both short-term and long-term. 
When you ask me about challenges, I can give you an easy answer: lack of access to high-quality education, lack of social mobility, lack of resources, preparation of people for leadership roles and retention. The hard answer is that you often have cyclic systems that exist to viciously continue the status quo. How do you work on these issues in a pragmatic way that doesn't just preserve the status quo? That's the challenge of our day.
Q: Is changing the status quo the goal of your organization? What about in your own work?
A: My organization helps individuals fulfill their potential so that they can become changemakers. We help young people have a stake in the economy and their society, improving the chances that they will become a changemaker. Personally, I like to think of things in a more creative way, and I think that it is important to be disruptive, to be part of conversations, and to especially challenge your friends and allies when they need to be challenged.
Q: Shifting to something more personal, what are your goals while at the top of organizations like the Prince's Trust and Mosaic?
A: My goal at the Prince's Trust is to make us the best organization in the UK doing what we do: helping young people, giving them opportunities and tools to succeed in life, and doing so in a manner where we are not simply ticking a box for diversity statistics. There are certain characteristics that sadly, in this modern era of ours, still prevent some people from navigating from the top of society, and so my personal ambition is for us to be the best. My job is to try to help us get there as quickly as possible, in a manner that is sustainable, so that [the Prince's Trust] can continue [its work] when the day comes for me to leave.
Q: Building off of that, what made you decide to apply and join the Yale Global Fellows Program? What do you hope to get out of this?
A: When you have been "on the hustle" for so long, trying to make an impact, it takes its toll. I've been very fortunate with the opportunities I've had in my life, doing a variety of things, sitting on a variety of different organizational boards and executive positions, but there comes a moment where you ask yourself, "Am I making the most impact? Am I performing optimally?" The opportunity to apply to a fellowship that enables me to pause, reflect, renew my intentions and abilities, and connect on a global scale to people who think like me was very appealing. It's been three months so far, and this time has been a great opportunity to re-energize, make a bigger impact, and share my experiences with Yale. It's interesting for me because I've spent about fifteen years working in higher education, now sitting on the board of a university, and I've always believed in the power of the academic environment, enabling people to think freely without judgement and to test whether what they've been thinking is the right thing. When you've been working hard for more than 10 years on an agenda, sometimes you're so stuck doing it that it's nice to take a moment to step back and reflect. That's why I applied for the fellowship. I'm still addressing all these issues, but I also now have an opportunity to have a great sense of camaraderie with fifteen other fellows who are outstanding in their worlds and to learn from them. I feel I'm now better geared to go have a bigger impact in the world.
Q: What is being in the World Fellows cohort like? What interactions have you had, what have you learned from them, how do you build off of each other's work?
A: The nice thing is that the program has us spending a bunch of time together every Monday. The first three weeks, we spent everyday together; now, we have a minimum of about six hours together each week in leadership classes. In terms of interactions, you have both intentional and unintentional connectivity and collaboration. Intentional connectivity is when you decide to grab a coffee with someone and talk about life, family, issues of our day, politics, revolutions, the climate; when you do that professionally, each person brings a different professional lens, expertise, and experience. For me, my favorite learnings are unintentional: when someone's sharing their work and either creates a link or helps you create a link to something that you are interested in. One example: some work I'm interested in is around the funding of hate and division in Europe. What I hadn't appreciated before is the overlap between that and the funding of climate change denial. It's interesting because both have similar intentions, but this connection happened completely by chance when we were listening to someone speak about their work on climate change. It got me thinking of freedom of speech, liberal values, and how that might be being exploited by certain groups for their own agenda. The overlap is fascinating. So that unintentional food for thought, or thought-provoking innovation and creativity, is probably the single best thing that can happen in a program like this.
Q: Being at Yale, how has it been with interacting with students, the community, with New Haven? Are there things that you've noticed so far? What's the outsider perspective?
A: Having grown up in a New Haven-like community, I'm very used to it here. My immediate observation was this relationship between Yale, the university, and New Haven, the community, and I've been exploring the relationship created over their many years of coexistence. I think there is definitely a healthy tension there, which is something I would have loved to explore more if I was staying here longer. I have really enjoyed engaging with the Yale community, and because of the nature of this community, its tight-knitness, the physical presence of the university, it all creates a space that enables an environment where students are more free to express themselves. It creates a very interesting and wonderful academic environment, meaning people are testing their ideas and willing to question things far more. There are interesting overlaps between the physical campus, the tense relationship with the New Haven community, and what impact it has on the environment of academic freedom, research, and inspiration. 
I have six incredible liaisons — I'd recommend that everyone apply to be a liaison — and I learn from them as much as they learn from me. It's a great co-learning experience, and there's something about really smart young people who haven't been conditioned by the real world to realize how annoying it can be that makes it a great experience. It isn't about being naïve, it's about a purity of thought and change-making that I appreciate and enjoy on campus. I've enjoyed putting on events, including a well-received one on Brexit, and I love New Haven. I love the campus and the fact that I can walk everywhere within thirty minutes, so much different than London. I've really enjoyed meeting faculty, students, fellows: everybody seems to believe in creating a better world. All in all, it's a wonderful campus. I have also genuinely enjoyed my time being in New England during fall — it's just spectacular! The colors, the greenery, very special. I can already tell you, I'm going to miss Yale, but the fact that I know I'm going to miss this place shows how large of an impact it's had on myself. Because of the Yale environment, students being committed and disciplined, their drive to succeed, and how caring they are, it's a great place for us World Fellows to come and bring our best selves, and that's been amazing.
Q: How did you get from a student like us to where you are today? What inspired you, what influenced you to pursue this path?
A: I loathe the idea that the cure for cancer could be in a project or council housing somewhere, and that a person doesn't have the opportunity to bring that to society is unimaginable. I grew up in an environment where I did not have access to all opportunities; I was lucky enough to make them, but I've decided that I want to make them for others as well. Look, I was going to be a banker, I studied economics, I had internships at major corporations. I then accidentally got involved in student politics, then got deeply involved in politics, then public policy, worked in corporate and social responsibility, then in higher education, then went into university administration where I was a regulator for the UK quality assurance agency, and then I found myself in corporate and social responsibility, and now I find myself where I am. There are different trajectories for different types of people. I've always tried to balance professional competence with addressing issues of our society and of our day, and if you care about those two issues, there isn't a one-track approach to life. You could go down the law route and do law, you could go down the finance route and do finance. For me, it was about addressing the social issues that I was frustrated about, and my journey has organically taken me down a particular path. 
Another thing I would say is embrace the growth pains. Growth pains are things that happen regularly in one's career, where you don't know why you feel the way you do. When you're around 25 and doing something, you'll have feelings of frustration, thinking you could do more and asking yourself why you aren't doing more. Embrace and lean into those growth pains, and do the things that you've convinced yourself that you can't do. One practical thing I used to do: when I would start at a job, probably as a junior 23-year old whatever, I would read the job description of the CEO and try my best to learn those skills. What I've done to get here is attempt to address issues of injustice in my opinion, provide opportunities on a systemic, country-wide level to as many people as I can, and try to ensure that people whose voices aren't heard in the current system have an opportunity to have their voices heard. The way I've done that is by taking the right opportunity that emerges, and it will always emerge if you do the thing that you love. 
---
Nick McGowan is a first year in Pauli Murray College. You can contact him at nick.mcgowan@yale.edu.