Yale Greenberg World Fellows Interview Series: Cristina Vélez Valencia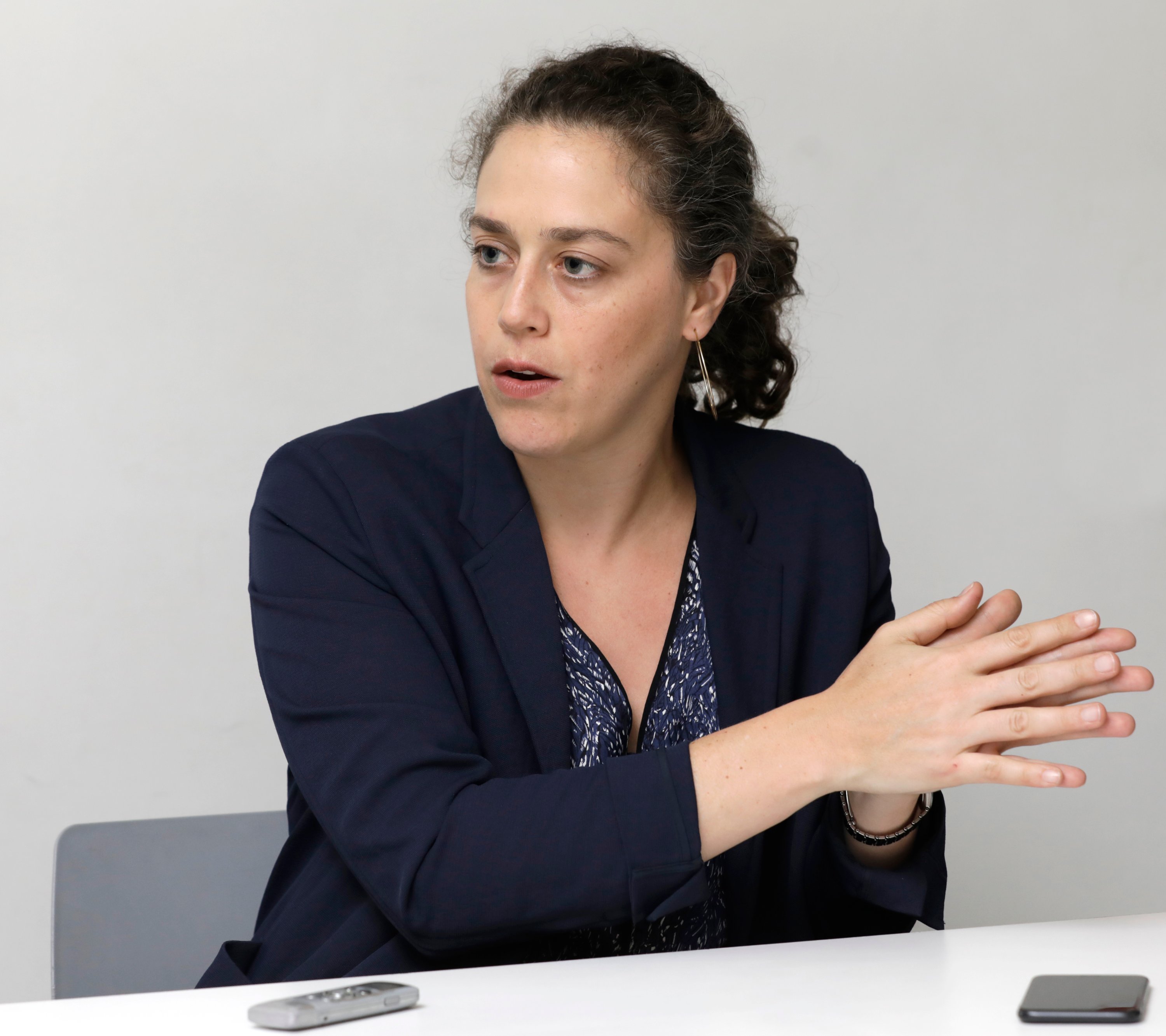 Featured image: World Fellow Cristina Vélez Valencia.
By Rada Pavlova
Answers have been edited for brevity and clarity.
You have worked in different sectors and have been on various job positions. Where did your career first start?
I was a History Major. I wanted to work in a university, do research and eventually become a History professor. When I was finishing my Masters degree, I decided I need experience in something other than academic work. I got a job as a researcher at a consulting firm that was run by two former ministers of commerce of Colombia. I wrote their op-ed pieces and prepared presentations and speeches. After a while, I was doing everything in the office. I was involved in all the consulting services they were doing. It was a lot of work with the government. At that moment, the Colombian government was negotiating a FTA – Free Trade Agreement with the US and that was a big issue. It was probably one of the biggest international commerce policies that Colombia has negotiated. It had a lot of impact in domestic policy so once I got involved in what they were doing, I never went back to academia.
How did you transition from academia to the business sector?
One of the workers at the consulting firm is currently the Vice President of Colombia. After a while, I became her private secretary and I did everything a private secretary does––it's crazy work. Then, I started working in the National Planning Department – a transversal department that works in all areas. They are the think-tank of the government. But when the government changed, I was already too close to the General Director of the National Planning Department so the new director had to choose if I was going to stay or not. I decided to apply to a PhD program at that moment because I didn't know what was going to happen. When the new director came in, he told me he wanted me to stay because I make beautiful PowerPoint presentations. Once he said that, I realized that was my cue to leave. I went back to school and I got a PhD in management. The reason why I decided to do a PhD in Management was because I was already in a relatively high position in the planning department but every time they needed someone for a leadership position they wouldn't take me, because I was a History Major. Even though I read a lot of economics work and I did economic history in my Masters, there was a lot of prejudice about what I could do. I was too young, I was a woman, I came from the Social Sciences – I needed something to back my position. It took me five years to finish my PhD. I had my second daughter on the way. I ended up writing my dissertation on how contracts between industries change according to the level of risk of the municipalities they were taking their products to. 
Can you talk a little bit more about your research as a doctoral student?
So basically there is this myth about Colombian history that the economy goes well, even though the country is not doing well. So that's the kind of the paradox we have always had. We have been a country that grows steadily while the other countries in the region are jumping up and down and we've done that despite having an ongoing armed conflict for 40 years. We signed the peace presence a couple years ago and of course the situation was very hard but despite that entire situation, there was never a scarcity of food in municipalities in Colombia even in those municipalities that were really war torn. I really wanted to study why that happened. What I ended up figuring out was that industries had decentralized contracts with distributors who were taking their products to areas that had high levels of violence and in a way they were giving up information and control but also giving up risk; they were transferring the risk to the distributor and that's what I wrote about. 
What led you to become the Secretary for the Women's Affairs Department then?
Throughout all this time, I was also part of the General Assembly of Profamilia––an NGO which deals with sexual reproductive health. When Mayor Peñalosa was elected Mayor of Bogotá, he wanted to have a team of people that came from different areas. I was part of his transition team earlier, because I was helping my former boss who was working with him. When he decided on the project, he called me to become his Women's Secretary. My only experience in Gender had been in Profamilia and a few things I had done when I was a doctoral student. I had done some consulting for private companies and that was it. Still, I ended up accepting the job. It was a very new organization within the city government. It had only been working for two years. They created this department and took all the projects from other departments that had to do with gender or women affairs and stuck them under one organization. The structure of this new department was not very sound. We had to organize everything. One of the things that is not usually recognized and that the media is not interested in is that the biggest thing we did was organize the department. It has very sound procedures now and it's recognized as one of the most efficient departments in the city government. 
What type of projects did you engage with while working within this department?
We had three big projects in the span of two years. The first one was a teenage pregnancy reduction program. That was the Mayor's obsession and we were able to sign a program that was completely transversal. All secretaries of the big governmental departments were involved, and I was coordinating everything. As a result of the implementation of the program, we had a 30% reduction in teenage pregnancy rates up to last year. I believe it's going to be even higher this year, and this is a trend that is hard to reverse. Colombia is the only country in the region that is tackling the problem of teenage pregnancy that is so big in Central America and South America.
What we did was not a super innovative idea; we used what had been done successfully already. Bogotá used to have specialized centers of reproductive and sexual health for women. The secretary of Health decided to cut that program, thinking that every health center needs to provide women with support when it comes to sexual reproduction. Educational programs were created for every health center in the country. The rate of vulnerable teenagers using modern contraceptive methods rose from around 4% in 2015 to almost 30% last year. Registered abortions also rose, not because there was an increase in the number of abortions made, but because the hospitals started to report them. Instead of going to horrible centers where their life could be in danger, women were able to have an abortion at a clinic.
The second focus of the program was in schools. We had a very open minded sexual education team and we focused on certain areas that had the highest rates of teenage pregnancy. We developed a webpage called Sexperto that is sort of like a regional public good. It is online, it is in Spanish, everyone can access it and it has basically answers to any question you might have about sex, anything you can imagine. The best thing about it is that you can schedule an appointment with a professional. If you are in the public insurance company, most people that come from low income backgrounds are, you can put your ID number and they will schedule you an appointment without going through your parents, because such services are considered a human right. You get access to gynecologists, urologists, psychologists, or any other type of doctor you need. On the website you can also report any type of challenge you have faced in the process such as being denied to be given a contraceptive method that you asked for in a certain clinic. That way we know where to act.
Six months ago we had over a million visits to the website.
Were there projects within the department that provided support for women of all ages, not only teenagers?
We did a lot of things. We were in charge of providing attention and protection for women who have been victims of gender based violence. We were running five shelters in Bogotá designated to protect women who were facing domestic violence or whose life is in danger. There we received women for one to three months depending on each case. They could come with their families and it wasn't only a protection center; it was also a place where they would rethink their lives and try to cut those toxic relationships. It was a beautiful project. Each locality in Bogotá had a tiny community center only for women. Women would meet there for meetings, for yoga, even for political organizations. They could work on a project there, talk to the local Mayor, ask for funding for their ideas. We also had a lawyer and a psychologist providing them with the needed psychological and legal attention. One thing that is amazing is you meet a woman and she says, " I am from the Casa de Lotado of this locality" – "I am from the community center of this locality". They have a sense of belonging––that is absolutely amazing. It is an inexpensive project that has a huge impact.
How willing were women to report their situation at home? There must have been fear associated with opening up about your domestic condition. It is probably not a very conventional topic of discussion in a conservative society.
It is a problem all over the world, but the women's movement in Latin America has been really strong. There is more and more awareness about different types of gender based violence, especially domestic violence, and people are starting to talk more and more about it. We had an increase in the number of cases that were reported to the General Attorney. I have always had the same discussion with journalists claiming that violence is increasing. It is not increasing, it is just that more people are reporting it. The only hard data that we had to compare was the number of homicides and the number of homicides of women is actually lower in the past five years. It has been steadily going down. 
Is sexual violence then a prevailing issue in Colombia?
It is a big issue and we have an additional factor. The country has almost 7 million victims of the armed conflict, and we have had really bad cases of sexual violence within the armed conflict perpetuated by the parliamentary groups, by the guerilla groups,  and even by the Colombian army. Part of the peace process has been encouraging the victims to talk about what has happened to them. There are a lot of organizations working on projects to make people tell the truth. Part of any peace process involves truth, reparation and the promise of no repetition. The idea is to do symbolic reparations through music, culture, or arts. Of course, reparations through money and material goods are also important. The problem with sexual violence, however, is that it is extremely underreported everywhere in the world. We do know at least that more people are talking about it.
The other thing we did at the Women's Secretary was that we had a legal team that represented women in different cases of femicide. With that we aimed to create new judicial frameworks for future cases. We were a local government which means we couldn't intervene in justice systems, but by hiring good lawyers to represent the female victims, we created precedents for good sentences being judged in court.Femicide refers to the murder of a woman just because she is a woman. 
You have done some amazing work within the Department of Women Affairs. Why did you decide to leave after such gain in momentum? What prompted you to take the position of the Secretary of Social Integration?
After I had been in office for two years and two months, the Social Integration secretary resigned and the mayor called me one day and announced that I am going to be the Social Integration Secretary as of that next Tuesday. I loved my job, and I loved the team, but I decided to take this huge challenge. I transitioned from overseeing 400 people to overseeing 10,000. For three weeks I was in charge of both departments––the three craziest weeks of my life. The difference between the two was that the Women's Secretary was a very young organization, while the Social Integration one was a huge, very traditional 40-year-old organization. It runs public daycares, all protection centers for people with disabilities and for the elderly, and all of the welfare services. I had to face a completely opposite structural situation, and it was really hard to try to innovate in a huge organization. The other thing that was hard was that the previous secretary was an amazing person. The media loved her – she is joyful and outgoing and I am not like that. It took me a while to realize I was the worst version of Maria Consuelo that could ever exist and that I had to be my own self and find a way to first earn the respect of the organization. I was the youngest secretary to be appointed at that office––36 at that time. Everybody thought I was too young and inexperienced and I had to win them. 
There must have been a reason for the Mayor to choose to put you in that position. You definitely deserved it. Still, how did you manage to overcome the challenge of filling the shoes of the woman who was formerly appointed to your position?
Thank you. First, I have strong technical skills. I could work with the people that were running the actual models. After a while I realized that I had to be closer to the people, because that is how I could probably gain some respect. I would go to daycares and wipe kids noses, and ask teachers questions. I started being more of a hands on manager. Then, my chance to innovate was thrown at my face. When I became Social Secretary we started to live a huge refugee crisis. We started receiving Venezuelan migrants who didn't have anything in their lives. Those people were walking from Venezuela to Colombia. Bogotá was the city where the largest number of migrants started to stay. In a couple of months, we received almost 100 000 people; right now we have almost 400 000 Venezuelans living in Bogotá.
The problem was so big that we had to reorganize what we did and start opening new services for migrants. We started seeing Venezuelan children on the streets, sometimes asking for money. We started designing new services for that issue; we opened a community center for migrants using the model we had for women community centers. We were giving legal aid and psychosocial attention. We also had lawyers helping migrants get a regular status. We could tell them how to navigate the system, get a nationality if they had a grandparent who was Colombian, for example. We directed them to shelters and ended up organizing a huge system to receive migrants. The Mayor was once again really supportive. In the beginning, he said that we have to give migrants all of the social services we can. We did alliances with the Red Cross to provide health services and also with Plan International.
One of the biggest issues was once again teenage pregnancy, because the migration was mostly [that of] young people. Adolescents were coming by themselves. They had not had access to contraceptive methods for years. We opened for the migrants all services available to citizens under the age of 18 ––kindergartens, schools, etc. The issue is still not solved. Imagine a not very rich city such as Bogotá receiving almost 400,000 people in two years. That is almost 5% of its population. It's a problem, but we did a lot of good work to create new opportunities for the migrants.
Was the goal to try to provide them with living conditions and help them settle down or just temporary support until they go back or move to another country. 
There are two types of services. Humanitarian support is easier than social integration, because you give someone shelter for a couple of days, pay them a ticket to go where they need to go and that is it. The hardest thing would be to integrate them. We have an informal economy and most people are doing deliveries, working in Uber Eats, Rappi––our local version of Uber Eats. They are working in market places, retail, informal retail. The economy has sort of responded to the migration crisis and the unemployment rate hasn't grown that much, because the migrants have basically become part of society.
Would there be enough job positions for them to take?
No, but they also create new jobs. 400,000 people in the city create new jobs and new movements. What the Mayor has said is that migrations bring problems in the beginning, but they also bring opportunities in the long run. This problem now will bring lots of growth to Bogotá in four years or five years. When things get better in Venezuela or when people start living in the city, there will be people who would start their own business, start studying, etc.
What do you think might be the hardest aspect towards integration of new migrants. What would be one reason for the process of integration to not work that well?
Right now the challenge is to avoid xenophobia even though Venezuelans and Colombians are ethnically the same––we have the same religion, the same language. The other problem is political. Venezuelan migration has different political connotation than other forms of migration in Colombia specifically. Traditionally the parties that would have an antimigration stance would be right wing parties, but the migration is being produced by left wing government, so the right wing parties in Colombia can't react against migration. Colombia and Venezuela have two opposite political governments and going against the migrants would be in a way supporting the Venezuelan government. So even the extreme right parties in Colombia have not assumed antimigration stances just because of the political situation. 
Thank you for providing so much context so we can better understand the factors that act behind the issues that Colombia was facing at the time. Let's talk a little more about your own life and the direction that your career took after. How did you decide to step down and come to Yale? How did you learn about the program? After achieving so much success, it must have been hard to stop the momentum.
It was really hard to step down and I am having problems even now. This morning I was talking to a friend of mine and telling her that I can't picture myself doing what I used to do. I have been here for three months and I have been living a dream. I wake up, I cook breakfast, I am completely relaxed, and I can't imagine myself working at the rhythm I worked all my life. Of course, I will have to do it again. But it's weird to be here and see things from a distance.
It's funny you say that because people who are here, especially students at Yale, would feel the complete opposite. For us Yale doesn't feel like real life. It's extremely high rhythm and going out of Yale makes you realize what real life is truly like and how the pace is so much more relaxed.
I have been more relaxed these past three months than in the rest of my life. So I heard about the program via two ways. My former boss, who invited me to be part of the transition team of Mayor Peñalosa, was a World Fellow in 2003. Also, my sister is currently a PhD student in Comparative Literature at Yale. I was completely exhausted last year and also there is going to be a government transition in December. Once again, I was in a position that is too close to the Mayor. If there is a new mayor, there is absolutely zero chance of me continuing that job. I knew I wasn't going to have a job in January and I was exhausted.
When I got in, I changed my mind a little. But it is such a great program, I couldn't say no. Once you are in and you realize there were almost 2000 people who wanted to be here and you got in, you can't say no. It was a good moment to stop what I was doing, reflect, be normal again, be a normal human, make breakfast, probably burn the eggs, you know, small things. Not just run around all the time. That is why I decided to come. 
Did you move with your whole family?
My husband stayed at home. I moved my daughters. I thought it was a good thing. I lived in the UK with my youngest daughter for a while which was great for her, so I thought it was going to be great for the little one to be here as well. She is in the most amazing school now––Calvin Hill, it is a beautiful school. She just turned five and the other one is eleven.
I also needed some perspective. My life was Bogotá. It wasn't even the country, it was Bogotá. I was obsessed about the city, I only saw city news. When something little happened, I was completely obsessed about it. If there was a fire in some municipality, that was the only thing I could talk about. My friends and my family were starting to think I was going crazy. I think this experience is good to gain perspective.
Do you think you would transfer your work to the US or try to work with American organizations back home?
No, I don't think so. I have had really random job offerings in the past month such as being the director of an all girls school in Bogotá. I thought about it, but I decided to open a consulting company for cities. I am going to work with city governments in urban development and social policies for a local perspective. I am going to be based in Bogotá, but the idea is to work with countries in Central America and the Andean region to have more of a regional reach. I am talking to people that I could work with. One is the former Vice Mayor of Panama City. She is an urbanist and an architect. She has the urban perspective while I have more of the economic development one. My other partner is going to be the current Secretary of Education in Bogotá. She knows a lot about taxes and fiscal reforms. The three of us have different knowledge in different areas so together we have a comprehensive view of the city. 
You are going to be running your own business! That is impressive. You went from academia to entrepreneurship.
This type of businesses are really academic. I am also going to be teaching. I have always taught in a university. I was a joint professor at the local business school throughout my entire career. I taught a class in Business History and I am going to continue that. I will still be affiliated to CESA – it is a small business school, but it is really good.
The interview was conducted at the end of October. Upon her return home, Cristina decided to accept a new job opportunity and is currently the Vice President of the Chamber of Commerce of Bogotá.
---
Rada Pavlova is a sophomore in Pauli Murray College. You can contact her at rada.pavlova@yale.edu.