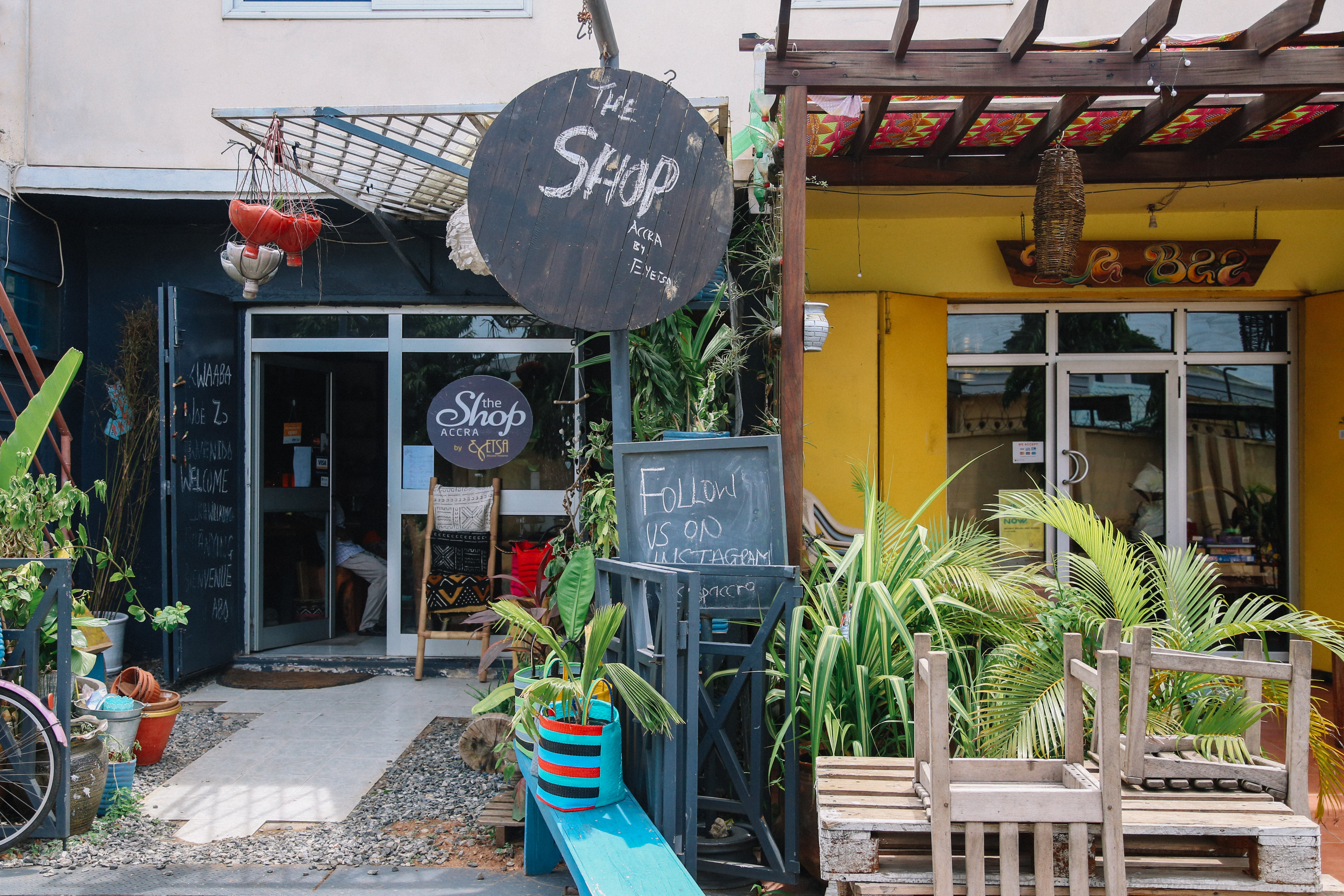 Lifestyle Spaces and the Creative Ghanaians Crafting Them
By Nat Wyatt
[divider]
[dropcap]A[/dropcap]ccra can often feel like a city of contradictions. Walking down the street one is likely to come across an outdoor market with the salty carcasses of tilapia piled high, the slightly rotten scent of sun-warmed tomatoes, or sheets of cloth with orange and yellow Asante symbols for purchase by the yard. But turn just one corner and one might stumble into a place like the Shop Accra. Suddenly you are staring at rows of succulents in water containers and stylish flowers pots in shades of teal — a sight more common in Los Angeles or Barcelona than Accra. Lifestyle stores like The Shop Accra are few and far between here, founder Eyetsa Lorraine Ocloo explains. Eyetsa is Ghanaian-born but has lived in Germany, the United Kingdom, and the United States. She is a recent graduate of Columbia University. The first time we meet she is clad in a light-wash blue dress that she designed and sewed herself; a few days later I see her in a magenta button-down dress. It's clear that Eyetsa has a sharp eye for the aesthetic and a personal style that embraces the colors that surround her in Ghana. Her shop is a labor of love. She collects goods from all over the continent of Africa and the world. Her eclectic inventory of necklaces and rings, sandals and dress shoes, cloth and rugs, candles and shea butter, are sourced from places like Mali, Kenya, South Africa, Nigeria, and of course Ghana.
When I meet Eyetsa for the first time, the Shop Accra is in the process of moving to a new space down the street. She explains her vision with ease. The current shop is going to be devoted exclusively to fashion goods while the new one will focus on visual art. The store is overflowing with items at the moment. But even in the midst of such clutter, everything is carefully styled with the shopper's eye in mind. When I visit the new location the next day, Eyetsa's vision crystallizes in my mind. The backyard will become an open gallery space reminiscent of the markets that punctuate Accra, she explains. In the central room, a dark wooden desk stands surrounded by abstract paintings whose shades mimic a colorful dashiki. The floor-to-ceiling portrait of a black woman draped in muslin stands watch nearby.
The Shop Accra is hard to define. This store's amorphous quality is part of the experience that Eyetsa and her team of young Ghanaian creatives are attempting to build. She wants her clientele — both Ghanaians and tourists — to have an experience in which they are exposed to art from throughout the continent, as well as art from the world's African diasporas, and have the option to buy the clothing, jewelry, and art they see as evidence of Africa's creative output. Eyetsa even plans to install a café in the back of her new space so that people can make a visit to the shop an all-day affair.
Eyetsa's manager is a screenwriter. Another of her co-workers is a fashion designer. I cannot help but feel like I have fallen right into the heart of Accra's relatively small but active arts scene. When I ask them if there are other projects like this taking place across the city, Eyetsa initially says no, although she mentions Front/Back, a members-only elite bar cum art club. Front/Back is the new haunt for stylish Ghanaian intellectuals who sip cocktails on Louis XVI armchairs upholstered in tribal cloth from around the continent or leaning on walls decorated with original ballots from South Africa's 1994 election of Nelson Mandela and a 1992 copy of the Ghanaian Constitution. Bookshelves have copies of Chimamanda Ngozi Adichie's Purple Hibiscus and Americanah. In the bathroom, one can hear the steady tone of Chinua Achebe reading Things Fall Apart. Front/Back, like The Shop Accra, is embracing a sort of pan-African curatorial mission that feels equal parts celebratory and contemporary.
Of course, these spaces serve multiple functions for the young Ghanaian artists who occupy them. Ghana is a deeply religious country. Many older Ghanaians feel intense connection to their religious and ethnic identities and manifest that devotion in a way that may appear conservative to both a Western eye and to that of the younger Ghanaian elite. Many of these young Ghanaians have spent considerable time abroad, or have friends who have. For better or worse, many of them do not regularly attend church. Many of them are not straight, something that is essentially criminalized in Ghana and culturally illegible. Spaces like The Shop Accra and Front/Back celebrate the nation's, and continent's, vast contemporary cultural production while also creating environments that cater to the lifestyle of this class of elite digitally fluent artists, allowing them to stay in Accra to produce their work with a newfound level of comfort.
[hr]
Nat Wyatt '18 is a Film and American Studies major in Pauli Murray College. Contact them at natalie.wyatt@yale.edu.