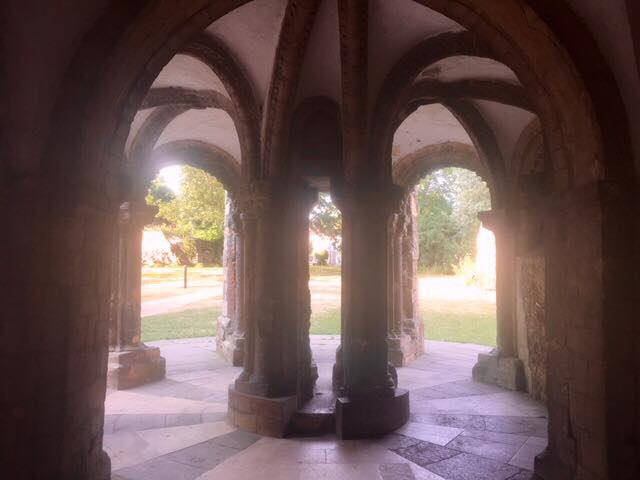 by Annie Nields
[divider]
CANTERBURY
Let's learn a new language
together. Maybe we could
start from scratch — recover
the flour and yeast from the cabinet
watch it rise together in the corner
of the bedroom, watch it press against
the glass bowl. We'd cover the table
with fresh hills of flour. Knead
the sorry memories back through time
across the linoleum. Bury them
with dough under hands washed warm
with water. Break it together
with butter, move towards new
hopes that rise as the steam does.  
Let's learn a new language,
together. Let's cut a different way
through the green woods, back to
our parents' histories. Roll back
the yards of my grandmother's fabric.
Together our path will be longer,
more wandering. You'll get more hurt
than you'd bargained for — you'll know
once you arrive at the source.
We'll find it all where we'd least
expected to. They'll look up at us
in some clearing, silently.  
With no intention to leave,
you rest your bones, finally. You feel
warmed by the circle of ancient fire.  
Let's learn a new language,
together. In my dreams, you light
a candle for me each time you leave
the laughter of a dinner party,
put on your shoes and close the door.
I suppose I know by now, after
the years that you've marched here
alone. Let me walk beside you —
Our histories follow us all,  
they spring like flowers
from flower beds across our backs.
How could I possibly trace
my body back to yours?
How could I know all future
migrations? I hope that if I look
at your graves long enough,
I can explain my devotion.
I want to wake up
the sleeping spirits, build
strong arches of my own. Walk
straight until old wheat fields
turn new to cold stone under my feet.
I want to remember you, to break
the landscape that was your life
in my fingers, let your dust settle
onto my new skin.
[hr]
Annie Nields is a sophomore in Davenport College. You can contact her at annie.nields@yale.edu.