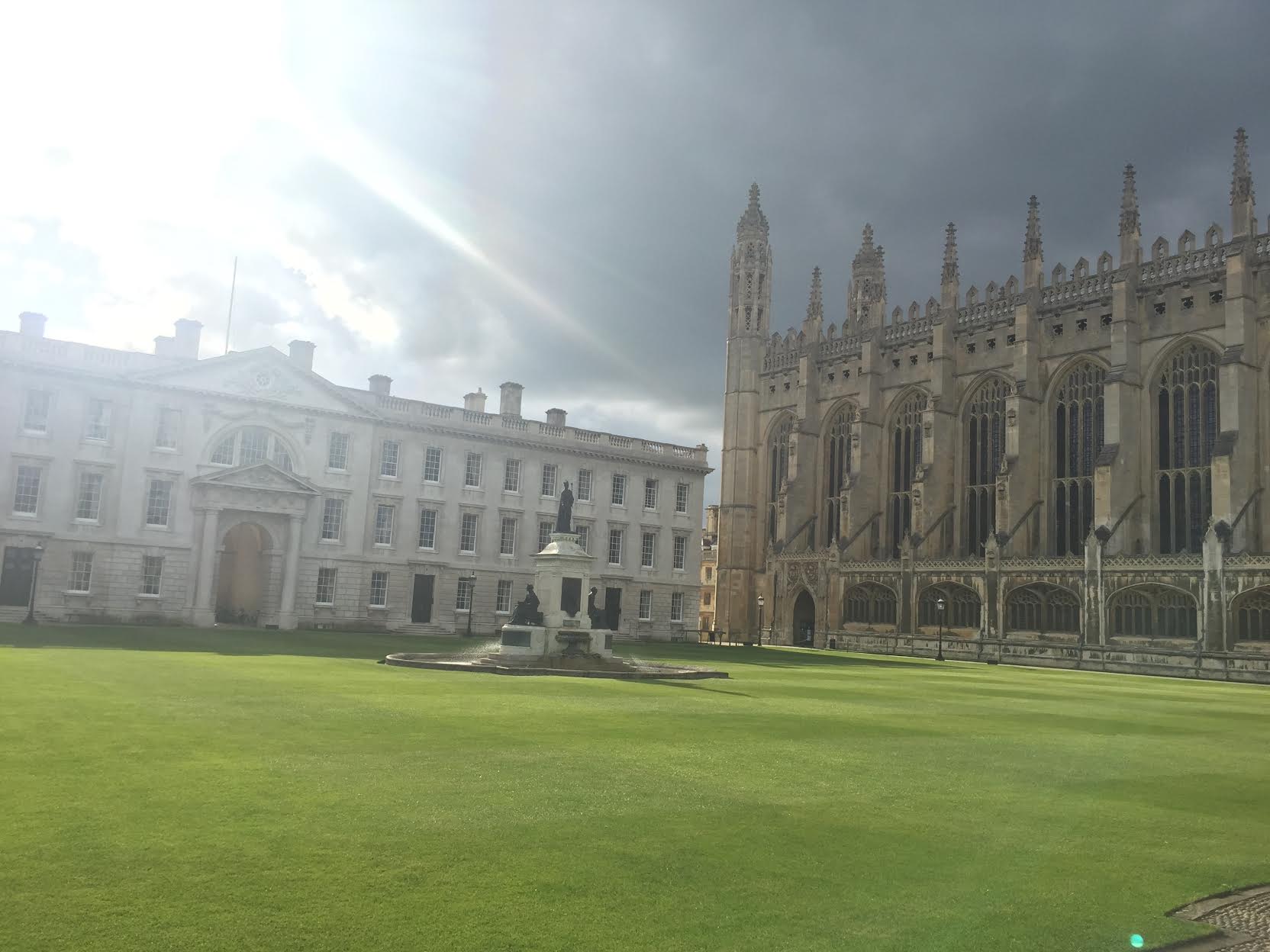 A Promising Summer in Cambridge 
By Shuyu Song
[divider]
For a while before coming to Britain, I considered what it would be like to study at Cambridge. From the love poems composed by Chinese poet Xu Zhimo to the Cambridge Shakespeare festival, I had a feeling that this fascinating town would suit a more introverted person like myself for a summer of relaxation and reflection. My first few weeks in Cambridge have definitely fulfilled my expectations.
Both a university town and a tourist hotspot, Cambridge inherits the freshness and peacefulness of the nearby river. I have been staying in Pembroke College, the third oldest college in the University of Cambridge. My experience here has been surprisingly similar to my experience at Yale. Walking toward the college library, I find myself strangely at home, as if I am just about to embark on another normal Saturday at Bass. Cambridge's Gothic architecture resembles much of that of Yale. Also, Cambridge has its own Spring Fling, called the "Big Weekend."
However, hidden behind the similarities are quite revealing differences. Colleges in Cambridge, unlike residential colleges at Yale, operate independently of each other. Additionally, facilities in one college are typically closed to students in other colleges, similar to individual graduate schools at Yale.
While staying in Pembroke, I've had the chance to talk to some undergraduates at Cambridge. Most students told me that Cambridge is academically rigorous and politically liberal. I found that the majority of students support the Labour Party and that most voted against Brexit.
One of my most enjoyable parts of Cambridge so far has been the cuisine. What I've found most attractive about British food – aside from the well-known fish-and-chips– is the breakfast. Breakfast at Cambridge is arguably the most important meal of the day, with the dining halls offering a smorgasbord of bacon, sausages, eggs, and beans.
Besides breakfast, Cambridge's pub culture has been a pleasant surprise. A pub provides customers with spaces to sit down and converse over drinks. The oldest and most frequently visited pub in Cambridge – the Eagle – embodies a British version of "Midnight in Paris" – relaxed, artistic, and at times geeky. Small wooden tables of three or four occupy a room around a quarter of the size of a football field. Outdoor tables are also offered, which resembles more of a café or a private garden than a drinking space. A glass of wine or two later, conversations about Shakespeare or Westminster flow among a table of friends or colleagues.
Cambridge's Shakespeare Festival was another intellectual space I thoroughly enjoyed. Each year in July and August, live performance of Shakespeare drama takes place in different colleges in Cambridge. There are ten shows on display this year. The festival offers a fantastic opportunity not only to learn more about British culture but also to explore the colleges that are not normally open to tourists.
Watching the Festival's performance of A Midsummer Night's Dream was one of my favorite parts of the summer so far. The beautiful King's College Garden housed an audience of more than two hundred on a delightful summer evening. The actors then took me and the rest of the audience on a three-hour journey of joy, wonder and magic. The interaction between the actors and the audience gave each performance a creative twist, offering the audience an unforgettable and unrepeatable experience. Puck, the spirited wanderer who orchestrated the dream, first appeared dashing through the aisle from behind. As the actress approached, she took a bit of biscuit from the couple sitting next to me, then "barked" at a child and flirted a fifty-year-old lady. The entire performance was filled with such pleasant surprise and genuine laughter, ending on a high note that left the audience in awe with affection.
Despite the differences between Yale and Cambridge, I find myself quite at home here and am looking forward to the rest of the summer.
[hr]
Shuyu Song is a rising sophomore in Pierson College. Contact her at shuyu.song@yale.edu.